---
The CAMPMOON Ultra Lightweight Backpacking Cot for Tent is incredibly compact, collapsible, backpack-portable, and very affordable.
---
Key features & benefits
Collapsible construction.
Ultra-compact cot.
Very light.
Pillow included.
Carry bag.
Reasonable price.
---
What this is about
The cot's specifications and description on Amazon are quite confusing and with several different numbers for the same feature. This holds in particular for its weight where you can see 3 different numbers.
The same holds for its name. The word Ultra Lightweight used in the title above is a part of its official name, but this is misleading. The cot is lightweight and backpack-portable but I would not describe it as ultralight.
This is a collapsible cot, so as usual, this means it needs a simple assembly. There is a number of pieces that you have to put together, they are shown below. But this is all easy to do without tools and without force.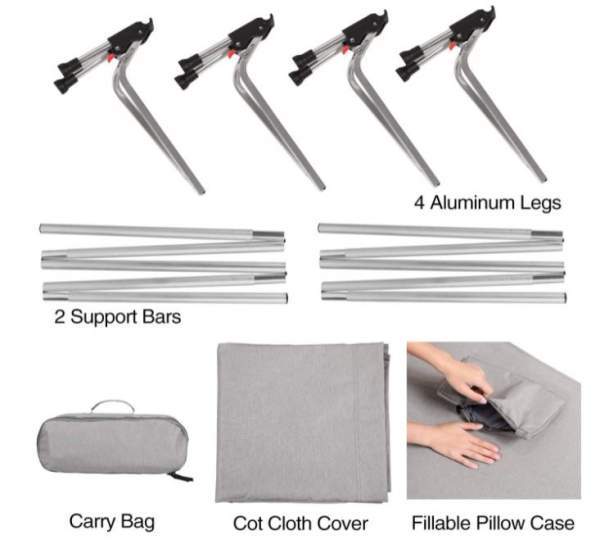 The setup implies passing the two shock-corded side poles through the sleeves of the bed deck, and then you attach its 4 shock-corded legs. This all can be done in just a couple of minutes. The steps are presented in the pictures: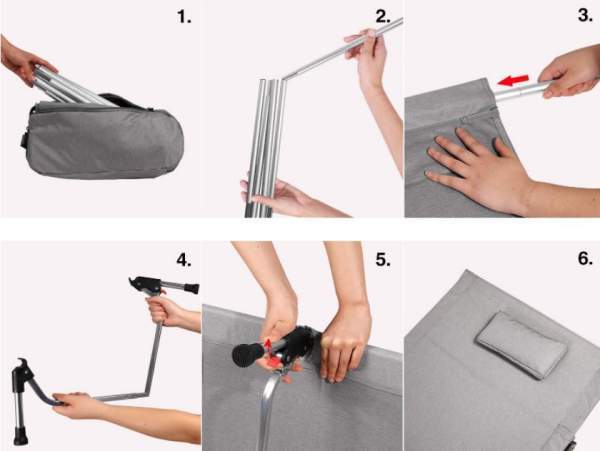 The good side of this collapsible design is that it packs to a small size, you can see how its carry bag looks in the picture above. The packed dimensions are 18 x 6 x 6 inches (46 x 15 x 15 cm).
Materials
The metal parts here are built from a sturdy 7075 aluminum alloy. The feet are with plastic caps and you can see them in the picture below. The black connection elements are also some sort of plastic, they do not provide information about it.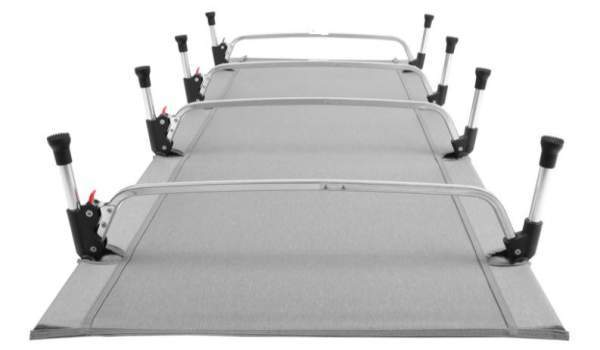 The fabric is polyester oxford. Note that you also have a removable pillow and a storage system on the side to keep your small items close at hand and off the ground, they are shown in the picture below.
---
Who is this CAMPMOON cot for
Regarding the weight, the word Backpacking is a part of its official name, and this is why I am using it in the title above. But with its 6 lb (2.72 kg) this is certainly not a backpacking cot. I just came from the mountains where I was carrying a heavy pack and I certainly would not want this extra weight on my back. Check my list of ultralight backpacking cots if you need one for the trail.
Regarding the size, the cot is quite short, this is partly behind its great weight, you can see its dimensions below. So if you are a tall person you might want to consider a longer cot.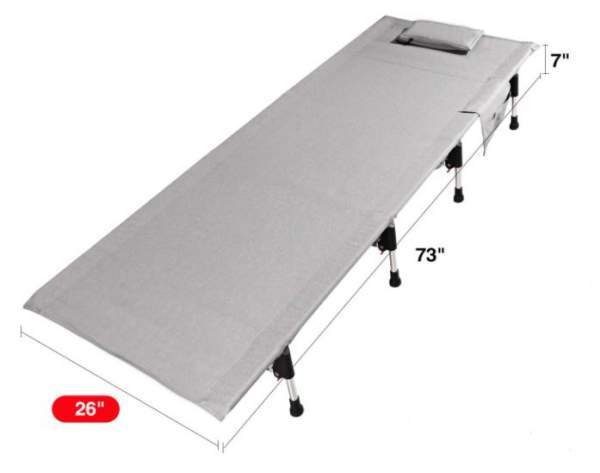 However, there are no end bars here, so the length you have here is the true length that you can use.
But the packed size of this cot is simply excellent. So you can carry it even in the pack or transport it on a bicycle or in a kayak.
Note that the cot is quite low, you have 7 inches (18 cm) clearance. This means you can use it in practically any tent. You have seen its 8 wide feet, so this should make no problems with the tent's floor.
Despite such a height, you can still store some longer gear underneath the cot. This space is normally wasted when you sleep on the pad on the floor of the tent.
Regarding the price, it is more than fair for such a great product.
---
Specifications
Weight: 6 lb (2.72 kg).
Capacity: 330 lb (150 kg).
Dimensions: 73 x 26 in (185 x 66 cm).
Height: 7 in (18 cm).
Packed size: 18 x 6 x 6 in (46 x 15 x 15 cm).
Warranty: 1-year limited warranty.
---
Rating, pros & cons
Below you can see how this cot stands against my standard rating criteria.
Incredibly compact backpack-portable cot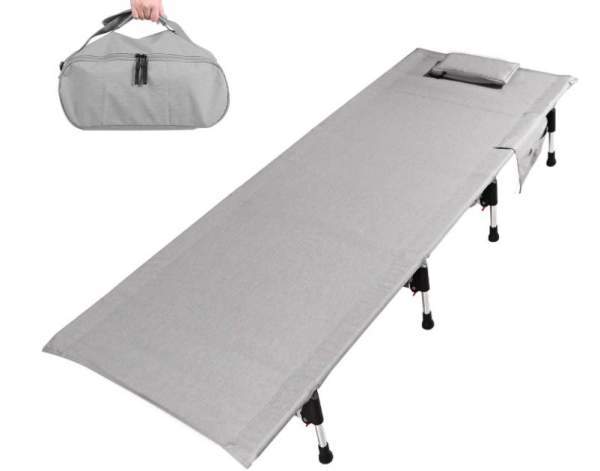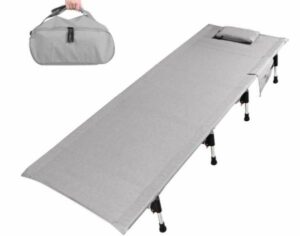 Product Name: CAMPMOON Ultra Lightweight Backpacking Cot for Tent
Product Description: The CAMPMOON Ultra Lightweight Backpacking Cot for Tent is incredibly compact, collapsible, backpack-portable, and very affordable.
Brand: CAMPMOON
SKU: B08LML6FJS
Weight -

9.4/10

Size -

8.3/10

Capacity -

8/10

Packed size -

10/10

Ease of use & features -

8/10
Summary
The overall rating of this cot is well-deserved Very Good.
Pros
Excellent packed size.
Carry bag.
Very light.
Fair price.
Cons
Confusing description and name.
---
Final thoughts
So the best feature of this CAMPMOON Ultra Lightweight Backpacking Cot for Tent is its incredible packed size. The cot is also very light so you can transport it in any way you want, and you can even carry it in the pack.
The length is modest so it is best suited for shorter users and for kids. It is definitely not for backpacking as they write, but you can use it for any other outdoor activity.

For more options please check under the category Collapsible Cots. You will find them in a variety of sizes and shapes. See in particular this lightweight and affordable EVER ADVANCED Folding Camping Cot.
Let me know if you have questions, there is a comment box below. Thank you for reading and have a nice day.