---
The name of the Kamp Rite Insect Protection System, also known as Kamp Rite IPS, is to some extent misleading because this is simply a mesh tent with a rain fly. What makes it a 'system' is the fact that it can be used together with a camping cot.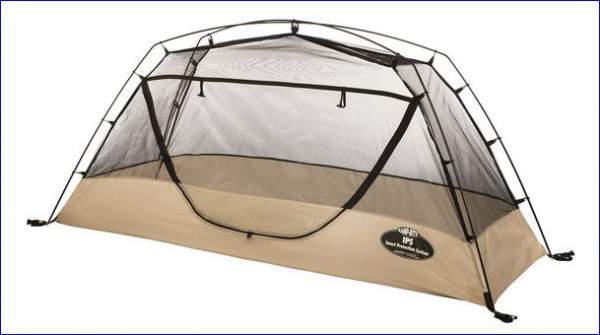 ---
Key Benefits
Free-standing tool.
Versatile.
Exceptionally good price.
---
Description
I already mentioned that this IPS tool is free-standing. This means that when used as an ordinary tent, you can set it up on any kind of ground, and it is self-standing without being anchored. This is a great feature bearing in mind that you can put it on the concrete, gravel, rock surface, or on a frozen surface.

This makes the Kamp Rite IPS tent a nice backpacking, hiking, or mountaineering tool. It comes with a rain fly, with all taped seams, so you can use it in any weather conditions. You can see it in the picture below. The rain fly clips to the poles very easily and securely.
What makes the tent free-standing is:
the system of two aluminum poles which make an X-shape structure, and,
the fact that the poles can be attached to the grommets which you have in every angle. You can see this in the image above.
The tent is very easy to setup, nicely constructed, and it is very easy to attach the mesh to the poles, you have clips provided for this purpose.  This free-standing structure allows you to move the tent locally around to get a better place, and you do not have to take it down.
It has one mesh door with a U-shaped long zipper. The door rolls up as you can see fr0m the image above.
---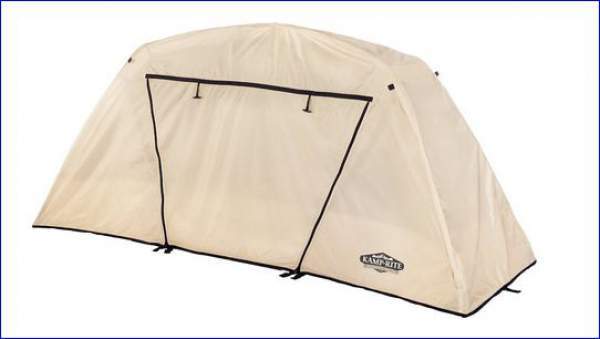 ---
Versatility of the tool is seen from the fact that it can easily be setup on a camping cot. In such a setup you will sleep off the ground, without the usual dampness which you have in the tents on the ground.
In this configuration, this is a great camping tool to be used in places with a car access. So you can imagine, after using it as a pleasant tent-cot in the main camping place, you can separate it from the cot and use as an ordinary tent if you go for some overnight tour. Just put it into your backpack and go.
The size of the tent is very good, W x L x H is 28 x 84 x 40 in (71 x 213 x 102 cm). In fact, it may be too large to fit on some cots.
---
Specifications
Weight: 5 lb (2.27 kg).
Size (L x W x H): 84 x 28 x 40 in (213 x 71 x 102 cm).
Folded size (L x W x H): 14 x 6 x 6 in (36 x 15 x 15 cm).
Ship weight: 6 lb.
Carry bag included.
Fitted rain fly included.
Heavy duty 190T Denier nylon base and rain fly.
No-See-Um mesh.
Taped seams.
Aluminum tent poles.
Easy to use corrosion-resistant zippers.
Quality clips, hooks, and buckles.
Complete protection from bags.
---
Pros & cons
Pros:
Very easy to setup.
Amazing price.

Complete protection of elements.
Free standing.
Versatile.
The tent has received 3.9/5 average rating by Amazon customers, based on 49 reports in the moment of writing this text. Some users have reported problems when using the tent on the cot.
---
Comparison with other models
There are many models described within this site. Most of them are with the cot included, but many of them are 3-in-1 type tools, where the tent can be separated and used separately as a ground tent. This makes them similar to this Kamp Rite IPS tool. So please follow the link and have a look.
However, the most similar model is the Catoma Adventure shelter presented in the site. This is because it also does not come with the cot included but it can be attached to various cots. So I give some basic data for the two tools in the table below:
| | | | | |
| --- | --- | --- | --- | --- |
| | Flor size, inches (cm) | Tent Height, inches (cm) | Packed size inches (cm) | Weight, lb (kg) |
| Kamp Rite IPS | 84 x 28 (213 x 71) | 40 (102) | 14 x 6 x 6 (36 x 15 x 15) | 5 (2.27) |
| Catoma Adventure | 90 x 29* (229 x 74) | 26 (66) | 13 x 13 x 3  (33 x 33 x 7.6) | 1 lb 14 oz (0.85) |
*This is the mean width, the tent floor is tapered.
---
The cot
As mentioned above, this is a 'system' if it is used with a camping cot. One great option is a cot from the same brand, Kamp-Rite Oversize Kwik Cot
. With dimensions 84 x 33 inches, it fits the tent perfectly: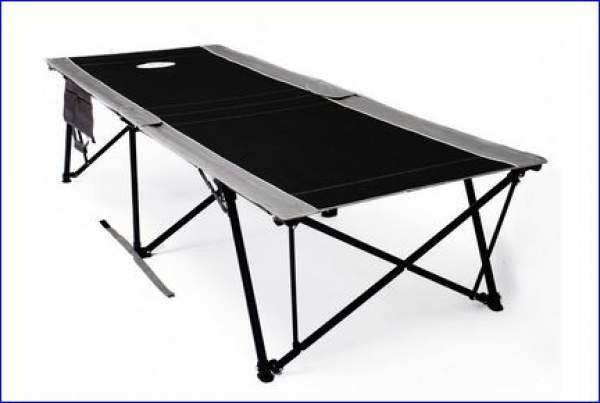 Yet another option that comes to mind is this TETON Sports Universal Camp Cot. Its size fit nicely the size of the Kamp-Rite IPS tent.
---
Conclusion
To conclude this Kamp Rite Insect Protection System review, this is a nice outdoor tent with the price which is hard to match. It is versatile as it allows also for sleeping off-the-ground when used in combination with a cot. Cots may be with very different prices, yet even with the price of the cot given above this is still a very reasonable total price for what you have here.
The tent alone is not in the category of very lightweight solo tents, but in view of its price, this is a great option for short overnight or weekend hiking and mountaineering tours.

Thank you for reading. It will be great to hear from you so please use the comment box below. Do share this text if you find it useful. Have a nice day.


---