---
This Ferrino Steel-Alu Heavy Duty Folding Camp Bed is a military-style structure with impressive dimensions and a great price tag.
---
Key features & benefits
Very long & wide.
Military type.
Carry bag.
---
What this is about
Here you have a typical military cot by construction, and this means it has a frame that includes two side bars and two end bars. Formally, this is a collapsible cot. The meaning is that the cot needs a simple assembly that is the same for all the cots with such a design. This means only adding the two end bars, the other elements (legs, side bars, fabric) remain preattached to each other.
All is easily done, only when you add the second end bar you might need a bit of force because of the tension in the fabric. This is more so when the cot is new.
So you basically only have three separate elements, the two end bars, plus the rest. The carry bag is included for transportation and to keep it protected from dust when stored at home.
The materials
You have seen about this already in the name, so the legs are steel and the mentioned bars are aluminum.
The fabric looks like a very durable polyester and you have a side storage pocket for small items. They did not bother to provide any information about the denier value, I have checked on their site as well.
The same holds for the capacity, it is nowhere mentioned, quite disappointing in view of the fact that here you have a brand that was established in the second half of the 19th century in Turin, Italy.
---
Who is it for
Regarding the weight, this is a heavy cot with its 22.9 lb (10.4 kg) of weight. So this is not something to carry around. But this is a huge cot so the weight is justified.
Note also that the packed size is 50.4 x 7.5 x 4.3 inches (128 x 19 x 11 cm). So it is long and you need a car for transportation.
Regarding the dimensions, well, this is one of the largest cots on the market. The bed is 85.4 x 39.37 inches (217 x 100 cm). So this is the reason that I added it to my list of extra long camping cots and also to the list of extra wide cots.
The end bars take a few centimeters of the true useful length but this is still a long structure suitable for very tall people.
Regarding the capacity, I can only assume that it should be appropriate to its size. But I have no information about it. I have asked the manufacturer so if I get any info it will be added later.
Regarding the price, I think this cot is a true bargain, just see its enormous dimensions and the price and you will realize this.

Using this cot in a tent
The cot is large and it needs a bit larger tent. Note that it is very tall, the bed is 23.62 inches (60 cm) above ground. This means you have plenty of space to store your camping gear underneath the cot. This may also be useful for elderly users, it is easier to get in and out when the cot is so high.
There are 6 feet and they are with plastic caps. But I would add something underneath the feet to protect the tent's floor.
---
Specifications
Weight: 22.9 lb (10.4 kg).
Dimensions: 85.4 x 39.37 in (217 x 100 cm).
Height: 23.62 in (60 cm).
Packed size: 50.4 x 7.5 x 4.3 in (128 x 19 x 11 cm).
Frame: steel & aluminum.
---
Rating, pros & cons
Below is summary of my pros and cons and rating. As you see it scores reasonably well in all the criteria, and the average rating is high, but the capacity is missing.
Very Long & Wide Cot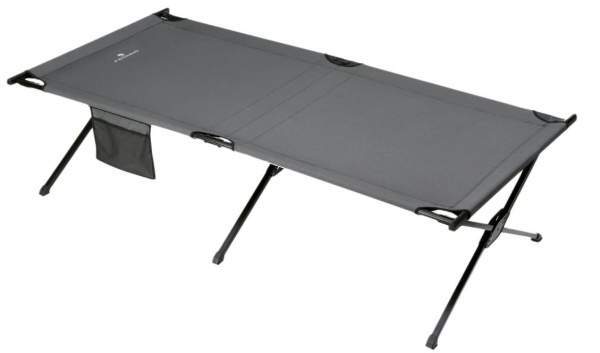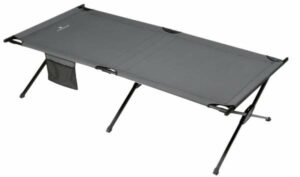 Product Name: Ferrino Steel-Alu Heavy Duty Folding Camp Bed
Product Description: This Ferrino Steel-Alu Heavy Duty Folding Camp Bed is a Military-Style Structure with Impressive Dimensions Suitable for Tall People.
Brand: Feerino
SKU: B01M0XSZCM
MPN: 97104V
Weight -

6.5/10

Size -

10/10

Packed size -

8/10

Ease of use & features -

9/10
Summary
The cot is a bit heavy but its overall rating is Very Good.
Pros
Huge size.
Reliable.
Carry bag.
Good price.
Cons
Heavy.
No info about capacity.
---
Final thoughts
In the summary of this Ferrino Steel-Alu Heavy Duty Folding Camp Bed review I would point out the enormous size of this cot as its best feature. So if you are a tall person or just want to have space to sprawl, this is the cot to consider.

Check under the category Military Cots if you need more options built in the same style, in particular, this Timber Ridge TR Cedar Deluxe Camo Heavy Duty Folding Cot.
Bookmark this site and visit again, this will keep you informed because we add texts here on a regular basis. Thank you for reading and have a nice day.