---
The Zempire W Leg Stretcher V2 is a collapsible portable easy to use outdoor bed with a steel frame and a nice carry bag included.
---
Key features & benefits
Collapsible cot.
Carry bag included.
Leg locks.
Steel frame.
Compact.
---
What this Zempire W Leg Stretcher V2 is about
I would say this all is about the V2 in the name of this cot. So this is a completely modified version of a cot that has been around for 5 years at least. In fact, it is so different that I wonder why they kept the same basic name.
The cot is a collapsible type, so this means it has several separate elements and you have to put this all together when you need the bed. But this is all easily done and without much force and without extra tools.
When not in use, it stores into its included carry bag. It is shown in the picture, and you will want to know its dimensions, so it measures 27.2 x 9.1 x 3.1 inches (69 x 23 x 8 cm). As you see, it is equipped with carry loops on two sides, and you have a U-shaped zipper with glow zip pullers.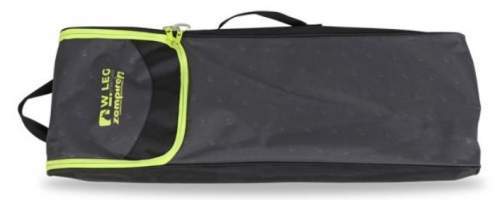 The materials
This cot is very much improved compared to its previous version. You have double stitched pole sleeves for added stability. The bed fabric is a heavy duty durable and weather resistant 600D poly oxford.
The metal elements are powder coated rust-resistant 16 mm steel tubes. This includes two side rails and 5 folding legs. They claim it can withstand harsh corrosive conditions, especially when camping beside the sea.
You have leg locks in place that secure the stretcher in an open position, preventing accidental folding. The picture below shows one of the legs. As you see, they are not W-shaped as in the previous version, and they are much wider.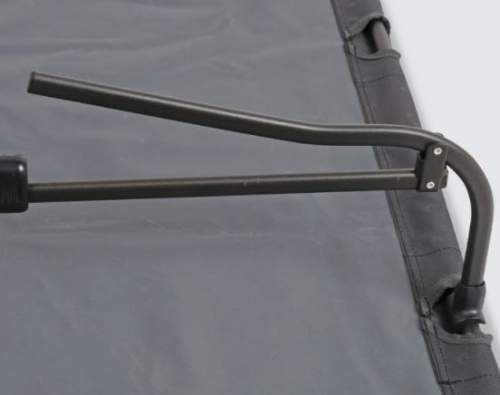 Adding the legs in place is easy, the pictures below show how to lock it:
Note that this design is not unique on the market, you can see it also in this EVER ADVANCED Folding Camping Cot that has been around for some time already.
Warranty
Zempire is a reliable brand and they offer a 2-year warranty for their sleeping series products. They claim they will repair or replace this product, should it fail due to faulty materials or manufacture for a period of 2 years from the date you purchase.
Please see more in this short video:
---
Who is it for
Regarding the capacity, the cot is quite modest with its official 220 lb (100 kg). So if you need much more, it is best to check my list of cots for heavy people.
Regarding the dimensions, the bed measures 76.4 x 25.8 inches (194 x 65.5 cm). So the length is very good here, note also that there are no end bars, so the whole length is a true useful length.
But the width is modest, there are bars on the sides that take a few centimeters. On the other hand, you have 7.5 inches (19 cm) clearance underneath the cot.
As you realize, it is very low and it will fit in practically every tent. But this is still lots of volume to store your camping gear, you have almost 240 liters of volume underneath the cot.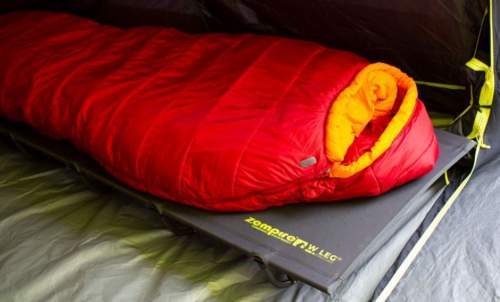 Regarding the weight, the cot is moderately light, it weighs 12.2 lb (5.54 kg). You have already seen its packed size, so it is quite compact, and you realize you can transport it even on a bicycle.
Regarding the price, I think this is very reasonable for a cot from such a brand. You will have links below to compare a few sellers.
---
Specifications
Weight: 12.2 lb (5.54 kg).
Capacity: 220 lb (100 kg).
Dimensions (L x W x H): 76.4 x 25.8 x 7.5 in (194 x 65.5 x 19 cm).
Folded dimensions: 27.2 x 9.1 x 3.1 in (69 x 23 x 8 cm).
Frame: steel.
---
Rating, pros & cons
Below is summarized my rating and some pros and cons, so you can compare with some other products of this type.
Collapsible and easy to use cot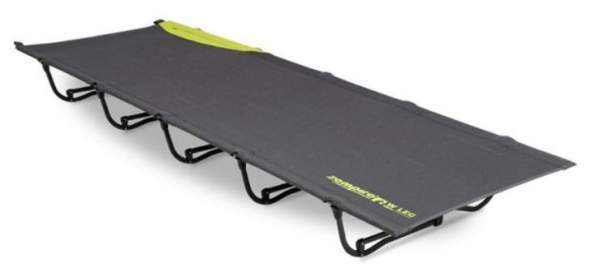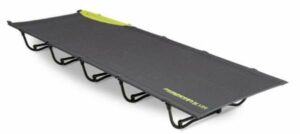 Product Name: Zempire W Leg Stretcher V2
Product Description: The Zempire W Leg Stretcher V2 Is a Collapsible Portable Easy to Use Outdoor Bed with a Steel Frame and a Nice Carry Bag Included.
Brand: Zempire
SKU: 0000101381114
MPN: 9420059005480
Weight -

8.4/10

Size -

8.3/10

Capacity -

6.5/10

Packed size -

8.8/10

Ease of use & features -

8.2/10
Summary
The capacity of this cot is modest, but the overall rating is still Very Good.
Pros
Compact.
Great carry bag.
Fair price.
---
Final thoughts
So this Zempire W Leg Stretcher V2 is well-built, easy to use, compact, and reliable. The price is more than fair, fully recommended. I have included it in my list of low camping cots.
Best places to buy:
For more options from this brand, you might want to see their Zempire U Leg Stretcher. But check also this REDCAMP Ultralight Backpacking Cot for Adults which is even lighter that the cot presented here.
Bookmark this site and visit it when you find time, this will keep you informed, you have new texts added here on a regular basis. Let me know if you have questions, there is a comment box below. Thank you for reading and have a nice day.