---
This Kamp-Rite Kwik Cot Review is about a quality folding and portable camping bed that comes with an incredible price tag.
Key features & bonuses
Very large cot, suitable for tall and heavy people.
Incredibly affordable price.
Secure mesh storage pocket underneath the cot.
Easy setup.
Nicely packable.
Padded head section.
Carry bag included.
What type is it
The Kamp-Rite Kwik Cot belongs to the group of folding cots, the tools that in the packed state preserve only one relatively larger dimension. In this particular case, this is 39 inches (99 cm).
This cot deploys in seconds, there is no assembly, and no tools are required to have it ready. You can read more about these collapsible tools in my separate text.
The cot is portable to close distances, but with 19 lb (8.6 kg) of weight, this is not something to really carry around.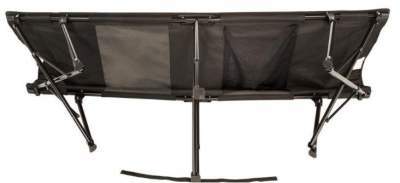 You will see sometimes the word 'standard' used in the name of this cot. But in fact, it is not standard, this is a very large cot.
Who is it for
The weight and the design determine the best use and users of this cot. If you plan to use it outdoors, then you can only transport it in a car. It is a bit long when packed to be carried on a motorbike.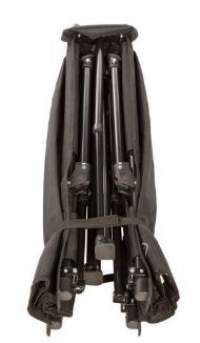 So outdoor it can be used at any regular camping place, at trailhead hotels, on beaches, at open-air music festivals, in summer camps, etc.
At home, this is a nice tool as a spare bed. Put it in the attic or in the closet, it will be very useful when you have sudden sleepovers, or in any emergency situation in general. It has its carry bag so it will not collect dust wherever you put it.
If you look at its dimensions, you realize that this is a huge cot with 79 x 29 inches (201 x 74 cm) bed size. I have included it in the group of cots for heavy people, so if you are one of them please see my text here.
Description
This is a strong, stable, and sturdy steel structure with 6 legs and many support bars. You will see on Amazon they write about 1000D bed canvas, but on the Kamp-Rite site, I see the number 600D. So in any case, this is a very strong nylon that supports up to 300 lb (136 kg) of weight.
The collapsible design implies that you unfold it practically instantly and without tools.
There are no bars at any point close to the deck, and this is a design without end-bars as well, so you can be sure that there are no pressure points and the whole length of the bed is a true length to use.
The legs do splay outwards but they do not exceed the dimensions of the bed, so you know exactly how much space this tool takes, this is 79 x 29 inches (201 x 74 cm).
One bonus with this cot is the mesh storage pouch underneath the bed canvas, see it in the picture here: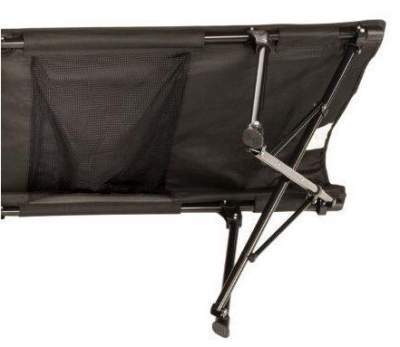 Note also that the head section is extra padded, and yet another good feature is that all metal elements are completely covered by the canvas, even the sections with joints are with fabric flaps. This is not always so with other models available on the market.
They also provide extra Kamp-Rite Tent Cot Gear Storage Bag that clips under the cot frame for additional storage. This is a nice option to keep you organized.
Using the Kwik Cot in a tent
Being so big and high, this cot cannot fit in standard solo tents, but it fits nicely in most of the 2-person tents when used solo or with your dog. Here are a few great and very affordable examples that would accommodate this cot: Mountainsmith Morrison 2 tent, Kelty Camp Cabin 4, and Kelty Mirada Tent.
With the cot in the tent you have a lot of storage space under the cot; even a dog can sleep there. So the rest of the tent is a free space. This is not so when you sleep on the floor and you put a pad there, you do not have much space left for gear.
The 6 feet are protected with plastic caps, see below, so there should be no issues with the tent floor, but I would pay attention if the ground under the tent is very soft.
The bed is comfortable enough to be used without any pad, and in warm conditions, you do not need anything unless you just want more comfort.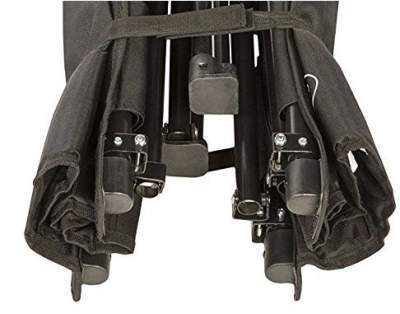 How about wintertime
In the wintertime you should certainly have some insulation, but this is far less than when you sleep on the ground. So you can save money and do not need expensive insulated pads with a huge R-value. This is because the body warmth is far more lost to the ground (around 50 times more) than to the air. So when you are on the cot you have air under you; you get the idea.
But you do need some insulation, and options that come to mind are this versatile Exped MultiMat which is very large and thin and you can fold it, which then effectively doubles its nominal R-value. Yet another very comfortable option is the Exped Synmat Mega 12 with 12 cm thick foam and insulation. You can find many more options here.
My rating, pros & cons
Not much to object to this cot. Its daily updated Amazon price is given in the link and you realize this is a great price for such a product.
This is a very popular camping bed that has been on the market for at least 5 years already, so it has been properly tested and it has stood the tests of the time. So the number of reports on the Internet is huge and the rating is high. See below how I rate it:
My rating of the Kamp-Rite Kwik Cot
Weight -

7/10

Size -

8.7/10

Capacity -

7.5/10

Packability -

8.4/10

Ease of use & features -

9.7/10
Summary
My overall rating of this cot is Excellent:
Pros
• Great price.
• Very large cot.
• Very easy setup.
• Very comfortable.
• Very reliable.
• Durable materials.
• No end bars.
Cons
• It stands tall for some tents.
Specifications
Weight: 19 lb (8.6 kg).
Capacity: 300 lb (136 kg).
Dimensions (L x W x H): 79 x 29 x 19 in (201 x 74 x 48 cm).
Bed size (L x W): 79 x 29 in (201 x 74 cm).
Packed size: 39 x 8 x 7 in (99 x 20 x 18 cm).
Shipping size: 40 x 9 x 8 in (102 x 23 x 20 cm).
Heavy-duty 600D fabric.
Heavy-duty powder-coated steel frame.
Included: heavy duty 600D carry bag.
Bonus mesh storage hammock underneath cot.
Summary
In the conclusion of this Kamp-Rite Kwik Cot Review just to stress again that this is a very reliable cot that has been on the market for at least 5 years already, and it still remains in the top-rated and best-selling cots on Amazon.
So this is a very clear indication of its overall quality; the incredible price definitely adds to its popularity. I can fully recommend it.
Check on Amazon
Check at Walmart
You might want to see also this PORTAL Adult Folding Camping Cot built in the same style. If you need something with mattress included, suitable for home use and outdoors, please check this text with a long list of great cots.
Thank you for reading. I love to hear from you so please use the comment box below in the case of any question or remark. I wish you a nice day.