---
In this ALPS Mountaineering Guide Table review you can read about a high-quality steel camping table with adjustable height and a carry bag included.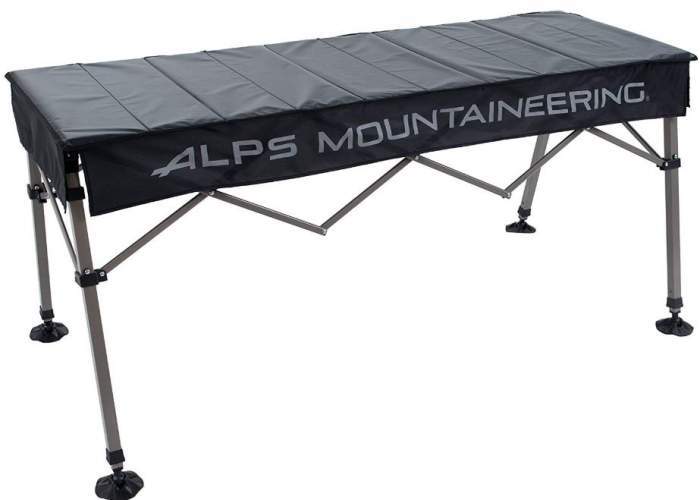 ---
Key features & benefits
Height-adjustable legs.
Very long table.
Fully collapsible.
Steel frame.
Accordion-type hardtop.
Accordion-type folding frame.
Amazon's Choice item.
---
What type of camping table is this
This Guide Table from Alps Mountaineering has been on the market for a number of years already and this is why it is available at many big online sellers.
This is also an Amazon's Choice product and this means they recommend it as highly rated and well-priced, and available to ship immediately.
This is a collapsible and folding construction. The meaning is that the frame with legs folds like an accordion when you store it, and there are also three extra poles and the tabletop that are separate elements. I have included it in my list of best collapsible camping tables.
The tabletop is a hard material, most likely an engineered wood wrapped into a non-removable synthetic cover. So you have 10 segments of the tabletop which fold like an accordion.
This all means that the table needs assembly, as usual for collapsible tables and this is what makes them different from folding camping tables. But this is an easy 2-minute job without any extra tools. The steps are as follows:
You expand the frame in two simple moves, in two directions.
Add the central top bar on the top. It consists of two non-shock-corded segments. It is kept in place with clips.
Expand the tabletop and put it on the ground or on the frame upside-down.
Pass the remaining two poles through the loops that are on the underside of the tabletop.
Turn the tabletop and put in place on the frame. There are clips that keep it fixed, and Velcro straps on the sides as well.
Adjustable legs
There are three possible heights and all the legs can be adjusted independently. To change the height you simply extend each of the legs independently or push them in each other till the next pre-defined position/length. There will be a popup button that will lock each of them in place.
With the 30 inches (76 cm) height this table can be used as a dining table. But there are support bars to bear in mind when you sit at the table.
The 35.5 inches (90 cm) is the standard kitchen countertop height, so this configuration you can use for cooking and preparing meals.
At 42 inches (107 cm) you have a standard bar height so that you can use the table standing or using stools. This is suitable for tailgating parties for serving drinks and appetizers. In view of all these features, I have included this table in my list of best camping tables with adjustable height.
Adjustable feet: The feet are pivoting and self-leveling so they adapt to any surface. This adds to stability on varying terrain, and this is typically what you have in the camp.
The feet are very wide and will not sink easily in the ground, no matter where you use them. When you pack the table for transportation, you rotate the feet so that they better fit in the carry bag.
Materials & other features
The frame is steel and this applies to those multiple support bars underneath the tabletop, the legs, and the previously mentioned three top poles which support the tabletop.
The support bars are designed to fold easily, like scissors. The overall structure is strong but the manufacturer doesn't provide any information about the weight capacity. No doubt it can easily support up to 40 lb of weight.
The top is synthetic, easy to clean and to maintain. But you cannot put hot objects on it. The table comes with a nice carry bag.
---
Who is it for
Size-wise, with the tabletop 61 x 22 inches (155 x 56 cm), this is a very long table, large enough for up to 6 people. But as you see it is rather narrow.
Weight & packed size: with its 25 lb 7 oz (11.5 kg) of weight and the carry bag that measures 31 x 9 x 8 inches (79 x 23 x 20 cm), this is a camping item to use at places with car access.
The mentioned feet are such that you can use it in floored family camping tents without damaging the floor.
---
The price & rating
The daily updated price is shown in the link below, and as you see this is also an Amazon Prime product so you can have it shipped for free.

This Guide Table has received many reports by customers and on Amazon the average rating is very respectable 4.1/5. Please see how I rate it against my standard set of criteria applied to all the tables here in the site so you can compare easily:
My rating of the ALPS Mountaineering Guide Table:
Weight -

2.5/10

Dimensions -

10/10

Packed size -

6/10

Craftsmanship -

9.5/10
Summary
All is summarized in Pros & Cons, have a look.
Pros
Easy to use.
Very reliable.
Top-quality craftsmanship.
Carry bag.
---
Specifications
Weight: 25 lb 7 oz (11.5 kg).
Tabletop dimensions: 61 x 22 in (155 x 56 cm).
Height: 30/35.5/42 in (76/90/107 cm).
Packed size: 31 x 9 x 8 in (79 x 23 x 20 cm)
Frame: steel.
---
ALPS Mountaineering Guide Table vs Competitors
I have decided to show you this table side by side with the Camp Field Camping Table and KingCamp Steel Frame Fold Camp Table. This may help in making an informed choice.
All are folding/collapsible, but the Guide Table is much heavier and it is the only here without aluminum top. But it is much longer than the other two.
Dimensions
(L x W x H), in (cm)

Alps Mountaineering Guide Table
61 x 22 x 42
(155 x 56 x 107)

35.4 x 19.7 x 25.19
(90 x 50 x 64)

36.8 x 7.5 x 5.1
(93 x 19 x 13)

42 x 27.5 x 27.5
(107 x 70 x 74)

43 x 9 x 4
(109 x 23 x 10)

---
Final thoughts
To summarize this ALPS Mountaineering Guide Table review by stressing again that this is a table that has passed the test of the time. It has been around for years already and all is known about it.
Its versatility is backed by its adjustable height which is a true bonus because you can use it in various ways. When you cook you raise it to the middle height and do not have to bend. It is a bit heavy but you are not supposed to carry it anywhere so this should not be an issue for most of the users. Fully recommended.
Check this ALPS Mountaineering Utility Table if you want more storage space.
Note that this is not a sponsored text, and I am not paid by the brand. I love to hear from you so please use the comment box below in the case of questions or comments. Have a nice day.