---
With 3.7 lb (1.68 kg) of weight, the MARCHWAY Lightweight Folding High Back Camping Chair with Headrest is a portable and fully collapsible versatile outdoor item.
---
Key features & benefits
High back support.
Headrest with a bar.
Easy setup.
Lightweight.
Backpack portable.
Very good price.

---
What is in the name
I use the word 'folding' in the title because this is how it is provided by the manufacturer. In fact, this is best described as a collapsible chair. The reason is that it collapses into pieces and you have to assemble it each time you use it. For this reason, I have included it in my list of best collapsible camping chairs and those are quite different from folding camping chairs.
But this assembly is very simple, all is done in less than a minute. All poles are shock-corded and you cannot lose any pieces, and putting them together is done in seconds. After that you just add the sling, there are small pockets on the back of it where the ends of the supporting poles should be placed.
You see also the words 'high back' and 'headrest', so these are very important features here. The chair is with a high back section and you have a padded headrest as well. Note also that this head section is with a bar pre-installed in it, so this adds to the stability and you have a very good support here. This bar remains in the sling when you take the chair down.
What is included
There are only two elements: the frame and the sling, and this all comes in its nice carry bag: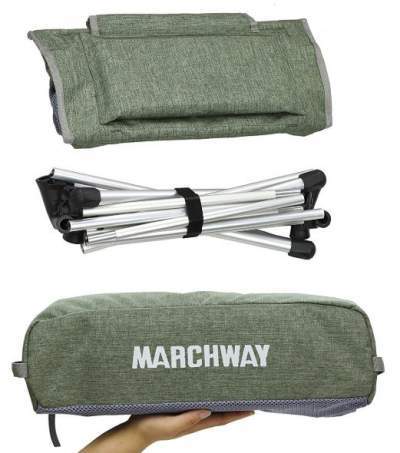 ---
Who is it for
Capacity-wise, the chair is moderate, it supports the weight of up to 300 lb (136 kg). Such a capacity is quite normal for this type, if you want something much stronger then check those folding chairs.
Weight-wise, this is a very lightweight chair. With 3.7 lb (1.68 kg) of weight, it is backpack portable. But for longer hiking and backpacking tours you might check some of the ultra-lightweight backpacking chairs.
The packed size is good, see the picture above; it packs to 17 x 6.6 x 5.5 inches (43 x 17 x 14 cm). You will be able to compare this with some other chairs, there is a comparison table below.
Size-wise, note that the seat size is (W x D) 21 x 14 inches (53 x 36 cm), and it is 18 inches (46 cm) above the ground. So it is not so deep but the back section is angled backward for a comfortable sitting, see the picture below.
So from all this, you realize that this chair is very versatile, it has something from both worlds, from those camping chairs and from backpacking chairs. It is good enough for camping, hunting, motorcycling, fishing, beach, BBQ, road trip, tailgate parties, sports events, etc.
---
Materials & construction
The frame is an aircraft-grade corrosion-resistant 7075 aluminum alloy, and the segments are all interconnected. So this is a very strong material comparable to steel. When transported in its carry bag, this all is held in a bundle by a Velcro strap.
The fabric is exceptionally strong, this is a 1000D ripstop polyester. Not many chairs on the market come with such a strong sling. But I have seen also a statement by the brand that this is Cordura 500, so this is a bit of a puzzle for me, the chair has been on the market for a few years so perhaps they changed the sling material. In any case, this is combined with a mesh in three sections, and on some segments on the armrests area, you have a bit of padding. There is a padded section also for the headrest.
You will notice that the upper "pockets" where the frame poles go are very long and reinforced, so this is a very durable design.
The legs are with plastic caps, this is good for a hard surface but not good for a soft ground or sand. Please see more in this video:
---
The price & rating
The daily updated Amazon price is given below. I think this is more than fair for the quality you have here. Note also that this is an Amazon Prime product.

The rating by Amazon customers is very high and there are hundreds of reports available. See how I rate it for several parameters used for all chairs here in the site:
My rating breakdown of the MARCHWAY Camping Chair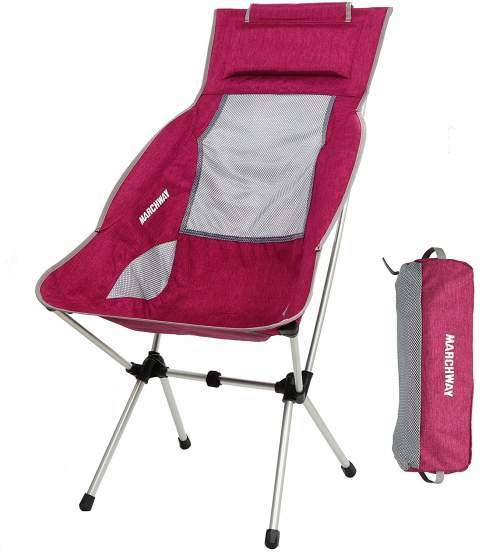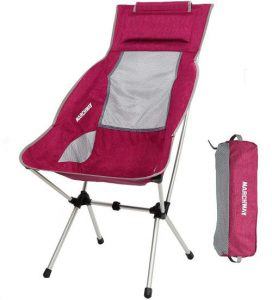 Product Name: MARCHWAY Lightweight Folding High Back Camping Chair with Headrest
Product Description: With 3.7 lb (1.68 kg) of weight, the MARCHWAY Lightweight Folding High Back Camping Chair with Headrest is a portable and fully collapsible versatile outdoor item.
Brand: MARCHWAY
Weight -

8.4/10

Dimensions -

8.2/10

Packed size -

7.2/10

Capacity -

7.5/10

Comfort -

9.5/10

Craftsmanship -

9.5/10
Summary
My overall rating for this chair is Excellent:
Pros
Very good price.
Very lightweight.
Good packed size.
Very easy to use.
Great headrest design with a bar.
---
Specifications
Type: collapsible camping chair.
Weight: 3.7 lb (1.68 kg).
Capacity: 300 lb (136 kg).
Dimensions (W x D x H): 22.8 x 26 x 39.2 in (58 x 66 x 100 cm).
Seat height: 18 in (46 cm).
Seat size (W x D): 21 x 14 in (53 x 36 cm).
Packed size: 17 x 6.6 x 5.5 in (43 x 17 x 14 cm).
Colors: 4.
---
MARCHWAY Camping Chair vs Competitors
Here I show this MARCHWAY chair side by side with two others built in a similar style. The differences are not big but follow the links to see the prices, it is far more affordable than the others.
Dimensions
(W x D x H), in (cm)

22.8 x 26 x 39.2 (58 x 66 x 100)

17 x 6.6 x 5.5
(43 x 17 x 14)

21.7 x 25.6 x 34.3 (55 x 65 x 87)

24.4 x 6.5 x 6.5
(62 x 17 x 17)

21 x 27.5 x 39 (53 x 70 x 99)

20 x 6.5 x 4
(51 x 17 x 10)

---
Final thoughts
In the summary, this MARCHWAY Lightweight Folding High Back Camping Chair with Headrest is really nicely built and easy to use outdoor tool. It is hard to find a true objection to such an item. The price is more than reasonable, and the chair comes with some really nice features, like the headrest and the good back support. I have included this chair it in my list of high back camping chairs with headrest.

I already gave a few alternative options in the table above, but if you need to see more please check in the category Camping Chairs. You might want to compare it with the Helinox Sunset Camping Chair which is also with a high back. But check also this Alite Designs Stonefly Camping Chair which is a new and unique item on the market.
Note also that this brand builds cots, so you have one from those very lightweight cots presented here in the site, have a look here.
Thank you for reading. Please use the comment box below in case of questions or comments. Have a nice day. 

---