---
The EVER ADVANCED Folding Camping Cot is ultralight, compact, backpack-portable, with interesting folding legs, and very affordable.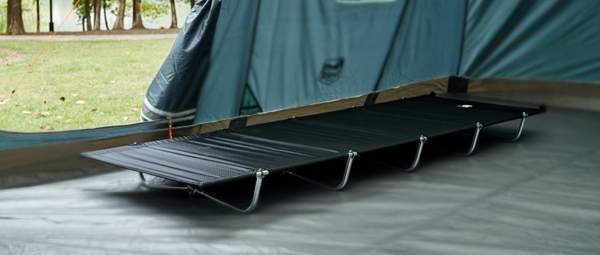 ---
Key features & benefits
Lightweight.
Collapsible cot.
Aluminum alloy frame.
Carry bag included.
Great price.
---
What this is about
This brand has yet another cot presented here in the site and it is with the same name. They have only added the word 'backpacking' in the name of the cot presented here, and this is how you can know which is which on Amazon.
So this is a lighter version, but you will see also that it is smaller. I use the word backpacking in the title because it is suggested by the manufacturer, this is just to avoid confusion with names.
Is it really folding? This term usually describes the cots that need no assembly. But this is not so here. So the name may be a bit misleading. In fact, this is a collapsible cot with several separate parts that need a simple assembly.
The picture shows what the cot includes, so you have a carry bag, the bed fabric, 5 folding legs, and two shock-corded side poles.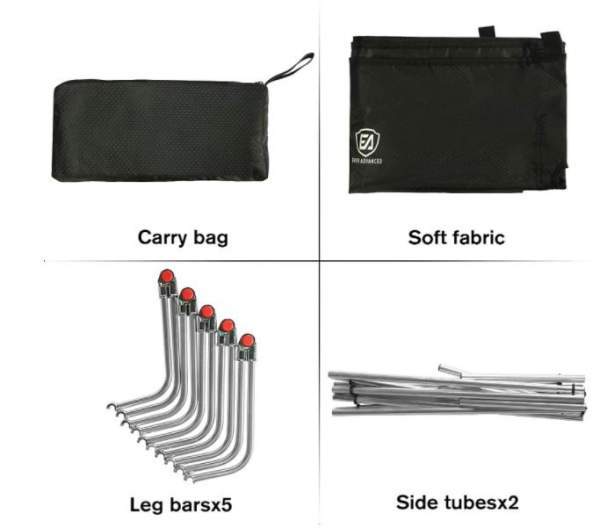 The mentioned assembly is easy, and you do not need extra tools. Start with the folding legs as shown below and prepare them one by one: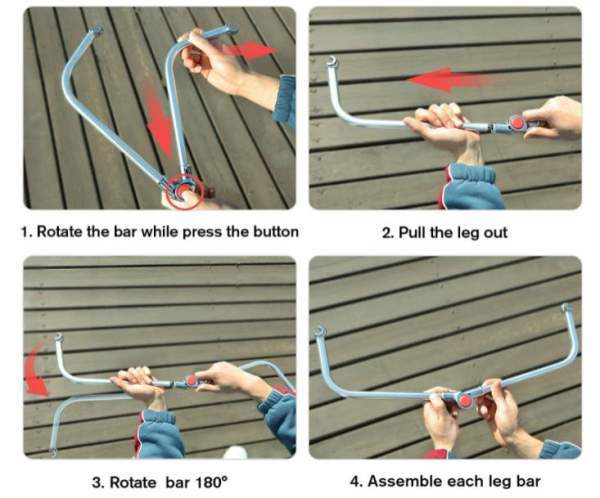 Then place the two side poles into the sleeves of the bed fabric, see how this is done:

After that put the legs into place as shown in the pictures:

Materials
All the metal elements in the pictures are an aluminum alloy. Note that there are 5 legs and they are bars, so the weight is distributed. The structure also looks very stable and sturdy.
The fabric is a honeycomb woven design, most likely polyester, but they do not provide information about this.
Warranty
They write about worry-free purchase, and this means that the cot has a 12-month warranty and special after-sales service.
---
Who is it for
Regarding the weight, they describe the cot as ultralight and write that this is a backpacking cot. So the weight is such that it is appropriate to describe it ultralight, it weighs only 4.77 lb (2.16 kg).
But I do not think that backpackers would carry such an item long distances in the pack. See mu list of ultralight backpacking cots to see some really light options.
Regarding the packed size, they describe it as ultra-compact, see the picture, so this is true. You will see below how I rate its packed size which is 16.7 x 8.5 x 2 inches (42 x 22 x 5 cm). It is indeed very small and you can carry it attached to the pack. But I see it better suited for transportation on a bicycle or in any other way.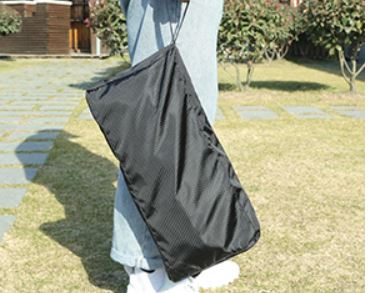 Regarding the dimensions, the cot is quite modest. The bed measures 73.4 x 24 inches (186 x 61 cm). There are no end bars here so all this length is a true useful length, but it is obvious that the cot is not for very tall users.

The width is more or less typical for such portable cots, but if you need more space, please check my extra wide cots.
Regarding the capacity, the cot is officially for users of up to 220 lb (100 kg). This is a modest value, so if you need more you will find it in my list of cots for heavy people.
Regarding the price, the cot is a true bargain. This is an excellent option as a gift for somebody who likes to go outdoors.

Using this cot in a tent
Note that the cot is very low, the clearance is 5.1 inches (13 cm). So with such height it can be used literally in any tent, even in small solo tents. You can still store some long and thin gear items under the cot.
The legs are floor-friendly structures so you can use it in the tent without any problem with the tent's floor.
---
Specifications
Weight: 4.77 lb (2.16 kg).
Capacity: 220 lb (100 kg).
Dimensions: 73.4 x 24 in (186 x 61 cm).
Height: 5.1 in (13 cm).
Packed size: 16.7 x 8.5 x 2 in (42 x 22 x 5 cm).
---
Rating, pros & cons
The table below summarizes my rating and some pros and const. Please use the rating bar to rate the cot yourself.
Ultralight and very compact cot
Weight -

9.6/10

Size -

8.1/10

Capacity -

6.5/10

Packed size -

9.6/10

Ease of use & features -

8/10
Summary
This cot scores well in most of my rating criteria, so the overall rating is Very Good.
Pros
Very light.
Great packed size.
Great price.
Cons
Modest size.
Modest capacity.
---
Final thoughts
In summary, this EVER ADVANCED Folding Camping Cot for Backpacking is ultralight and very compact. It needs some simple assembly. The price is more than appropriate. But the weight is a bit too much for a backpacker.

For more options please check under the category Cots here in the site, you will find them many.
Thank you for reading. Let me know if you have comments or questions, there is a comment box below. Have a nice day.