---
TravelChair SleepTite Cot is nicely packable and lightweight enough to be carried in the backpack, easy to use and reliable.
---
Key features
Collapsible cot.
Nicely packable.
Easy to use.
Carry bag included.
---
Where to buy
This cot is available on Amazon and you might want to know that the Amazon price is far lower than the price on the manufacturer's site.
---
What is in the name
So first do not get confused by the word TravelChair, this is the name of the brand, and what you have here is a collapsible camping cot. This means that it needs a simple assembly whenever you use it, but this is done without any tool and it is very easy. All the elements of the cot are shown in this picture: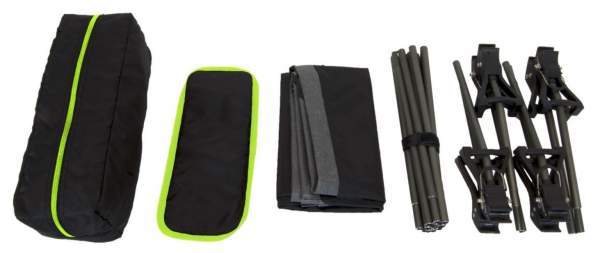 So what you see here are the following elements:
Carry bag.
A pillow.
Bed deck.
Two side poles.
Four shock-corded legs with locking mechanism.
To set this cot up you spread the bed fabric and put the two side rails in the sleeves. Then you start adding the four legs. Each of them has a pull handle on one of the two sides, which locks it in place. This all can be done in a couple of minutes. This video shows how the legs are added:
---
Who is it for
Weight-wise, with 5.25 lb (2.38 kg) of weight and with the excellent packed size 15 x 5 x 5 inches (38 x 13 x 13 cm), this is a backpack-portable cot. Though this is not for long tours and if you need something of that type, please check my list with ultralight backpacking cots.
Size-wise, with the bed dimensions 76 x 25.5 inches (193 x 65 cm), this is quite a normal size cot but not for very tall people. Note that there are no bars at the two ends, so these 193 cm is a true useful length.
If you need something bigger but still backpack-portable, please check this list. But for very tall people check these giant camping cots, all longer than 210 cm.
Capacity-wise, with the declared capacity of 300 lb (136 kg), this cot is quite typical for such a type.
So all in all, this is a very versatile item which you can use in a variety of situations outdoor and also as a spare bed at home.
---
Using the TravelChair SleepTite Cot in a tent
The dimensions of this cot are such that you can use it in any tent, including even those low solo tents.
Note that you have 5 inches (13 cm) clearance from the ground. This is enough to save you from moisture and also you will not need a pad for a 3-season camping. You can store at least some of the items underneath the cot, like trekking poles or anything similar.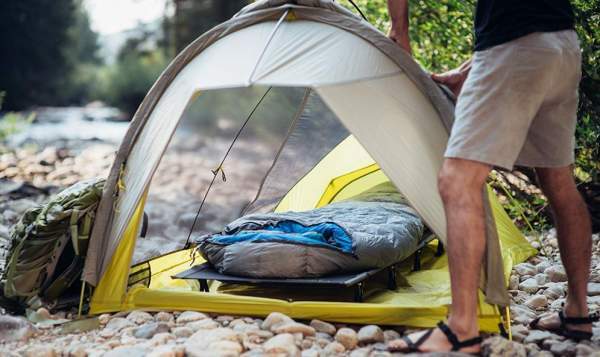 The feet are such that they should not damage the floor, they are wide and there are 8 of them so the weight is distributed. See the bottom area and observe also that the cross-bars are well under the bed deck so you should have no pressure spots anywhere:

Here is a zoomed picture of one of its feet with the locking mechanism, note that you have such a feature in several cots on the market, like in this KingCamp Cot: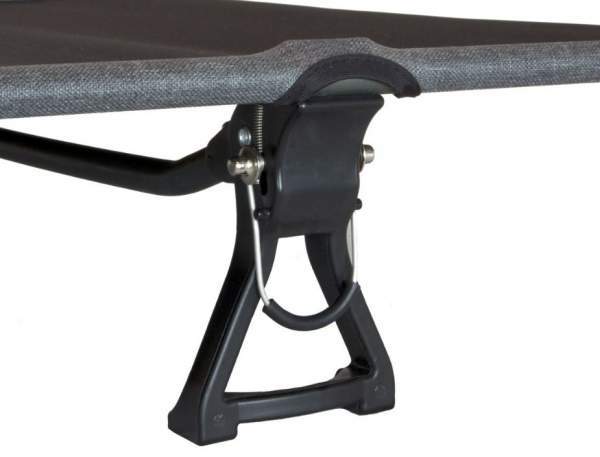 ---
My rating, price, pros & cons
This cot is currently on Amazon with the price shown in the link. So it is a bit expensive but this is a quality item.
Please see how I rate it against the usual set of criteria used for all the cots here in the site:
My rating breakdown of the TravelChair Sleeptite Cot:
Weight -

9.6/10

Size -

8.3/10

Capacity -

7.5/10

Packed size -

10/10

Ease of use & features -

8.5/10
Summary
My overall rating of this cot is Excellent:
Pros
Great packed size.
Quality craftsmanship.
Lightweight.
Carry bag.
---
Specifications
Weight: 5.25 lb (2.38 kg).
Capacity: 300 lb (136 kg).
Dimensions (L x W x H): 76 x 25.5 x 5 in (193 x 65 x 13 cm).
Packed size: 15 x 5 x 5 in (38 x 13 x 13 cm).
---
TravelChair SleepTite Cot vs Competitors
I have decided to show you this cot side by side with two other backpack-portable cots built in the same style. Note that one of them is an ultralight item, so this will help you to understand the features of this cot.
It is heavier than the other two, but its packed size is without a match, and its capacity is also better.
TravelChair Sleeptite Cot
15 x 5 x 5
(38 x 13 x 13)

23 x 5.7 x 5.7
(58 x 14.5 x 14.5)

20.9 x 5.1 x 5.1
(53 x 13 x 13)

---
Final thoughts
So this TravelChair SleepTite Cot is nicely built, it is indeed backpack portable but it is fair to say that there are lighter cots for such a purpose. Its packed size is its best feature, and if you need something ultra-compact for your bicycle tours perhaps, bear in mind that you will not find many cots with such a packed size.
Note that this is not a sponsored post and I have no relation with the brand. Please use the comment box below in the case of questions or comments. Have a nice day.

---