---
The Stansport Base Camp Folding Cot is a reliable military style easy to use cot with an impressive length and a great price tag.
---
Key features & benefits
Military-type cot.
Huge size.
Carry bag.
Great price.
---
What this is about
Here you have a cot that has been around for a decade or so. There were some different versions of it on the market, so this makes some confusion. It is built in the style of a military cot, and this means it needs a simple assembly.
Most of the elements are pre-attached, so you unfold the cot and after that all you have to do is to add two end-bars at the feet and head side. This is easily done and without any extra tool.
The picture below shows how it folds, and you realize it becomes an elongated thin item that does not take much space in the car.

For transportation and for storage you have a carry bag included, see how it looks with its shoulder strap: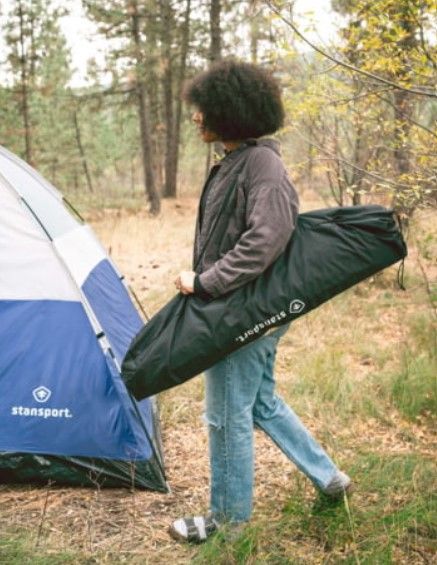 The materials
This is a steel structure and with reinforced leg brackets. The feet are quite typical for such military type cots, so they are with plastic caps and rather narrow. This is why I would not use it in a floored camping tent without extra protection.
The fabric is a polyester, but they do not provide details about its denier value. Please see a bit more in this short video:
---
Who is it for
Regarding the capacity, the cot is a bit modest in view of its size, so the official capacity is 275 lb (125 kg). If you need more, it is best to check my list of cots for heavy users.
Regarding the dimensions, the cot is very long, the dimensions are 80 x 30 inches (203 x 76 cm). Note that it has a full frame around, and this takes a few centimeters, but you still have plenty of space to sprawl.
Regarding the weight, it is on the heavy side with its 24.7 lb (11.2 kg). So you would not want to carry it far from the car. But you have seen the shoulder strap on the carry bag, so this should not be a problem in principle.
Regarding the price, this cot is incredibly affordable, a true bargain. There are many sellers, links are below, so you can compare the prices.

---
Specifications
Weight: 24.7 lb (11.2 kg).
Capacity: 275 lb (125 kg).
Dimensions (L x W x H): 80 x 30 x 17 in (203 x 76 x 43 cm).
Frame: steel.
---
Rating, pros & cons
Below you can see how this cot stands against my standard rating criteria. You can rate if from your side as well.
Huge size and great price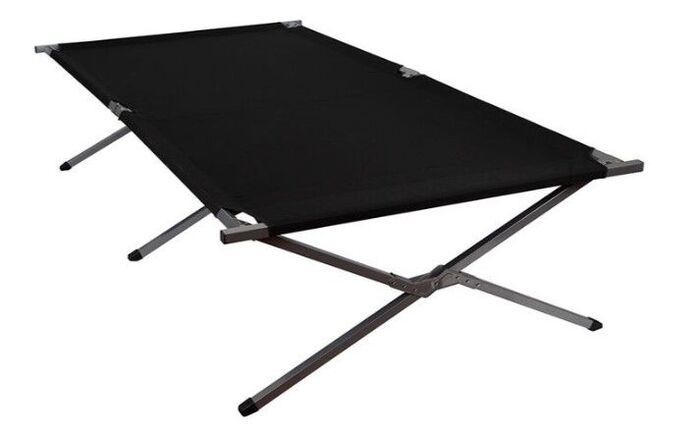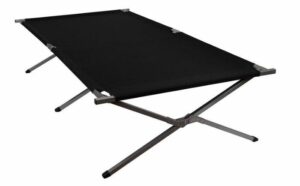 Product Name: Stansport Base Camp Folding Cot
Product Description: The Stansport Base Camp Folding Cot Is a Reliable Military Style Easy to Use Cot with an Impressive Length and a Great Price Tag.
Brand: Stansport
SKU: B00ENBTUWQ
MPN: G-27
Weight -

6.2/10

Size -

8.9/10

Packed size -

8.5/10

Capacity -

7.5/10

Ease of use & features -

9/10
Summary
The cot is a bit heavy, but it is also very large, so the overall rating is Very Good.
Pros
Great size.
Reliable.
Easy to use.
Very affordable.
Carry bag included.
---
Final thoughts
So to summarize, this Stansport Base Camp Folding Cot has been around for many years, tried and tested by many users. It is highly rated by customers on Amazon, Walmart, and at some other places, and this for all the good reasons.
This is a simple and reliable cot and the price is hard to match. Fully recommended.
Best places to buy:
For more options, please check under the category Military Style Cots, you will find them many here in the site, and in all sizes and shapes. Note that there are several cots from this brand presented here in the site.
Bookmark this site and visit it when you find time, this will keep you informed, you have new texts added here on a regular basis. Let me know if you have questions, there is a comment box below. Thank you for reading and have a nice day.