---
The Snow Peak Entry IGT Table is a collapsible modular structure with a wood tabletop, easy to use and pleasant.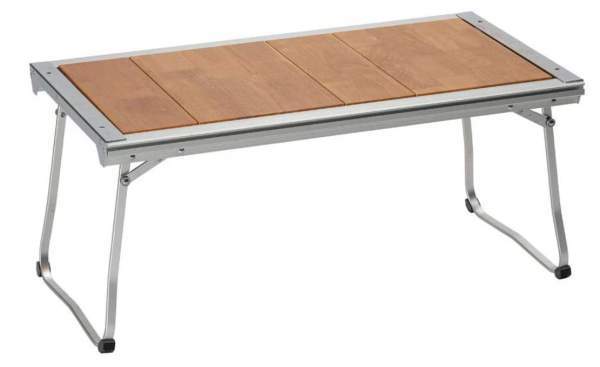 ---
Key features & benefits
Collapsible table.
Modular design.
Wood tabletop.
---
What is in the name
I would start with the letters IGT in the name. The letters mean Iron Grill Table, but the actual meaning is that this table is a part of a huge IGT collection of elements that you can buy separately and use in various configurations. If you follow the link you will see them more than 70.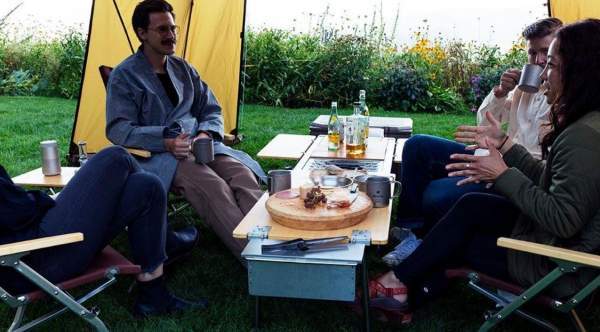 So when you buy one element like this table, you can grow it almost indefinitely by adding various elements and increasing its functionality.
On the other hand, the word Entry in the name also implies their well-known collection of many elements.
But you can use the table as it is without anything else, and in this case it includes the following elements:
A frame.
2 One-unit wood inserts.
2 Half-unit wood inserts.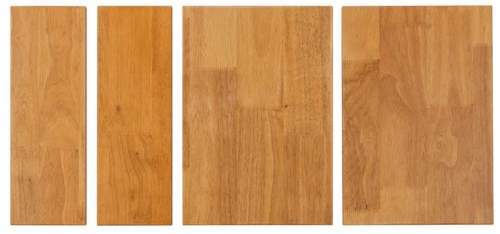 So this is a collapsible table with a folding frame and a tabletop pieces that you put in place after the frame is unfolded.
In the picture below you see a configuration where the two tabletop pieces are removed and an IGT grill insert is added.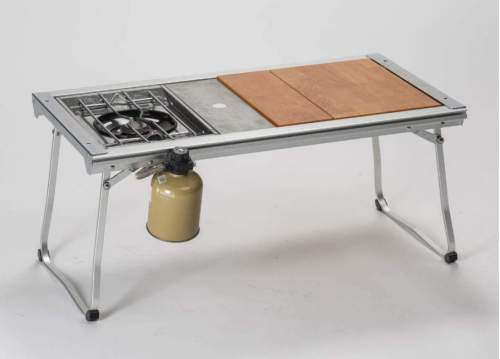 Here you have an IGT side extension added. You can add yet another on the opposite side of the table, and two more on the longer sides.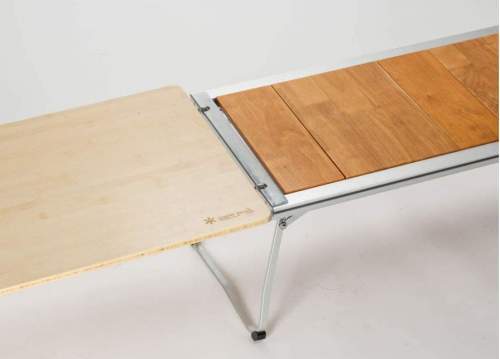 Materials
So you have already seen that the tabletop is a pleasant laminated wood. The rest is metal, and this is a combination of steel and an aluminum alloy. Below you can see the locking mechanism on the legs.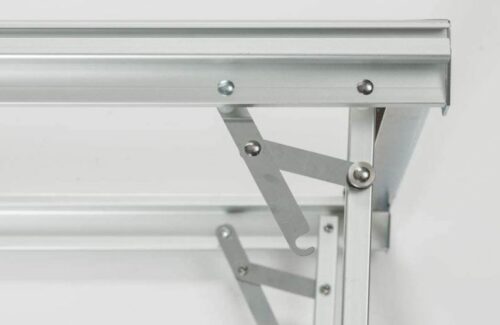 Note that the legs are U-shaped folding bars. So this is a floor friendly shape and you can use it without problem in any floored tent.
---
Who is it for
Regarding the best use & dimensions, you have (L x W x H) 34 x 17.3 x 15.7 inches (86.5 x 44 x 40 cm). So this is quite similar to their Snow Peak Single Action Low Table.
The picture below shows how this looks in comparison with one of their camping chairs. If you are curious, this is the Snow Peak Red Folding Chair. So this is a side table for 2 or even for 3 people. But with extensions it can accommodate far more people.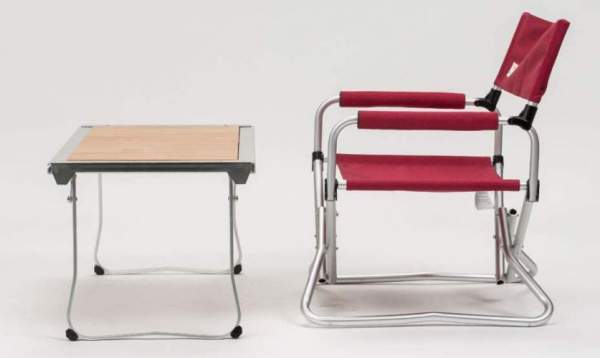 You have already seen that some elements of the tabletop can be removed and you can use it as a grill table.
Regarding the weight, the table weighs 14.3 lb (6.5 kg) so it is on the heavy side. The packed size is determined by the frame and it measures 32.8 x 17.3 x 2 inches (83.2 x 44 x 5 cm). As you see it becomes incredibly thin and it fits easily in narrow spaces.
Regarding the price, Snow Peak products are never cheap, but they are of the highest quality and craftsmanship. Above all, you always have a lifetime warranty whatever you buy from them. So you know what you are buying, but this peace of mind has its price.

---
Specifications
Weight: 14.3 lb (6.5 kg).
Dimensions (L x W x H): 34 x 17.3 x 15.7 in (86.5 x 44 x 40 cm).
Folded dimensions: 32.8 x 17.3 x 2 in (83.2 x 44 x 5 cm).
Frame: steel & aluminum alloy.
Warranty: lifetime warranty.
---
Rating, pros & cons
Below you have my rating of this table, and some pros and cons. This might be useful for you if you compare it with some other tables presented here in the site. Note that you can rate it yourself, there is a rate bar below.
Multifunctional and extendable side table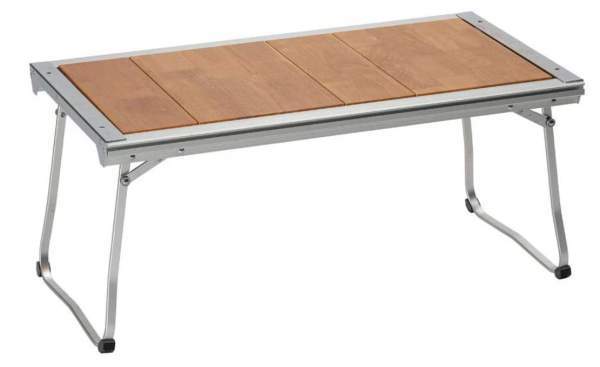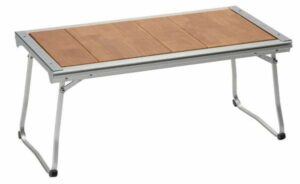 Product Name: Snow Peak Entry IGT Table
Product Description: The Snow Peak Entry IGT Table Is a Collapsible Modular Structure with a Wood Tabletop, Easy to Use and Pleasant. It Can Be Extended in Various Ways.
Brand: Snow Peak
SKU: B07KRCVF1P
MPN: CK-080
Weight -

5.5/10

Dimensions -

7.5/10

Packed size -

8/10

Craftsmanship -

9.4/10
Summary
The weight negatively affects the overall rating but it is still Good.
Pros
Unique features.
Easy to use.
Modular design.
---
Final thoughts
So this Snow Peak Entry IGT Table comes with some unique features, but this is quite typical for this brand. Most importantly you have a lifetime warranty with this table. It is easy to use, functional, and its functionality can be increased by adding various elements from their IGT collection. Fully recommended.
Best places to buy:
For more options, please check under the category Camping Tables, you will find them many here in the site, and in all sizes and shapes.
Bookmark this site and visit it when you find time, this will keep you informed, you have new texts added here on a regular basis. Let me know if you have questions, there is a comment box below. Thank you for reading and have a nice day.