---
The Stansport Heavy-Duty G.I. Cot is affordable and easy to use, and one of the largest on the market, suitable for very tall users.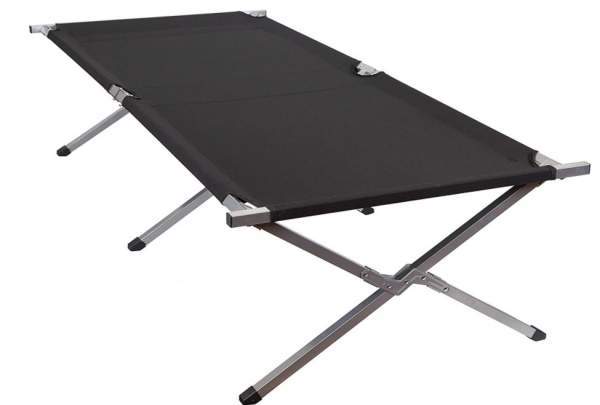 ---
Key features & benefits
Military-style cot.
Extremely long & wide
Over a decade on the market.
Easy to use.
---
Overview
This Stansport Heavy-Duty G.I. Cot has been around for over a decade already. This is a very typical military-style camping cot, and this means it needs a simple assembly. As usual with such cots, this only means adding the two bars at the head and feet side, all other elements are pre-attached to each other.
When folded, it becomes a long tube shown below. The dimensions in its carry bag are 50 x 10.2 x 4.4 inches (127 x 26 x 11 cm). So it is indeed long but thin, so it fits in narrow spaces.
Materials
They use steel, and the frame tubes are with 1.2 mm thick walls. Note that the feet are with plastic caps, so this is a floor friendly design if used at home. But the feet are narrow to be used in a floored family camping tent without some extra protection.
The fabric is a 600D polyester, this is a quite typical material and denier value for such beds. It is with reinforced stitching and bar tacked stress points.
---
Who is this Stansport Heavy-Duty G.I. Cot for
Regarding the capacity, the cot is quite typical, it is officially for users of up to 300 lb (136 kg). This is a bit in contrast with its enormous size.
Regarding the dimensions, this is one of the largest cots on the market. So it is both wide and long, the dimensions are 84 x 42 inches (218 x 107 cm). This is why it is included in my list of extra long camping cots and also in the list of extra wide camping cots. This makes it a cot for very tall users.
The cot is also high, you have 19 inches (48 cm) of clearance underneath it. So this is a useful space to store you gear. With such a height, I see it as a great option for elderly users.
Regarding the weight, well, this is not its best feature, it weighs 34.9 lb (15.8 kg). You have already seen its packed size, so in view of this all, you realize this is only for places with a car access.
Regarding the price, I think this is very good for such an enormous cot. It has been around for many years so you know what you are buying.

Using this cot in a tent
In view of its dimensions and height, obviously it cannot be used in very low solo tents. But when you have such a cot in a tent, the area underneath it is still useful for storage. 
For summer camping you do not need a sleeping pad, except for extra comfort. In a cooler environment you need a camping pad for insulation, but you need far less insulation when you are on such a cot as compared with sleeping on the pad on the ground.
About Stansport brand
Stansport as a company has been around since 1949, so you have a reliable brand behind this product. This is a family-run company known for its affordable outdoor equipment.
---
Specifications
Weight: 34.9 lb (15.8 kg).
Capacity: 300 lb (136 kg).
Dimensions (L x W x H): 84 x 42 x 19 in (218 x 107 x 48 cm).
Folded dimensions: 50 x 10.2 x 4.4 in (127 x 26 x 11 cm).
Frame: steel.
---
Rating, pros & cons
Below is summarized my rating, and some of pros and cons. As you see it does not shine in all the rating criteria. Feel free to rate this cot from your side, there is a rating bar below.
Incredibly large cot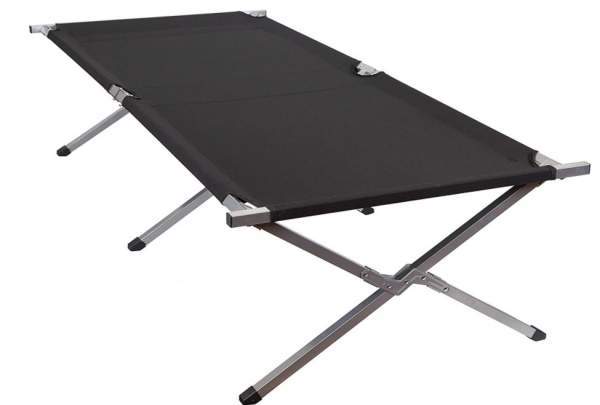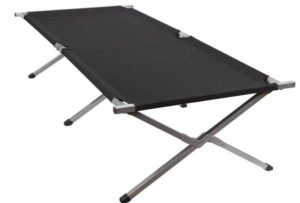 Product Name: Stansport Heavy-Duty G.I. Cot
Product Description: The Stansport Heavy-Duty G.I. Cot is Affordable and Easy to Use, and One of the Largest on the Market, Suitable for Very Tall Users. Keep Reading.
Brand: Stansport
SKU: B005VHQ5BA
MPN: G-36-42
Weight -

4.4/10

Size -

10/10

Packed size -

7.2/10

Capacity -

7.5/10

Ease of use & features -

9.2/10
Summary
The weight affects the overall rating very negatively, but it is still Good.
Pros
Incredible size.
Tall cot.
Reasonable price.
Carry bag.
---
Final thoughts
So this Stansport Heavy-Duty G.I. Cot is enormous in every sense, and if you need a cot for a tall person, this is it. But bear in mind that its official capacity is just average. The weight is substantial but apart from this the cot is easy to use. Fully recommended.
Best places to buy:
For more options, please check under the category Camping Cots, you will find them many here in the site, and in all sizes and shapes. If you need a smaller cot built in the same style, check this Extremus New Komfort Camp Cot.
Let me know if you have questions, there is a comment box below. Bookmark this site and come again, this will keep you informed because you have new texts here added regularly. Thank you for reading and have a nice day.