---
The Decathlon Quechua Camping Inflatable Cot is a totally unique large and functional lightweight but compact when packed, easy to use camping cot.
---
Key features & benefits
Inflatable cot.
Very light.
Compact when packed.
Easy to use.
Large bed.
Storage space.
---
What this is really about
So here you have something totally unique on the market, at least this is so as of the moment of writing this text. This is an inflatable cot.
Now, there is yet another inflatable cot known to me, the Big Agnes Goosenest Inflatable Cot, but what you have in this Decathlon Quechua Camping Inflatable Cot is something totally different.
Namely, the mentioned Big Agnes cot is very similar to a thick inflatable mattress. However, this Quechua Inflatable Cot has a storage space inside, you realize this from the top picture above.
In fact, this is not the first cot of this type, they have had yet another several years ago, it was smaller and with metal slats/poles.
How is this Decathlon Quechua Camping Inflatable Cot built
You have inflatable beams on the perimeter, and they inflate with a single valve shown in the picture below. The picture also shows the suggested pressure. This must be done with a pump, they have their own available, the Quechua 5.2 L red pump.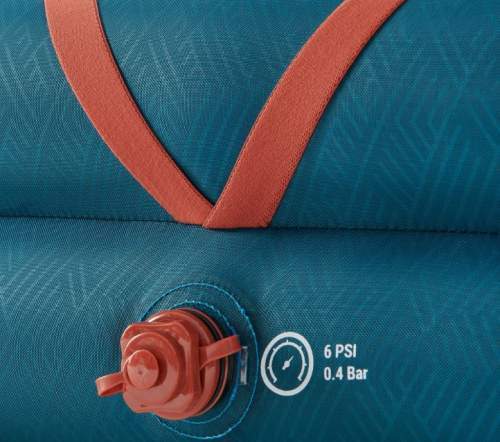 When inflated, the structure is very stable. The picture below shows the top view if the cot. The slats/poles are a thermoplastic polyurethane, light but strong material.

The poles are pre-attached so they remain in place when you deflate the cot. Below you can see how they are attached to the beams:
The cot is stabilized with strong straps, you have seen them in the picture above, and below you see the diagonal X-crossed struts that stabilize the sides.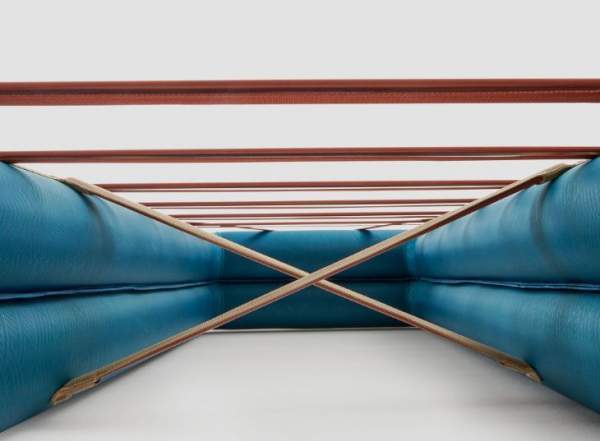 If you are concerned about the air beams, no worry, Decathlon is one of the brands that builds inflatable tents, and they have them many on the market. So they know how to build such products. On the other hand, you have incredible 5 years warranty with this cot.
Deflating is easy, simply open the valve and the cot will collapse. You pack it by rolling it from the side opposite to the valve. In this way you press the remaining air out. As mentioned, all the rigid elements (poles) roll together with the cot.
So the packed length is roughly the width of the cot, the picture below shows it in its carry bag. It is equipped with a draw cord and with a strap to carry it attached to the shoulder. The dimensions are around (L x D) 30 x 5.1 inches (75 x 13 cm).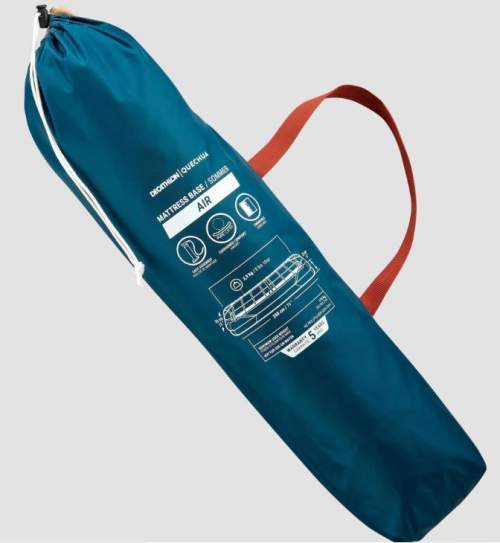 For a cot this is a compact size, but note that you must have a pump as well. You can use the pump that you have for your camping pads.
The fabric used for the beams is the same as the one used for the carry bag, this is a cationic polyester.
---
Who is it for
Regarding the best use and dimensions, you have a bed that measures 78.7 x 27.6 inches (200 x 70 cm). So this is a large bed in every sense, suitable even for very tall people. Note that there is no frame here, and this means that the length and the width are true useful dimensions.
However, you must have a pad, and it should be reasonably thick, otherwise you would feel the poles underneath you. So any inflatable or other type pad that is more than 5-7 cm thick should be fine.
I wish to stress that with such a cot you are well off the ground, you have 9.8 inches (25 cm) clearance. This means also that you have a storage volume underneath the sleeping pad, i.e., inside the cot. So here you can put a lot of stuff, this is a large space. The picture below shows this.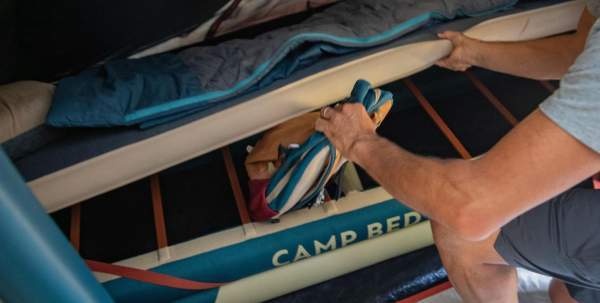 On the other hand, this cot can be used in any floored tent without any issue with the tent's floor. As you know this is not always so with standard cots.
Regarding the capacity, it is quite modest 242 lb 5 oz (110 kg). So this is not a cot for really heavy users. If you are one of them, better check some of these cots for heavy people.
Regarding the weight, the cot is very light, it weighs only 8.4 lb (3.8 kg). So this is indeed remarkable in view of its massive beams and 10 solid element (slats and struts).
But similar to my comment related to its packed size, here too you have the same fact to bear in mind, there must be a pump in the car trunk. A few more details are shown in the picture below.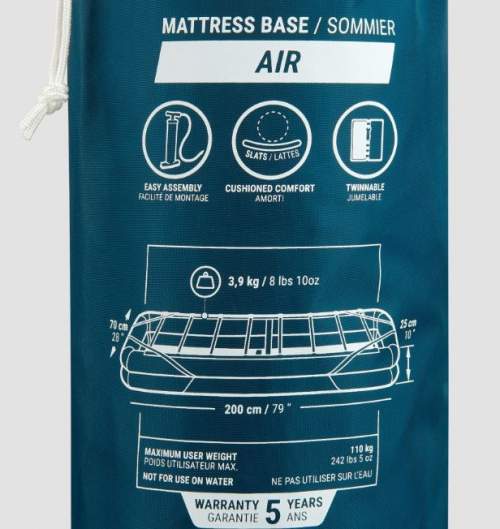 ---
Specifications
Weight: 8.4 lb (3.8 kg).
Capacity: 242 lb 5 oz (110 kg).
Dimensions: 78.7 x 27.6 in (200 x 70 cm).
Height: 9.8 in (25 cm).
Packed size (L x D): around 30 x 5.1 in (75 x 13 cm).
Warranty: 5 years.
---
Rating, pros & cons
The table below summarizes my rating and some pros and cons. Please use the rating bar below to rate it from your side.
Totally unique and functional inflatable cot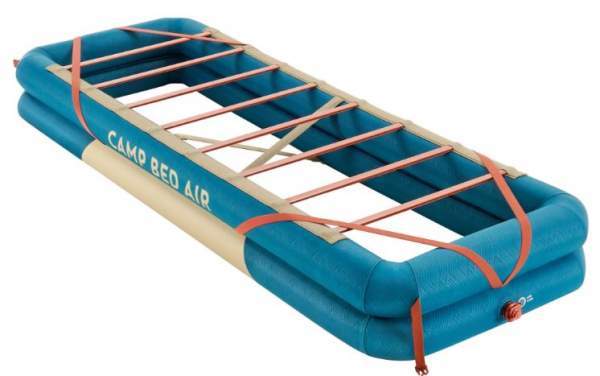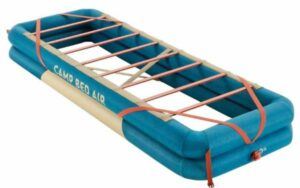 Product Name: Decathlon Quechua Camping Inflatable Cot
Product Description: The Decathlon Quechua Camping Inflatable Cot is a Totally Unique Large and Functional Lightweight but Compact when Packed Easy to Use Camping Cot.
Brand: Decathlon
SKU: 8595949
Weight -

9/10

Size -

8.5/10

Capacity -

7/10

Packed size -

9.4/10

Ease of use & features -

9.7/10
Summary
This cot stands very good against every of my rating criteria, so the overall rating is very high.
Pros
Large bed.
Very compact when packed.
Lightweight.
Great comfort.
Easy to use.
---
Final thoughts
So this Decathlon Quechua Camping Inflatable Cot is an incredible product, unique and versatile. You can use it as an outdoor bed and also as a spare bed at home for sudden guests and for emergencies.
Note that you must have a sleeping pad with this cot, and for inflation you need a pump. Thick beams separate you from the ground, the cot is very stable and it does not make any noise. You can use it in almost any tent, no matter how small. Fully recommended. It is included in my list of best inflatable cots.
Best place to buy:
Please check also this KingCamp Camping Air Bed Frame built in the same style. You might want to see also the FLATED Air-Deck Raised Platform Bed which is something completely unique on the market.
If you still need something classic, please check under the category Camping Cots. See also yet another unique item, the Born Outdoor Badger Bed which is designed to protect your sleeping bag.
Bookmark this site and come again, as you realize I am doing my best to find some truly unique products and to present them here. Thank you for reading and have a nice day.