---
This Snow Peak Jikaro FireRing Table is a completely unique stainless-steel collapsible outdoor table, easy to use, and with a carry bag included.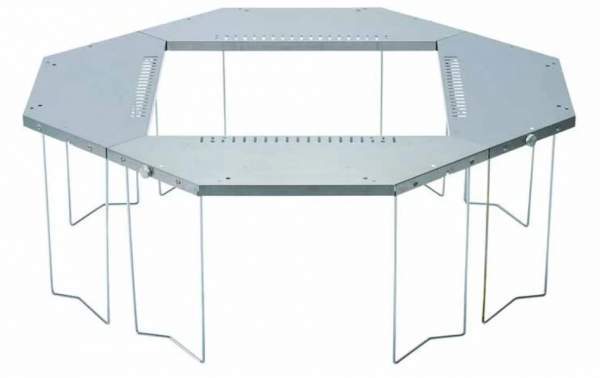 ---
Key features & benefits
Collapsible outdoor table.
All stainless-steel.
Two configurations.
Completely unique design.
Made in Japan.
---
Overview
Here you have a completely unique design from the renown Japanese brand. If you follow their products you know that they come with some truly unique ideas. You can realize this also when you see their Snow Peak Campfield Futon.
So this is a collapsible structure and it allows for two very different configurations. You have already seen it in its octagonal shape in the top picture above. But you can configure it differently as shown in the picture below, where it takes an almost rectangular shape: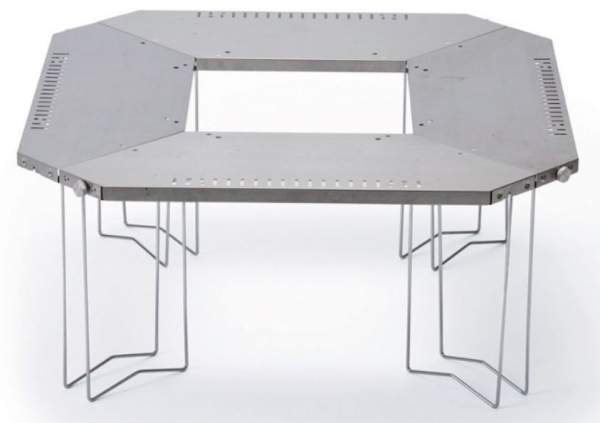 You can choose these two shapes dependent on the type and size of the firepit you will use in the middle of the table. The openings are different, you will see this below. Because of this great design, I have included it in my list of best collapsible camping tables.
Note that you can make it ready in just a few minutes. This all is done without any tool. It comes in a carry bag shown in the pictures. Its dimensions are 29.3 x 15.7 x 6.7 inches (74.5 x 40 x 17 cm).

So just take it out and start assembling. The pictures below show some steps, so you realize that there are 4 pieces of the tabletop, each with its own pair of inverted-M-shaped legs.
Note that there is a small wheel underneath the tabletop elements which you unscrew a bit and the adjacent element will attach easily. Then you simply screw it again to make the connection firm.

You can see more in this excellent video:
---
Who is it for
Regarding the dimensions, I already mentioned two possible configurations. So the picture below shows the size in its octagonal setup. Observe the central opening size.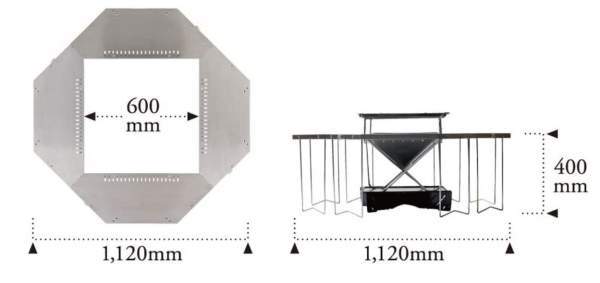 In the other setup, the dimensions are different, and this applies also to the central opening, see the picture: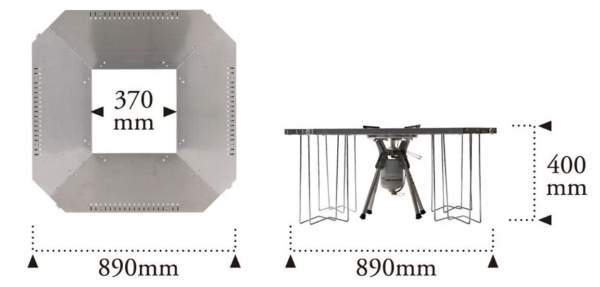 So in any case, there is lots of space for at least four people. But you can also combine several of these tables, see below how this looks with two of them in those different configurations: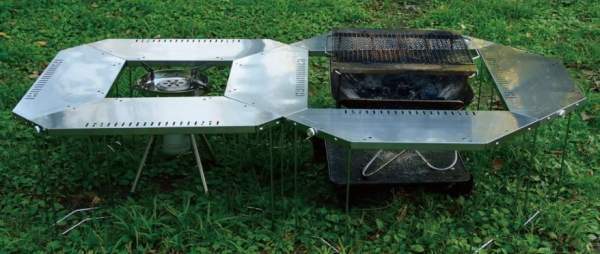 Regarding the weight, the table is all made of stainless steel, so this is both great and bad.
The great is that you have a durable product that will last for many years, and you use it in every possible weather conditions, and without thinking of damaging it with warm pots, etc. But the bad is that it is also heavy, so it weighs 23.15 lb (10.5 kg).
The packed size shown previously is also not so great but it is reasonable. Observe that it becomes very thin when stored in its carry bag. Note that on Amazon it is described as 'lightweight' and 'compact'. But I guess this is with respect to its size, everything is relative as Einstein said.
Regarding the price, it is indeed steep. But see the quality of this product, and note the brand behind it. Above all, this table is built in Japan.
---
Specifications
Weight: 23.15 lb (10.5 kg).
Dimensions: 44.1 x 44.1 in (112 x 112 cm).
Height: 15.7 in (40 cm).
Packed size: 29.3 x 15.7 x 6.7 in (74.5 x 40 x 17 cm).
Stainless steel.
Made in Japan.
---
Rating, pros & cons
As mentioned above, the weight and the packed size are not so great, but they both are justified. This is a table for places with a car access so these two parameters may not be so important. See how it stands against my rating criteria:
Totally unique table & top-quality product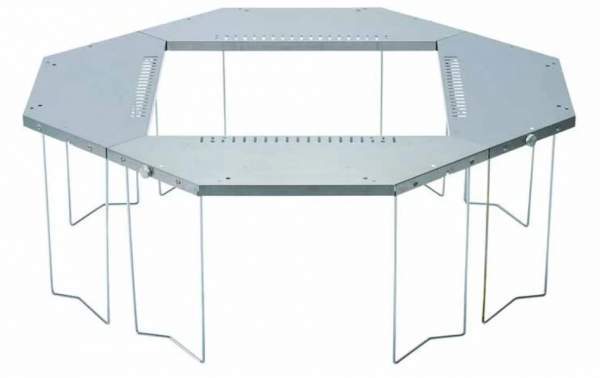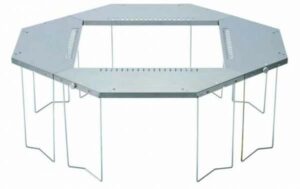 Product Name: Snow Peak Jikaro FireRing Table
Product Description: This Snow Peak Jikaro FireRing Table is a completely unique stainless-steel collapsible outdoor table, easy to use, and with a carry bag included.
Brand: Snow Peak
SKU: B07X9J9H77
Weight -

2.5/10

Dimensions -

9.2/10

Packed size -

4.5/10

Craftsmanship & features -

9.8/10
Summary
Clearly, the weight is not the best feature of this table, but see its dimensions.
Pros
Unique.
Versatile.
Carry bag.
Top-quality craftsmanship & material.
---
Final thoughts
In the summary of this Snow Peak Jikaro FireRing Table review, I wish to stress again the versatility and quality of this table. It is collapsible and it needs assembly but it is indeed easy to use if you disregard its considerable weight. Fully recommended.
If this table is not what you want, please check under the category Camping Tables. You might wan to check also their Snow Peak Single Action Low Table with its ingenious design.
Let me know if you have questions or comments, there is a comment box below.