---
The OEX Ultralite Folding Cot is ultra compact and very easy to use, backpack-portable, and very affordable.
---
Key features & benefits
Collapsible cot.
Ultra compact.
Very light.
Great carry bag.
Fair price.
---
What this OEX Ultralite Folding Cot is about
So they use the word Folding in the name, but strictly speaking this is a collapsible cot, and this means it needs a simple assembly. Though this is easily done and without any extra tools. This is all about placing side bars into sleeves and then attaching the legs.
The cot can also be described as ultra-compact, and this is the good side of its collapsible design. When packed in its carry bag (shown below), it measures only 20.9 x 6.7 x 3.5 in (53 x 17 x 9 cm). So this is small enough to attach to a backpack and also to transport on a bicycle or in any other way.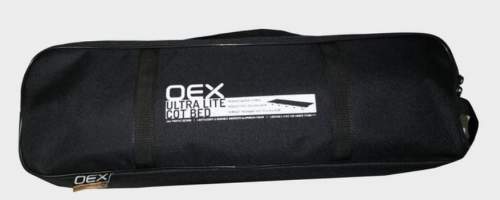 The materials
The metal parts are an aluminum alloy, and this includes two side bars and 5 shock corded legs.
The bed fabric is clearly a polyester but they did not bother with providing any information about it. They build this cot in black color only. The carry bag looks like the same fabric.
---
Who is it for
Regarding the capacity, the cot can be described as typical, it is officially for users of up to 265 lb (120 kg). No doubt this should be fine for most of potential users, but if you still need more, please check my separate list with camping cots for heavy people.
Regarding the dimensions, the bed measures (L x W x H) 72.8 x 23.6 x 4.7 inches (185 x 60 x 12 cm). So it is not very long and it is a bit narrow. But note that there are no end bars at the head and feet sides, so the whole length is a useful length.
The side bars take a few centimeters, so if you need something wider, see these extra wide camping cots.
Note that it is very low, you have only 12 cm of clearance. This is enough to keep you above cold ground, and you still have a bit of space to store your stuff like trekking poles or anything similar. So this cot will easily fit in any tent, no matter how low it can be.
Note also that there are 10 plastic feet here and they are also connected with the bars which you see in the pictures. This means that the weight is distributed, and this is a floor-friendly design so you can use the cot in a floored tent.

For summer camping, being off the ground, you do not need any sleeping pad, except for extra comfort of course.
Regarding the weight, the cot is in the group of very light outdoor beds, and you have seen its excellent packed size already. But these two features are partly due to the fact that it is quite small, though this is usually so with such backpack-portable cots.
Regarding the price, I think it is more than fair for such a cot. There are several sellers that offer this product, the links are given below so you can compare.
---
Specifications
Weight: 5.9 lb (2.68 kg).
Capacity: 265 lb (120 kg).
Dimensions (L x W x H): 72.8 x 23.6 x 4.7 in (185 x 60 x 12 cm).
Folded dimensions: 20.9 x 6.7 x 3.5 in (53 x 17 x 9 cm).
Frame: aluminum.
---
Rating, pros & cons
Below is the summary of my rating and some pros and cons. You can rate the cot from your side, there is a rating bar for this purpose.
Ultra Compact Cot


Product Name: OEX Ultralite Folding Cot
Product Description: The OEX Ultralite Folding Cot Is Ultra Compact and Very Easy to Use, It Is Backpack-Portable, and Very Affordable. Keep Reading.
Brand: OEX
SKU: 16007770 / 352644
Weight -

9.4/10

Size -

8.1/10

Capacity -

7/10

Packed size -

9.6/10

Ease of use & features -

8/10
Summary
The overall rating of this cot is well-deserved Very Good.
Pros
Ultra compact.
Very light.
Carry bag.
Reasonable price.
Cons
Moderate capacity.
Not very large.
---
Final thoughts
So this OEX Ultralite Folding Cot is well-built and fairly priced. The design is quite typical and the dimensions are modest. But this is partly why it is so compact and light. I have included it in my list of very low camping cots.
Best places to buy:
For more options, please check under the category Collapsible Cots, you will find them many here in the site, and in all sizes and shapes. Check in particular this REDCAMP Ultralight Backpacking Cot for Adults which is even lighter that the cot presented here.
Bookmark this site and visit it when you find time, this will keep you informed, you have new texts added here on a regular basis. Let me know if you have questions, there is a comment box below. Thank you for reading and have a nice day.