---
MOON LENCE Lightweight Portable Camping Table is a backpack portable collapsible and nicely packable aluminum construction with a bonus storage shelf.
---
Key features & benefits
Very light table.
Backpack portable.
All-aluminum.
Collapsible.
Modular design.
Carry bag.
Storage shelf included.
Great price.
---
Where to buy
This MOON LENCE table is available on Amazon. As you know they operate globally, so please follow the links to check shipping conditions for your location.
---
What this is about
Here you have a fully collapsible camping table, and this means it has several separate parts. Those include the frame and the tabletop plates (5 of them), and it needs a simple assembly presented in these pictures: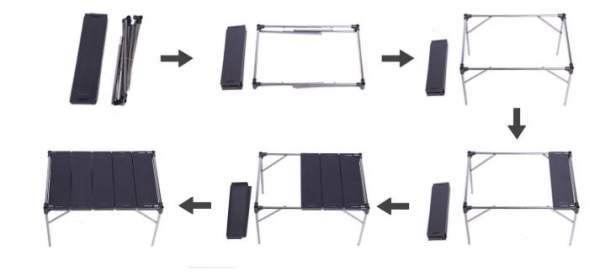 Note that the frame elements are shock-corded so there is nothing to guess, and you cannot lose any pieces.
It packs nicely into its nylon carry bag which measures only (L x D) 17.7 x 4.7 in (45 x 12 cm). I have included it in my list of best collapsible camping tables.
Storage mesh shelf
The table comes with a nylon mesh with hooks so that you can attach it underneath the tabletop and store some stuff.
This is very useful to keep items off the ground and close at hand. You can use the table without it of course. Because of this, I have added it to my list of best tables with storage elements.
Modular design – what is this?
The table comes with some specific features, and they also sell some separate elements which you can use to make various configurations. These include:
Top holes in the corners. See the picture:

Zoomed view of some of the features.

Lantern hanger which can be ordered separately. This is a rod which fits into the mentioned holes so you can attach a lantern or some other items, see the pictures below.
Connecting plates. These are separate plates which you can use to connect two separate tables of this type, see the pictures below.
The picture shows 4 different configurations A-D which you can have here. A-this is with two tables and one set of connecting plates. B-this is with one table and the hanger. C-This is with 3 tables. D-this is with 3 tables and the connecting plates.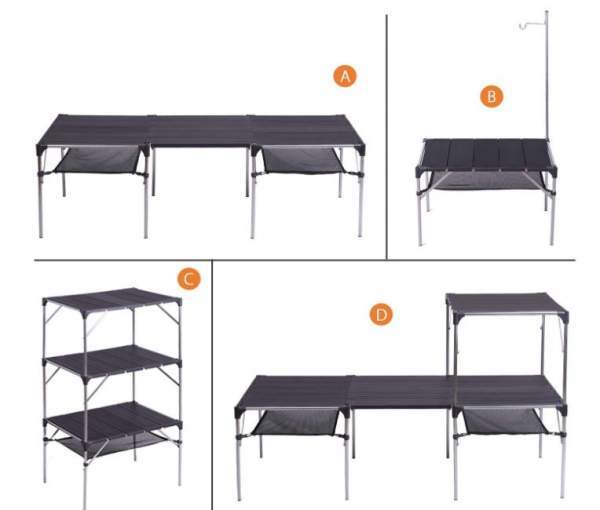 The connecting plates features:
Dimensions: 15.7 x 4.1 in (54 x 40 cm).
Packed: 16.1 x 4.3 x 1.8 in (41 x 11 x 4 cm).
Weight: 2.2 lb (1 kg).
Material: A6063 duralumin.
So as you see, this is one complete tabletop size extra if you add it to the structure.
The hanger parameters:
Usage size: 24 – 4.9 in (61 – 12.5 cm).
Storage size: 12.6 x 2.9 x 0.4 in (32 x 7.5 x 1 cm).
Material: A6063 Duralumin.
Weight: 0.22 lb (100 g).
Note that the hanger can be packed together with the table in the carry bag. You can order it at the same links given here in the text.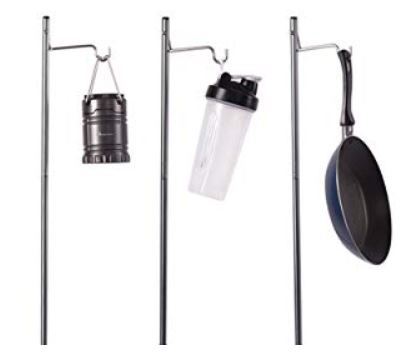 ---
Who is it for
Regarding the weight: With its 3.5 lb (1.6 kg) of weight, this is a very light camping table and indeed backpack-portable. Though, I did not include it in my list of ultralight backpacking tables because it is slightly above the weight limit I use.
Regarding the size: With the dimensions (L x W x H) 22 x 15.7 x 14.2 inches (56 x 40 x 36 cm), this is a side table. As you realize it is rather low so it is not built as a dining or cooking table. Its tabletop area is big enough for two campers.
Regarding the packed size, as already mentioned above, this table is small when packed so you can transport it in any way you want. This can be attached to the pack, on a bicycle, etc.
Regarding capacity and construction: This table can easily support up to 66 lb (30 kg). This may look like a low number but for a camping table, you will never need more.
So this is a versatile item for camping and for any outdoor activity. You can use it in a tent or outside.
---
Materials
This is all-metal construction with the top aluminum that is processed and hard to scratch. They also made it skidproof.
The frame is A6063 Duralumin.  The legs are with rubber feet that prevent the table from slipping, and this is also floor-friendly material if you use it in a tent.
Warranty
They offer an "unconditional 30-day money-back guarantee and lifetime warranty to make it an absolutely risk-free purchase." This is an explicit statement from the brand.
---
Price & rating
The link below will give you the daily updated price, and as you realize this is an incredibly affordable table. You can see also that this is an Amazon Prime product so you can have it shipped for free.
The rating by Amazon customers for this table is exceptionally high 4.8/5 as of the moment of writing this text. My own rating is a bit different, but I have a set of criteria and use them consistently for all the tables here in the site. This makes it easy to compare with other tables, so have a look:
My rating of the MOON LENCE Lightweight Portable Camping Table:
Weight -

9.6/10

Dimensions -

7.1/10

Packed size -

9.8/10

Craftsmanship -

9.8/10
Summary
My total average rating is:
Pros
Very functional design.
Portable.
Nicely packable.
Incredibly affordable.
Cons
Quite low.
Needs assembly.
---
Specifications (for the table)
Weight: 3.5 lb (1.6 kg).
Weight capacity: 66 lb (30 kg).
Dimensions (L x W x H): 22 x 15.7 x 14.2 in (56 x 40 x 36 cm).
Packed size (L x D): 17.7 x 4.7 in (45 x 12 cm).
Frame: A6063 Duralumin.
---
MOON LENCE Lightweight Portable Camping Table vs Competitors
I have decided to show you this table side by side with some other backpack portable and collapsible tables. This might help in making an informed choice.
All of them are with a hard tabletop, but both Kelty Linger and Big Agnes Soul Kitchen tables are with a synthetic cover. Note also that both have an accordion-type tabletop, so this is one single piece. So these are different designs, and it is a good idea to follow the links and read a bit more.
Dimensions
(L x W x H), in (cm)

22 x 15.7 x 14.2
(56 x 40 x 36)

17.7 x 4.7 x 4.7
(45 x 12 x 12)

Big Agnes Soul Kitchen Table
27.5 x 24 x 24
(70 x 61 x 61)

28.5 x 5 x 4
(72 x 13 x 10)

22.5 x 14.5 x 17
(57 x 37 x 43)

---
Final thoughts
So this MOON LENCE Lightweight Portable Camping Table is indeed what its name says – very lightweight and nicely packable. The price is simply unbelievable, and the craftsmanship is at a very high level. It is therefore not surprising that it has received such a high rating by customers. Fully recommended.

You might want to compare it with this great ALPS Mountaineering Dash Table.
Note that this is not a sponsored text, and I am not paid by the brand. Please use the comment box below in the case of questions or comments. Have a nice day.

---