---
TrekUltra Portable Compact Lightweight Camp Chair with Bag is a very lightweight camping chair with a great packed size, capacity, and price.
---
Key features & benefits
Very lightweight chair.
Collapsible.
Easy setup.
Nice carry bag with shoulder strap.
Bonus interchangeable feet.
Excellent price.

---
What type of chair is this
This TrekUltra chair is indeed what its name says, very compact in the packed state, you have it in its carry bag which is only 14.5 x 5.5 x 4 inches (37 x 14 x 10 cm).
It is also very lightweight, 2.6 lb (1.18 kg). This is one of the collapsible chairs that need assembly, but this is easily done. There are only two parts here – the sling and the frame which includes several shock-corded poles. So you can make it ready in a minute or so and without any tool. You will see this in the video below.
The carry bag
The carry bag is particularly elegant and small, and it comes with a wide strap to carry the chair attached to the shoulder. You attach the strap to its side loops, and you can use these loops also to attach the bag to your pack. There is even a daisy chain on the bottom. The bag can be attached to the chair as well, use those side loops for that, and you can use it as a storage element on the chair. See it in the picture below.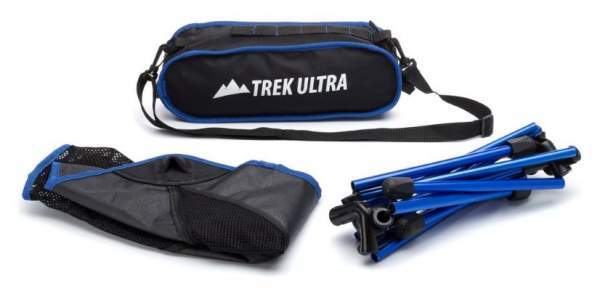 Bonus interchangeable feet
This chair comes with a true bonus – the interchangeable feet which you see shown below. So you have the standard cups on the feet, plus these that you can put on if you plan to use the chair on a soft ground. Those will partly prevent sinking even on a sand, up to a point of course, and dependent on the type of sand. The material is a sort of a hard plastic and it is different from the standard caps which you also have there, those are rubber.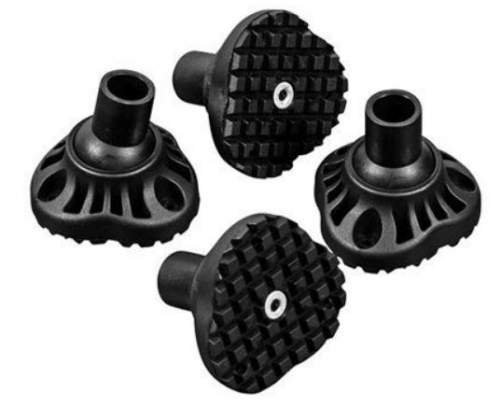 Note that something similar you have also in this Wildhorn Outfitters Terralite Chair.
No questions asked policy
They claim that if you are not happy with the chair, you have a 100% money-back guarantee, no questions asked.
The UltraTrek is a company based in Missouri, US, and this chair has been on the market for several years already. So there should be no unpleasant surprises, neither with the chair nor with the brand.
---
Who is it for
Capacity-wise, this lightweight chair is impressive. It supports up to 350 lb (159 kg). This should be strong enough for the majority of users.
Size-wise, it is not bad at all, you will be able to compare it with its competitors, there is a comparison table below. The dimensions are (W x D x H) 21.5 x 23.5 x 28 inches (55 x 60 x 71 cm).
The seat on the front is at 14 in (36 cm) above the ground, but the chair is with a slight recline design and the back part of the seat is lower. So it is rather low, bear this in mind if you are a very tall person.
Weight-wise, I already mentioned its great weight. So this is a backpack-portable chair and portable in general. Note that without the strap it is a bit lighter, and also without the carry bag it is around 2.4 lb.
But my guess is that you would not carry it on a longer backpacking tour. There are lighter options, please check my list of ultra-lightweight backpacking chairs.
You have already seen its packed size. So this is a tool which you can transport in all possible ways, very versatile and reliable. I see it as a great camping chair, chair for travel, for open-air festivals and gatherings of any kind.
---
Materials & construction
The frame has several shock-corded heavy-duty aircraft-grade 7075 aluminum tubes so you cannot lose anything and there is nothing to guess. You have seen its capacity already, so this is a strong chair.
The fabric is a high strength polyester with a UV and water resistance. This is a mesh (see the picture below) on the back and a taffeta on the seat, this is how you can distinguish which is which, and it is machine washable. There are two small "pockets" on the top back where you place the back poles (one is visible below), so these are strongly reinforced and they look really nicely done.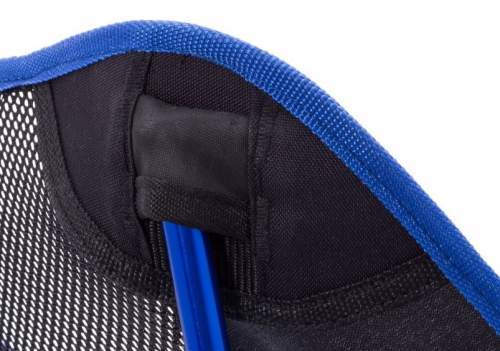 Note that the back is standard height, so if you need something taller with a headrest, please check this list of camping chairs with headrests. You will see some in the table below.
Setup
Instead of describing how easy it is to set this chair up, it is best that you see this video. All is done in a minute or so:
---
My rating, pros & cons
One thing that comes to my mind when I see such interchangeable feet is the following – if you lose one the chair becomes useless. So make sure that this does not happen.
There are more than 400 reports by Amazon customers and the chair has scored a very high average rating. This is really remarkable. But there is also a number of reports on Amazon from unhappy customers, as usual. See how I rate it by using the same criteria as for all other chairs in the site:
My rating of the TrekUltra Portable Compact Camp Chair: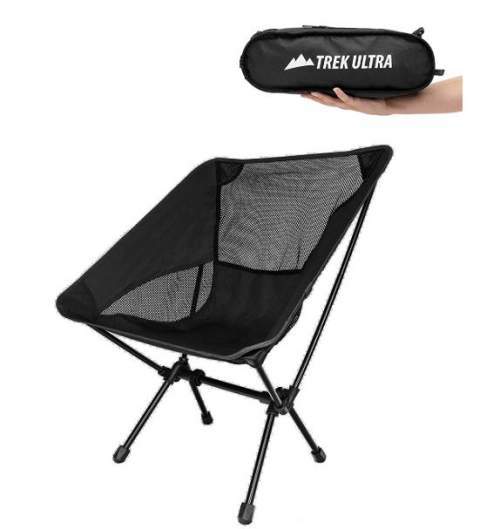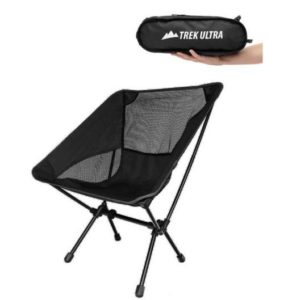 Product Name: TrekUltra Portable Compact Lightweight Camp Chair
Product Description: TrekUltra Portable Compact Lightweight Camp Chair with Bag is a very lightweight camping chair with a great packed size, capacity, and price.
Brand: TrekUltra
Weight -

9/10

Dimensions -

7.4/10

Packed size -

9.2/10

Capacity -

8/10

Comfort & bonuses -

9.4/10

Craftsmanship -

9.7/10
Summary
My overall rating for this chair is Excellent:
Pros
Quality craftsmanship.
Great weight.
Great price.
Easy setup.
---
Specifications
Weight: 2.6 lb (1.18 kg).
Capacity: 350 lb (159 kg).
Dimensions (W x D x H): 21.5 x 23.5 x 28 in (55 x 60 x 71 cm).
Packed size: 14.5 x 5.5 x 4 in (37 x 14 x 10 cm).
Seat height front: 14 in (36 cm).
Seat size: roughly 21 x 21 in (53 x 53 cm).
---
TrekUltra Portable Compact Lightweight Camp Chair vs Competitors
In the table below I show this chair with a couple of chairs from other brands, note that those are the high-back type and therefore a bit heavier. You realize how great the packed size is of this TrekUltra chair. Please follow the links for more.
Dimensions
(W x D x H), in (cm)

21.5 x 23.5 x 28 (55 x 60 x 71)

14.5 x 5.5 x 4
(37 x 14 x 10)

22.8 x 27.6 x 38.6 (58 x 70 x 98)

18.5 x 5.5 x 4.7
(47 x 14 x 12)

21 x 27.5 x 39 (53 x 70 x 99)

20 x 6.5 x 4
(51 x 17 x 10)

---
Final thoughts
This TrekUltra Portable Compact Lightweight Camp Chair with Bag is a really quality item and the value/money combination is appropriate, though there are more affordable options on the market. The weight and the packed size are also great but bear in mind it is quite low.
If you still need something different, please check in the category Camping Chairs here in the site.

Thank you for reading. Please use the comment box below if you have any questions or comments. Have a nice day.

---