---
The Kelty Lowdown Couch is a folding, compact, and easy to use quilted structure for 3 people with a versatile carry wrap design.
---
Key features & benefits
3 Chairs in one.
Folding design.
Very compact.
Carry wrap design.
Quilted seat and backrest.
---
What this Kelty Lowdown Couch is about
Here you have yet another, the largest item in Kelty Lowdown series. They also have a single Kelty Lowdown Camp Chair and a double Lowdown Camp Chair. All of them follow the same basic concept.
So this is a folding Couch with three seats, it is incredibly easy to use and there is no assembly of any kind. It comes ready to use, and you open it in seconds.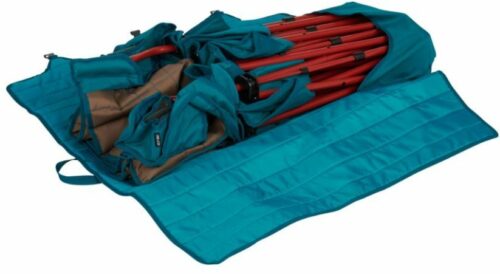 When not in use, and for transportation, you pack it in its functional and versatile Roll-Tote carry wrap. The picture shows how it looks when folded and packed.
It is reasonably compact, and its folded dimensions are 35 x 13.5 x 9 inches (89 x 34 x 23 cm). You can compare this with their single chair from this series that measures 32.5 x 8 x 8 inches (83 x 20 x 20 cm).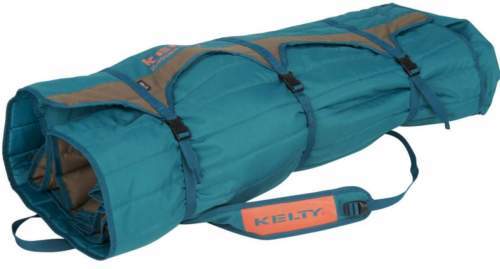 There is a carry strap so you can carry it short distances as shown in the picture.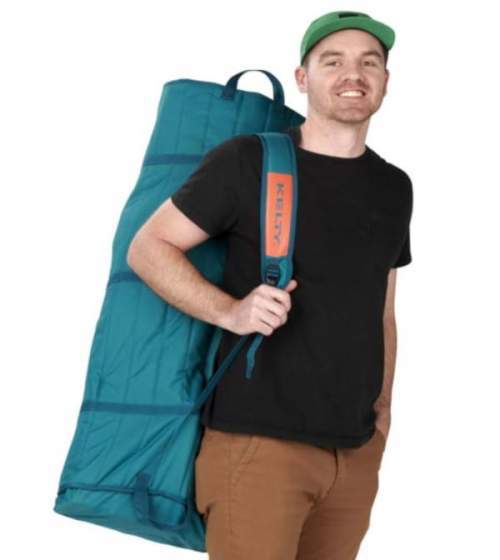 The Roll-Tote is quilted, so you can also use it to sit on the ground, or to carry some stuff in it as the picture below shows.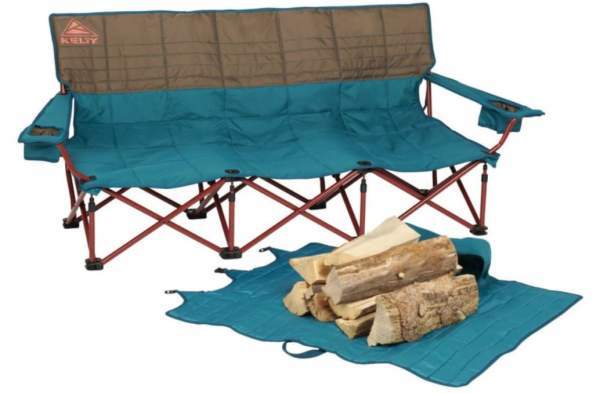 Materials
The frame is a powder-coated steel and it is sturdy and stable, in particular because of those numerous X-crossed support elements, there are 8 of them. As you see from the pictures, there are 8 legs and the feet are very wide. So this couch will not easily sink in the ground.
The fabric is a 600-denier polyester, this is quite typical to have in camping chairs. Note that the seat and backrest are quilted, so this adds to comfort and it also makes the couch warmer.
The couch has two adjustable soft armrests, they are with straps on the back so that you can adjust the position. The picture below shows one of them with its wide and insulated size-adjustable bottle holder.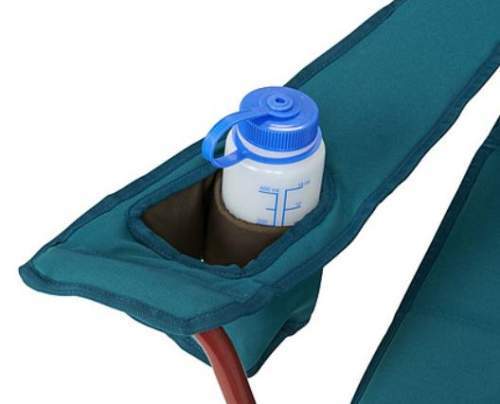 Please see more in this video:
Warranty
They give their standard 1-year warranty with this Lowdown Couch.
---
Who is it for
Regarding the capacity, it is officially for the weight of up to 600 lb (272 kg). This may look a lot but the couch is about three people, though this should still be enough.
Regarding the dimensions, you have (L x H x D) 64 x 31.5 x 23.5 inches (163 x 80 x 60 cm). The armrests take a few centimeters, but this is still enough space for three adults as the picture below shows.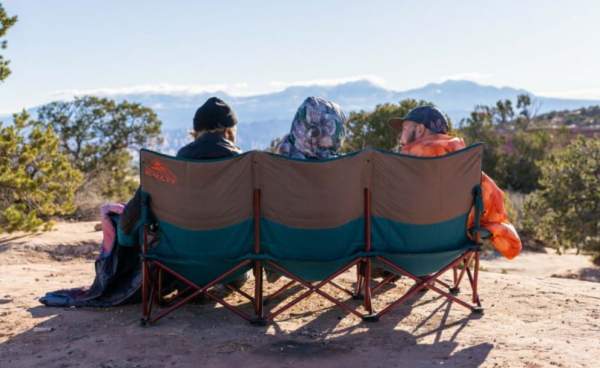 Regarding the weight, it may look heavy in view of its 20 lb 15 oz (9.5 kg). But divide this by 3 because this is about three chairs in one.
You have already seen its packed size, so it looks bulky, but here again bear in mind this is a 3-seat item.
Regarding the price, it is not particularly low, but for a 3-seater this is not bad. There are several sellers, Kelty's products are always appreciated and offered by many. So follow the links below and check from your side.
---
Specifications
Weight: 20 lb 15 oz (9.5 kg).
Capacity: 600 lb (272 kg).
Dimensions (L x H x D): 64 x 31.5 x 23.5 in (163 x 80 x 60 cm).
Folded dimensions: 35 x 13.5 x 9 in (89 x 34 x 23 cm).
Seat height: 12.5 in (32 cm).
Backrest height from seat: 19.5 in (49 cm).
Frame: steel.
---
Rating, pros & cons
Below is summarized my rating and some pros and cons. You can rate this couch from your side, there is a rating bar for this.
Easy to use seat for 3 adults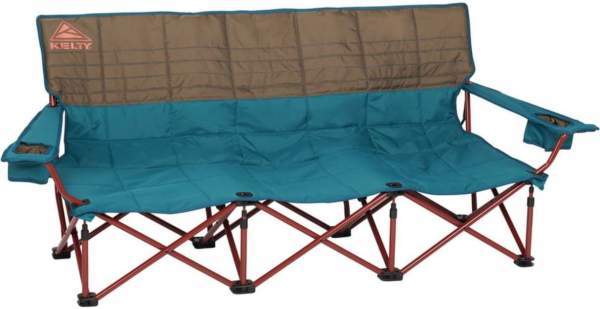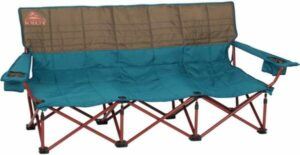 Product Name: Kelty Lowdown Couch
Product Description: The Kelty Lowdown Couch Is a Folding and Easy to Use Quilted Structure for 3 People with a Versatile Roll-Tote Carry Wrap System.
Brand: Kelty
SKU: 202331
Weight -

7.5/10

Dimensions -

7.5/10

Packed size -

6.5/10

Capacity -

6.5/10

Comfort -

9.2/10

Craftsmanship -

9.5/10
Summary
The overall rating of this Kelty Lowdown Couch is well-deserved Very Good.
Pros
Easy to use.
Great Roll-Tote carry system.
Quilted.
Reasonable price.
Cons
On the heavy side.
Modest capacity.
A bit bulky.
---
Final thoughts
In summary, this Kelty Lowdown Couch Built is an addition to their already existing Lowdown Collection. It has a low base and a slightly reclined backrest design, giving you room to stretch and to relax.
This is a reliable product from a globally known outdoor brand, easy to use, and with an excellent carry system. Fully recommended.
Best places to buy:
For more options, please check under the category Camping Chairs, you will find them many here in the site, and in all sizes and shapes.
Bookmark this site and visit it when you find time, this will keep you informed, you have new texts added here on a regular basis.
Let me know if you have questions, there is a comment box below. Thank you for reading and have a nice day.