---
Helinox Savanna Chair is a new top-quality item on the market, with high backrest and headrest, fully collapsible and lightweight.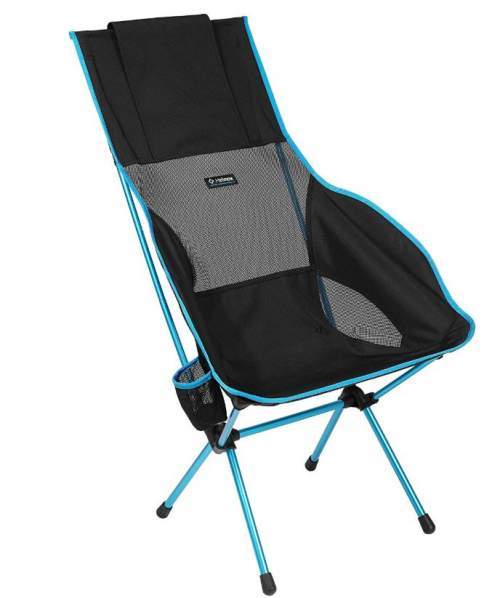 ---
Key features
High back.
Headrest.
Fully collapsible.
Cup holders.
Carry bag included.
---
What is Savanna Chair about
This Savanna Chair is a collapsible item and this means that i) it needs a simple assembly when you make it ready, and ii) it packs to a relatively small size. In view of its quality, I have added it to my list of best collapsible camping chairs.
This is a chair with a very high back, and it offers a great headrest, see the picture below. This is why I have added it to my list of best chairs with headrest. Note that many of its features are similar to their Playa Chair which is only much lower.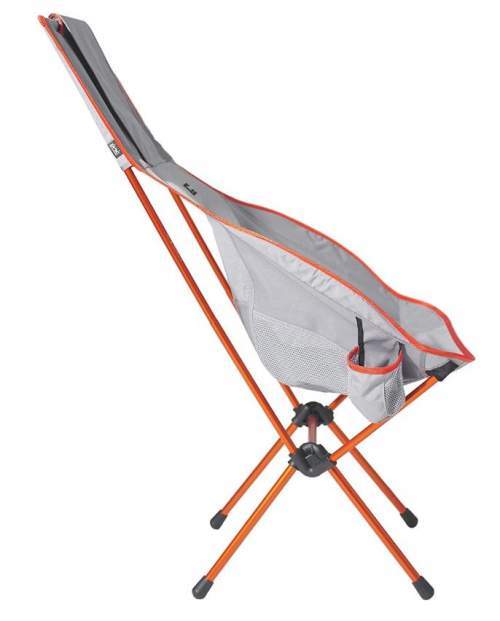 ---
Who is it for
Capacity-wise, with its declared capacity of 320 lb (145 kg) this is an impressive chair that can support most of the potential users. But if this is not enough, please check my list with camping chairs for heavy people.
Weight-wise, being an item that weighs 4.3 lb (1.95 kg), this is not something you would want to carry attached to your backpack. But its packed size 21.5 x 6.5 x 6 inches (55 x 17 15 cm) is such that you can transport it even on a bicycle. If you need something for the trail, please check these ultralight backpacking chairs.
Size-wise, the dimensions of this chair are impressive. It measures (W x D x H) 27.5 x 31 x 44 inches (70 x 79 x 112 cm). Note also that the seat is high, 17.5 in (44 cm), so it is suitable for taller people. With such a seat height it is suitable also for elderly users.
---
Materials
When you deal with Helinox, you can expect only the top quality materials. So the frame is an advanced proprietary aluminum alloy, for maximum strength-to-weight ratio. All the elements in the frame are shock-corded and you will never lose a piece.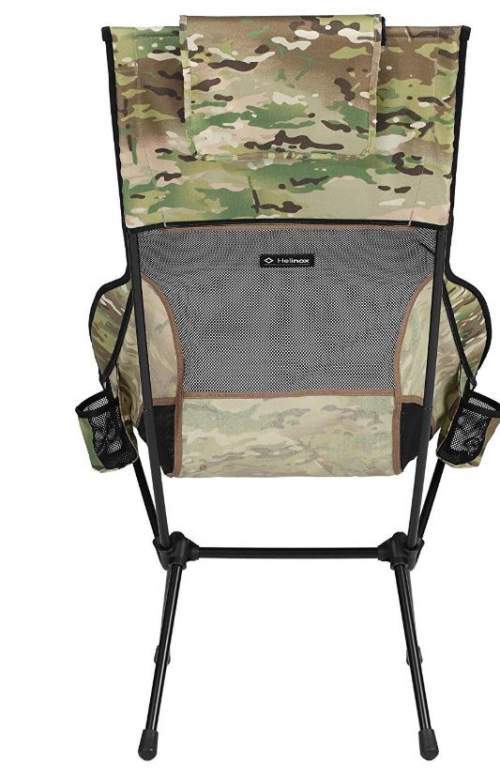 The fabric includes mesh areas for ventilation and airflow in hot weather. The seat and the included carrying sack are made from ultra-durable, lightweight, UV-resistant polyester. Note that both are machine washable (line dry). You also have cupholders on the sides, visible in the picture above.
The feet are with plastic caps, but they are narrow and not suitable for a soft ground and sand. The carry bag is designed so that you can use it as extra head support or a pillow.

Note also that they make it in 5 different colors, you see some in the pictures here.
---
My rating, pros & cons
This chair is not for everybody's budget. But if you can afford it, observe the 5-year warranty, so you will be buying a reliable item from the leading brand in this industry. Please see how I rate this chair for a number of parameters:
My rating of the Helinox Savanna Chair:
Weight -

8.3/10

Dimensions -

9.3/10

Packed size -

7.2/10

Capacity -

8/10

Comfort -

9.6/10

Craftsmanship -

9.7/10
Summary
My overall rating for this quality chair is affected by its price, but it is still Very Good:
Pros
Very easy to use.
Top quality.
Great headrest design.
Great back support.
Great warranty.
---
Specifications
Weight: 4.3 lb (1.95 kg).
Capacity: 320 lb (145 kg).
Dimensions (W x D x H): 27.5 x 31 x 44 in (70 x 79 x 112 cm).
Packed size: 21.5 x 6.5 x 6 in (55 x 17 x 15 cm).
Seat height: 17.5 in (44 cm).
Warranty: 5 years.
Colors: 5.
---
Helinox Savanna Chair vs Competitors
I thought you might want to see how this chair compares with some of its top competitors that are built in the same style.
You realize that those are not a match when it comes to the dimensions and capacity. The packed size is slightly bigger, and it is much heavier than the other two. This is normal in view of its dimensions. But it is much more expensive. Please follow the links for more.
Dimensions
(W x D x H), in (cm)

27.5 x 31 x 44 (70 x 79 x 112)

21.5 x 6.5 x 6
(55 x 17 x 15)

22.8 x 26 x 39.2 (58 x 66 x 100)

17 x 6.6 x 5.5
(43 x 17 x 14)

21 x 27.5 x 39 (53 x 70 x 99)

20 x 6.5 x 4
(51 x 17 x 10)

---
Final thoughts
In the summary of this Helinox Savanna Chair review, I would stress that this chair is perfect for camping and sporting events, nicely packable for transportation, and very reliable.
It is extra high and extra wide, and with a great capacity. This is a quality item from a reliable brand. Just see the five-year warranty to realize what I mean.
Note that this is not a sponsored text, and I have no relation with the brand. Please use the comment box below in case of questions or comments. Have a nice day.