---
The Born Outdoor Badger Bed is an outdoor shell designed to protect your sleeping gear, and it can be rolled together with everything you use for sleeping.
---
Key features & benefits
Fully closable shell.
Side pockets.
YKK zippers.
Great carry system.
Corner straps for the pad.
100% Recycled.
---
What this Born Outdoor Badger Bed is about
It is a bit difficult to define this product. You see the word Bed in its official name, but it is no really a bed. At REI they use the word 'system' but this is one single item and cannot be described with such a word.
I would describe it as an outdoor shell or bedroll as they write. So this is something that is supposed to be a base for your outdoor sleeping stuff.
In other words, you do not have a pad or a sleeping bag here. But when you add your sleeping stuff, this becomes a set that you can roll up and pack together.
This shell is supposed to protect your bedding and keep it dry so that it does not touch wet items or mud around. This is all closable, the picture below shows the bed from the top, so you have a cover that zips to the rest.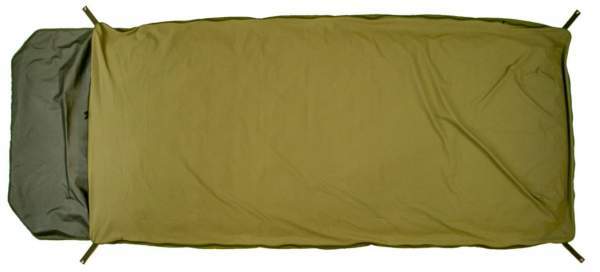 When you roll everything, you get the tube shown in the picture below. The diameter will depend on the sleeping bag and sleeping pad inside. But the length is roughly the width of the bed, i.e., 36 inches (92 cm).

Overview of features
Note that you have 5 inches (13 cm) depth here, see the picture below. So this is enough to keep your pad and blanket inside of the shell. You have a full length YKK zipper system, it allows for left and right entry.

These side walls provide a structural support and they help a bit in reducing cold drafts. This depth allows for three pockets on the sides so you can keep your small items at hand:

There are also corner straps shown in the picture below, so they keep your sleeping pad in place: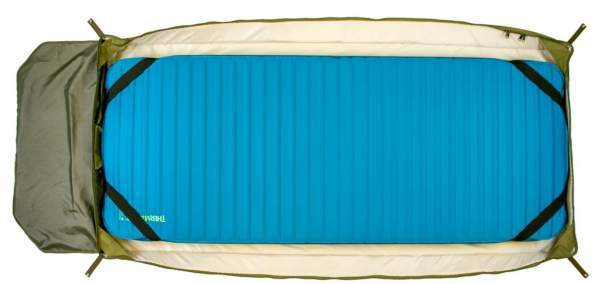 You have G-hooks and three adjustable straps to secure the bedroll when rolled. Burly handles are also available:

There is also an internal snap and loop system that prevents sheets and blankets from moving.

Materials
This product is constructed from a 100% recycled extremely durable, weather-resistant fabric.
The bottom is a 600 denier poly oxford ripstop fabric with a C6 DWR TPU-coating. So it provides exceptional durability, water repellency, and resistance to abrasion.
The Badger Bed top layer is a 210 denier nylon oxford fabric with two-way stretch. I already mentioned its top quality and heavy-duty YKK zippers.
Please see how to roll up this bed:
---
Who is it for
Regarding best use, this is a versatile car camping product. You can use it to sleep on the ground next to your car, under the stars or under a tarp.

But nothing prevents you from using it also in a camping tent, or in your car if it provides enough space for it.
Regarding the dimensions, this Badger Bed is compatible with most 30 inch and 25 inch wide mattresses and sleeping pads.
Regarding the weight, it is hard to rate it because there are no many items of this type on the market to compare. It weighs 6.6 lb (2.9 kg), so this is not something to carry long distances.
You have already seen its packed size, so it is long and bulky. In any case, this is a car camping item.
---
Specifications
Shape: rectangular.
Weight: 6.6 lb (2.9 kg).
Dimensions (L x W x H): 82 x 36 x 5 in (208 x 92 x 13 cm).
Rolled size (L x D): 36 x 10-plus in (92 x 26-plus cm).
Internal phone pocket: 7.75 x 4 in (19.5 x 10 cm).
---
Rating, pros & cons
Below you can see how I rate this camping bed. There is a rating bar for you so you can rate it from your side:
Versatile, functional, and 100% recycled product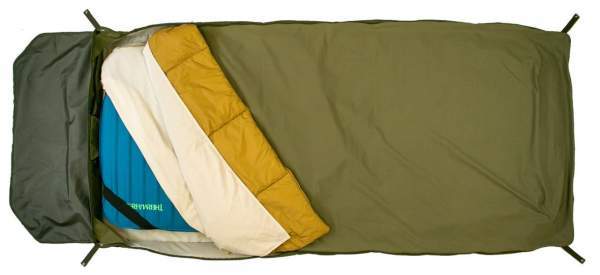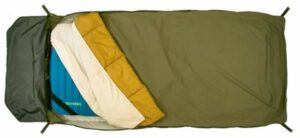 Product Name: Born Outdoor Badger Bed
Product Description: The Born Outdoor Badger Bed Is an Outdoor Shell Designed to Protect Your Sleeping Gear, and It Can be Rolled Up Together with Everything You Use for Sleeping.
Brand: Born Outdoor
SKU: 215338
Weight -

8/10

Size -

9.7/10

Packed size -

8/10

Ease of use & features -

9.6/10
Summary
This Born Outdoor Badger Bed scores great in all rating criteria so the overall rating is very good.
Pros
Very functional.
Versatile.
Great size.
---
Final thoughts
So this Born Outdoor Badger Bed is a unique and versatile product built from completely recycled materials that are transformed into a very durable fabric. It is designed to protect your outdoor sleeping gear. Fully recommended.
Best places to buy:
If you need more options you can check under the category Cots and you will find them many, in all sizes and shapes. Check in particular this Big Agnes Goosenest Inflatable Cot which is not really a cot but something unique.
Bookmark this site and visit it when you find time, this will keep you informed, you have new texts added here on a regular basis. Let me know if you have questions, there is a comment box below. Thank you for reading and have a nice day.