---
The FLATED Air-Deck Raised Platform Bed is a unique inflatable sleeping system built in three different sizes, very easy to use and with a great capacity.
---
Key features & benefits
Unique design.
Inflatable.
Very wide.
Huge capacity.
Pump included.
Backpack style carry bag.
---
What this FLATED Air-Deck Raised Platform Bed is about
As of the moment of writing this text, this is a totally unique product on the market. It can bed described as an inflating sleeping platform. They build it in three sizes shown in the picture below.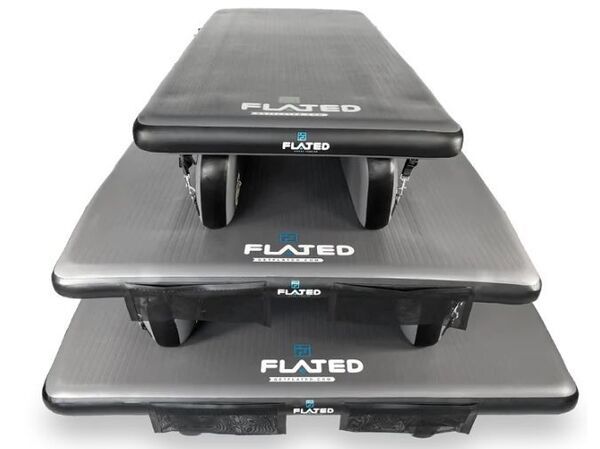 What you see in the pictures is a system that includes two inflatable beams that raise the platform from the ground, and a top pad. They call this all the FLATED Air-Deck and Air-Topper.
When it is time to go, this all collapses and you can store it in its backpack-style carry bag shown in the picture below with the included manual pump.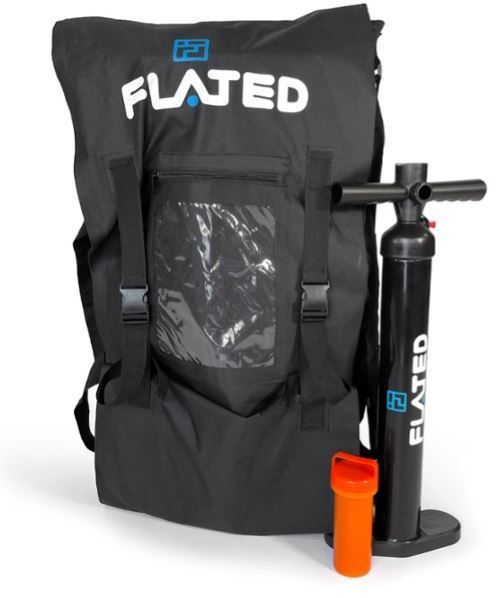 Below you can see how this looks when you carry it on the back: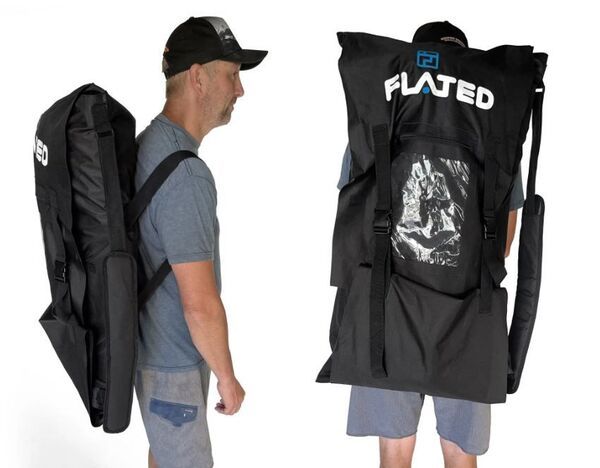 How it is built
Actually, it is hard to know unless you destroy it completely to see what is inside. This is what they call the Drop Stitch design, see the picture below that shows its cross section.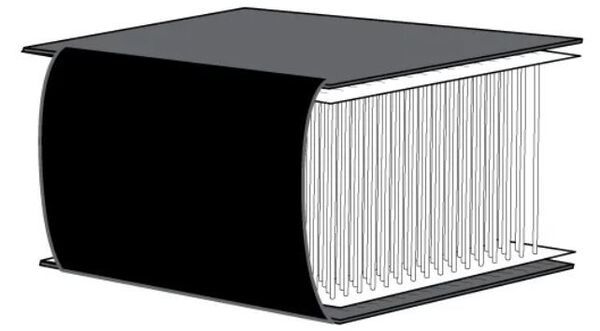 You will realize from the videos that the surface is very hard. It maintains even weight distribution without bowing or sagging during the night.
This is a completely new and unique technology. They have a page on their site where this technology is explained in detail, you can read about it here.
Below you have the bottom view, so you can see its four side straps for stability. It can be secured in the back of the vehicle, you will see this in the video.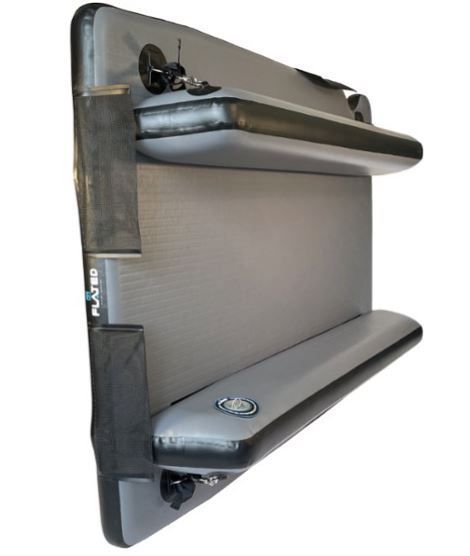 It is designed to fit in trucks, sprinters, SUVs, RVs, and vans of all makes and sizes. In the picture below you can see how this can look. As you realize, it allows for gear storage between its bottom beams.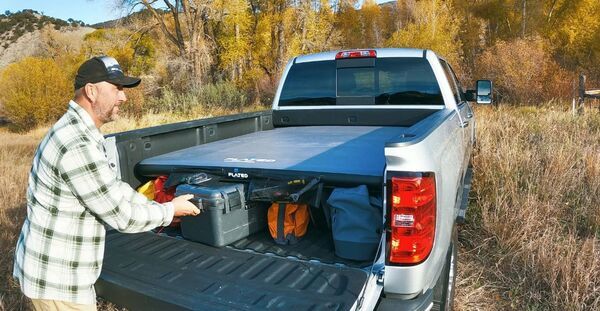 It has also storage pouches on the side shown below, see how they look.

In this video you can see how the smallest version (they call it Cot) is used in the car:
Here you can see how its larger cousin inflates in no time:
A few more details are seen in this video, observe how stiff this platform is:
How about insulation?
There is nothing about the R-value of this elevated platform. It is best to assume that this is mainly air, and its R-value is probably around 1 or below. So plan insulation if you use it in a cold environment.
---
Who is it for
Regarding the capacity, they are a bit unclear, but it seems that each of the three options is with a 500 lb (227 kg) weight capacity. So this should work well even for couples.
Regarding the dimensions, in the pictures below you can see all three options with their numbers. So the 'cot' is a solo platform, but the other two are large and can be used by couples:
The top deck is 4 inches thick, but this seems irrelevant to me because it is too stiff, and you have to add a sleeping pad for comfort.
Regarding the weight, you will see the numbers below, they are heavy, but these items are for car camping and this is not a big deal.
Regarding the price, it is very steep for each of the options. But these are great products and without a match on the market.
---
Specifications
Three sizes: Cot, M & L.
Weight:
– M: 25 lb (11.3 kg).
– L: 28 lb (12.7 kg).
Capacity: 500 lb (227 kg).
Pad thickness: 4 in (10.2 cm).
Total height: 14 in (36 cm).
Dimensions (L x W x H):
– Cot: 72 x 31.5 in (183 x 80 cm).
– M: 72 x 53 in (183 x 135 cm).
– L: 75 x 62 in (191 x 157 cm).
Folded dimensions M version (L x D): 32 x 18 in (81 x 46 cm).
---
Rating, pros & cons
Below you can see how this product stands against my standard rating criteria. It is a bit difficult to rate it properly because it is not a common product, it is completely unique. But you can rate it from your side as well.
Completely unique and easy to use sleeping platform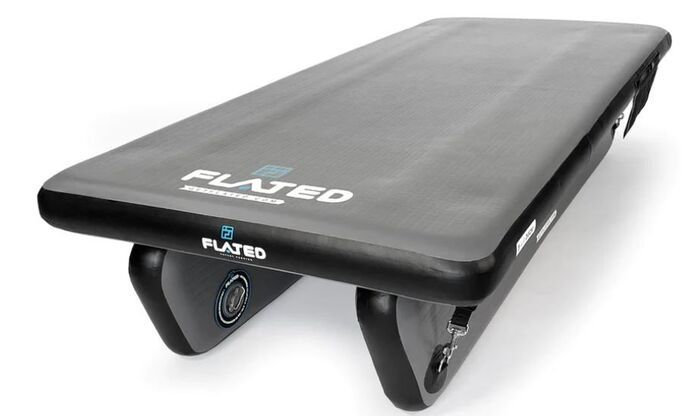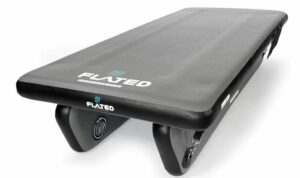 Product Name: FLATED Air-Deck Raised Platform Bed
Product Description: The FLATED Air-Deck Raised Platform Bed Is a Unique Inflatable Sleeping Platform Built in 3 Different Sizes, Very Easy to Use & with a Great Capacity.
Brand: FLATED
SKU: 218363
Weight -

6.2/10

Size -

8.7/10

Capacity -

9.5/10

Packed size -

8.6/10

Ease of use & features -

9.7/10
Summary
This sleeping platform stands well in all the rating criteria so the overall rating is very good.
Pros
Completely unique.
Incredibly easy to use.
Wide.
Huge capacity.
Three size options.
---
Final thoughts
So regardless of which of the options you consider, this FLATED Air-Deck Raised Platform Bed is completely unique on the market. It is very easy to have it ready and to pack when it is time to go.
It is raised so you can store your gear underneath it. But bear in mind it is a hard top so you need a pad for comfort. I have included it in my list of best inflatable cots.
Best places to buy:
For more options of this type, please check under the category Inflatable Cots.
Note that this brand has several other products that may be used together with this sleeping deck, see their Flatted Air-Topper as an example.
Bookmark this site and visit it when you find time, this will keep you informed, you have new texts added here on a regular basis. Let me know if you have questions, there is a comment box below. Thank you for reading and have a nice day.