---
The GCI Outdoor SunShade Backpack Event Chair is a reclining folding structure with an adjustable shade, headrest, solid armrests, storage elements, and a fair price tag.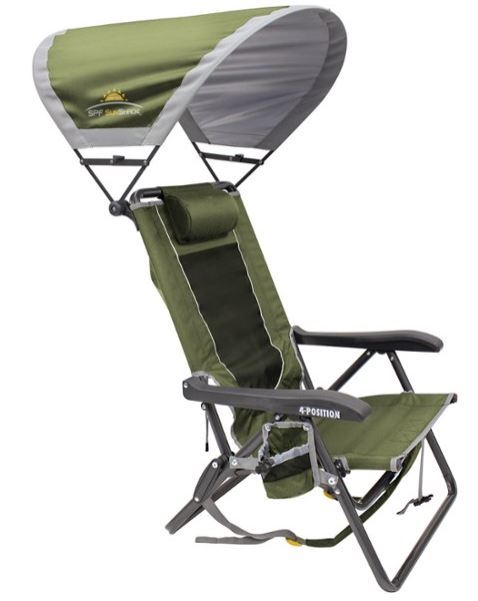 ---
Key features & benefits
Folding design.
Reclining chair.
Sunshade.
Backpack-style carry system.
Headrest.
Solid armrests.
Storage elements.
Reasonable price.
---
Overview
This GCI Outdoor SunShade Backpack Event Chair is a folding construction, and this means it needs no assembly, it comes ready to use, and you open it or close it in seconds.
The folding dimensions are given in the picture, so it is a bit large in two dimensions, but it is thin: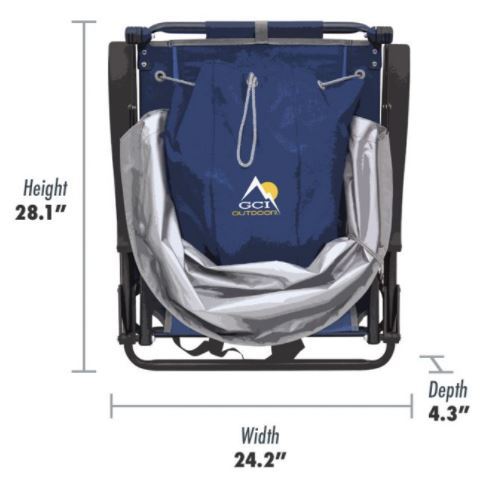 It comes with shoulder straps, so you can carry it like a backpack as shown in the picture.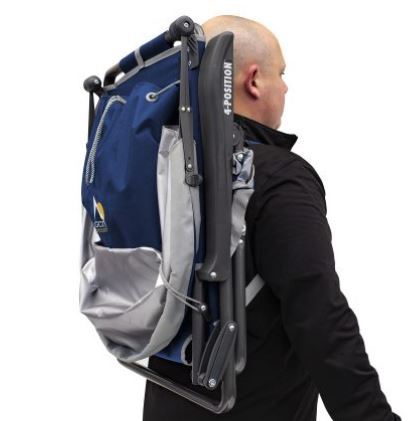 With an adjustable shade that rotates front to back, it provides sun protection with an UPF 50+ rating.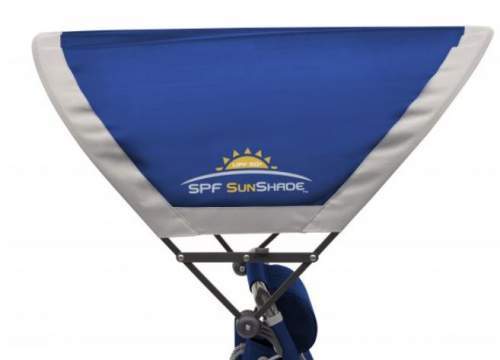 Note that the sunshade folds together with the chair when you carry it on the back. I have included it in my list of best chairs with a sunshade.
Reclining feature
The backrest is high, and you have a pleasant head pillow. There is a reclining mechanism which allows for 4 positions. The first and the forth are shown in the picture. I had all the good reasons to include it in my list of best reclining camping chairs.
Storage elements
There is a bottle holder on the side shown in the picture above. The chair comes also with a side pouch for a phone or anything similar on the side, see how it looks: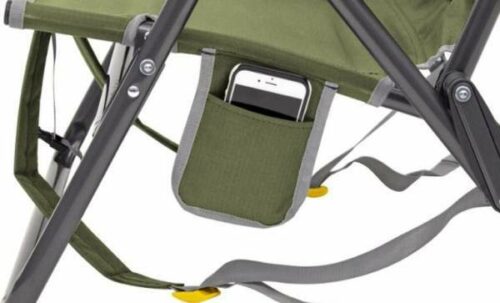 One much larger pouch is on the back side, you can see how it looks and how the sunshade folds around it: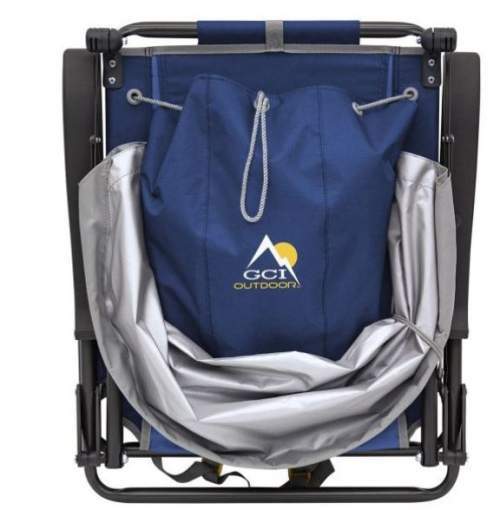 The materials & construction
The frame is a combination of a powder-coated aluminum and steel. I particularly like the legs which are U-shaped bars. With such a design, they will never sink in a soft ground. So the chair can be used anywhere, and this includes also any floored family camping tent.
The fabric is a polyester. Note that they give a Limited Lifetime Warranty for this product.
---
Who is it for
Regarding the capacity, the chair can be described as a bit modest with its 250 lb (113 kg). This should still be good enough for most of potential users.
Regarding the dimensions, they are shown below, and you will see how I rate it regarding the size. Observe that the seat is low as expected from such a type, but you have solid armrests here, so getting in and out should be easy.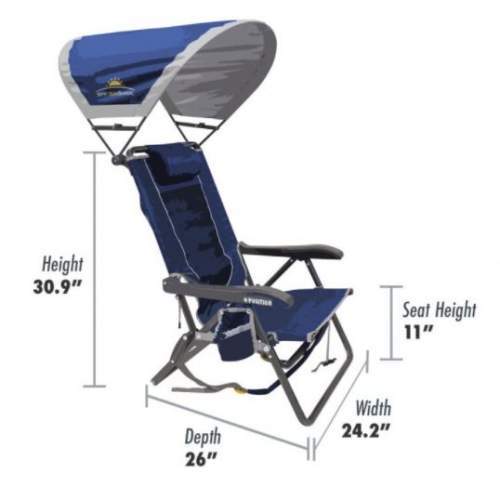 Regarding the weight, it is a bit on the heavy side, but this is quite normal for such a type. You have already seen its packed size, so you can carry it on the back while riding a bicycle. It is thin, so it will not take much space if you transport it in the car.
Regarding the price, I think it is fair for such a quality chair, and you have a top outdoor brands behind this product.
---
Specifications
Weight: 9 lb 11.2 oz (4.4 kg).
Capacity: 250 lb (113 kg).
Dimensions (L x W x H): 26 x 24.2 x 30.9 in (66 x 61 x 78 cm).
Folded dimensions: 28.1 x 24.2 x 4.3 in (71 x 61 x 11 cm).
Seat height: 11.4 in (29 cm).
Frame: steel/aluminum.
---
Rating, pros & cons
Below you have my rating summarized and some pros and cons. Feel free to rate the chair from your side, there is a rating bar for this purpose.
Comfortable reclining chair with a sunshade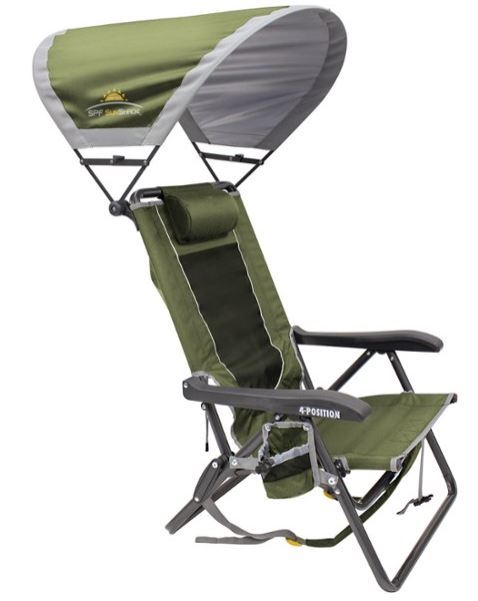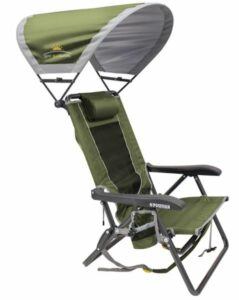 Product Name: GCI Outdoor SunShade Backpack Event Chair
Product Description: The GCI Outdoor SunShade Backpack Event Chair Is Reclining and Folding, with an Adjustable Shade, a Headrest, Solid Armrests, Storage Pouches & a Fair Price.
Brand: GCI Outdoor
SKU: 198783
Weight -

6.5/10

Dimensions -

7.8/10

Packed size -

4/10

Capacity -

7/10

Comfort -

9.5/10

Craftsmanship -

9.7/10
Summary
The folded size is not the best feature but it has a great carry system. So the overall rating is Good.
Pros
Sunshade.
Recliner.
Solid armrests.
Storage features.
Headrest.
Great carry system.
---
Final thoughts
So the GCI Outdoor SunShade Backpack Event chair comes with very useful features like reclining backrest, headrest, sunshade, and a few more. This is a quality product from a reliable outdoor brand, suitable for camping trips, beaches, and any similar activity. Fully recommended.
Best places to buy:
For more options, please check under the category Camping Chairs, you will find them many here in the site, and in all sizes and shapes. You might want to compare this chair with yet another of their chairs built in the same style, the GCI Outdoor Big Surf Chair with Sunshade.
Bookmark this site and visit it when you find time, this will keep you informed, you have new texts added here on a regular basis. Let me know if you have questions, there is a comment box below. Thank you for reading and have a nice day.