---
The REDCAMP Camping Cot for Adults is a lightweight folding bed built in two sizes, Standard and Oversize, and with some differences in the design, both are presented here.
Key benefits
No assembly needed.
Extremely easy setup, literally in seconds.
Integrated head incline in the Standard version.
Folding & portable.
Great price.
Carry bag included.

What type is it
The REDCAMP Camping Cot presented here belongs to the group of folding cots. In the packed state it reduces to a rather small package 41 x 9 x 6.7 inches (104 x 23 x 17 cm). In view of its weight of 14 pounds (6.35 kg) and the integrated carry bag, the cot is portable to short distances.
This cot is with an integrated headrest, see the picture, which is useful because you can manage without any pillow. There are many cots of this type presented in the site, you will see a few of them in the comparison table below.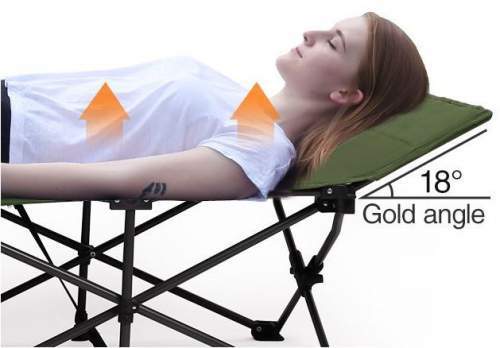 Who is it for
This is a very versatile and multi-purpose tool, suitable for camping at places with a car access, for hunting, and for practically any outdoor place and activity where you do not have to carry it long distances.
The cot is perfect also as a spare bed at home for sleepovers, and for any emergency situation. It deploys so easily and anybody can use it. When not in use, it will be protected from dust in its carry bag.
Setup and construction
This cot requires no assembly, just take it out of its carry bag and open and spread from the center in all four directions, similar to an umbrella. All is done in seconds, see the picture below. Equally easy it is to fold it up, you will see this in the video below for the Oversize model (there is no difference at all in the setup between the two models).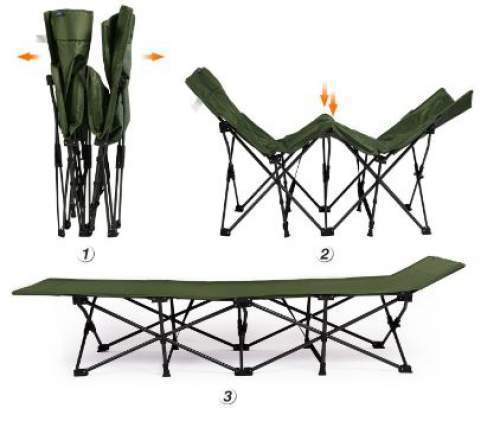 The metal structure with 16/13 mm steel tubes looks complicated with its 10 spots (feet) on the ground, but as I said, it opens smoothly without any tool. The bed deck is similar to many other cots of this type, with 600D sturdy and breathable polyester Oxford fabric. The bed is with a patented G-STA lock mechanism at side joint.
Note that this type of cots is without end bars so its full length is completely usable. There are no bars directly under the bed deck at any point, so you are safe from any pressure point.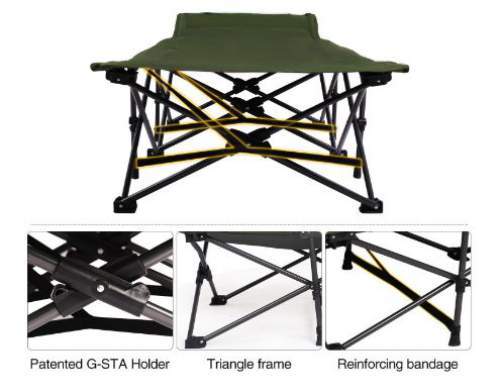 Using the cot in a tent
The REDCAMP Camping Cot is quite high, in particular the headrest part which is 45 cm above the ground, see the picture below, so this is both good and bad.
The good is that you can store some stuff under the bed (but see its numerous legs and bars, so only some smaller pieces will fit there). The bad is that being so high, it will not fit in most solo tents. But if put it in a 2-person tent for solo use, you will have a lot of space and a comfortable sleeping space.

The cot has 10 feet in total, all with plastic caps, so the weight is well distributed and there should be no issue with the tent floor.
How about insulation and all-seasons use? For summertime, you do not need any pad, except for extra comfort. But in a cold environment, you will need some insulated pad. However, being off the ground, you certainly need far less insulation than in the case when you sleep on the ground. You should know that the ground takes around 50 times more body warmth than the air, this is why it is so critical to be off the ground.
My rating, pros & cons
The price of this cot is shown in the link and as you see it is very affordable. Note this is an Amazon Prime product, so you can have it shipped for free.
Here is my rating of this cot:
My rating breakdown
Weight -

8/10

Size -

8.5/10

Capacity -

7/10

Packed size -

8/10

Ease of use & features -

9.8/10
Summary
My overall rating of this cot is Excellent:
Pros
• Great price.
• Very easy to use.
• Very comfortable.
• Versatile.
• Integrated headrest.
• Carry bag included.
Cons
• Not for extremely tall and very heavy people.
Specifications
Weight: 14 lb (6.35 kg).
Capacity: 250 lb (113 kg).
Setup size (L x W x H): 75.2 x 28 x 17.7 in (191 x 71 x 45 cm).
Folded size: 41 x 9 x 6.7 in (104 x 23 x 17 cm).
Bed fabric: 600D sturdy and breathable polyester Oxford.
Frame and legs: steel.
Free storage bag included.
Fit people up to 6 ft 2 in (188 cm).
Patented G-STA lock mechanism at side joint.
REDCAMP offers a 365-day limited manufacturer warranty.
---
The Oversize version
They have a bit larger version, but this is not the only difference. This model is without the head incline, so you have a completely flat cot, see the picture. Observe also that it comes with 12 legs in total.
They use the term Oversize for this model, but from the specifications below you will see that it is only 4 cm longer than the Standard size presented above, and the width is the same.
Specifications
Weight: 15.8 lb (7.17 kg).
Capacity: 250 lb (113 kg).
Size (L x W x H): 76.8 x 28 x 14 in (195 x 71 x 36 cm).
Folded size: 36 x 11 x 7 in (91 x 28 x 18 cm).
Can fit person up to 6 ft 3 in (191 cm).
See how it is easy to set it up:
---
Summary
So to conclude this REDCAMP Camping Cot for Adults review, you have two different models here, both folding and with an incredibly easy setup. Note that the Standard size is with the permanent headrest, so it cannot be made flat, while the Oversize model is made flat, without headrest. They are not the cheapest cots on the market, but the prices for both models are truly affordable.

Thank you for reading, if you still need something different please see around, this site is all about the cots, so you will surely find something for you. In the case of questions and comments, please use the comment box below. I wish you a nice day.

---