---
Camco 57293 Deluxe Folding Grill Table is a strong and reliable steel construction with aluminum tabletop and several storage elements.
---
Key features & benefits
Storage & attachment elements.
3 Hardtop tables.
Carry bag included.
Grill table with the aluminum tabletop.
---
Where to buy
This Camco 57293 Deluxe Folding Grill Table is available on Amazon and I have seen it on several of their global stores. So please follow the link and check shipping conditions for your location.
You will find it also at Walmart.
---
What type of camping table is this
They describe it as a "folding" table and this is only partly true. The bigger part is indeed folding as you can see from the picture below. But this holds only for the frame and the side tables.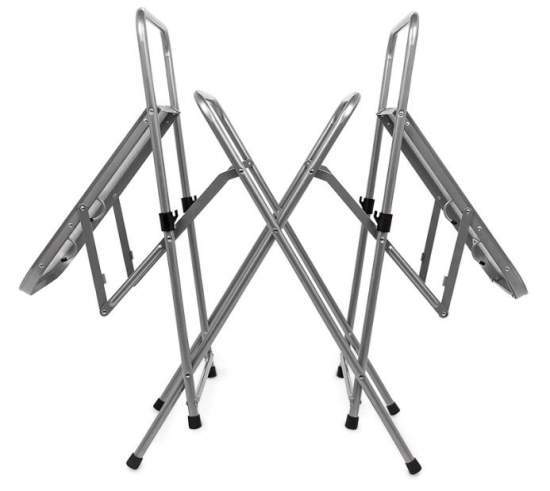 There is also the main tabletop and a wire shelf that must be added separately, see the picture below. This is why I would describe it as a collapsible table that needs a simple assembly. I have added it to my list of collapsible camping tables.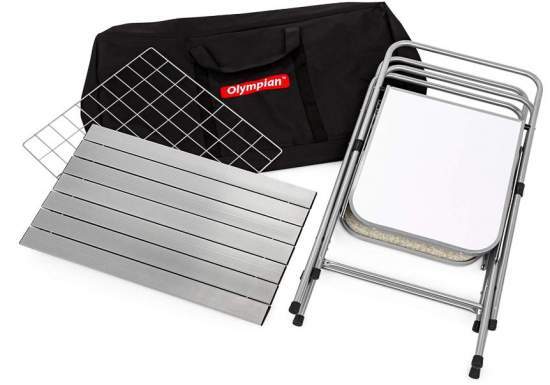 Note that they also use the name Camco Olympian Deluxe Grilling Table for it. The title above is what they use as its name on Amazon. It should not be mixed with yet another similar table from this brand which is also with side tables but differently designed. Both are sold at the same place on Amazon, but they have different numbers in the name; this one is with the numbers 57293.
The table comes with a carry bag so everything fits nicely inside as you see from the picture below. The packed size is 37.5 x 20.3 x 6 inches (95 x 52 x 15 cm), so it is big in two dimensions but it is very thin.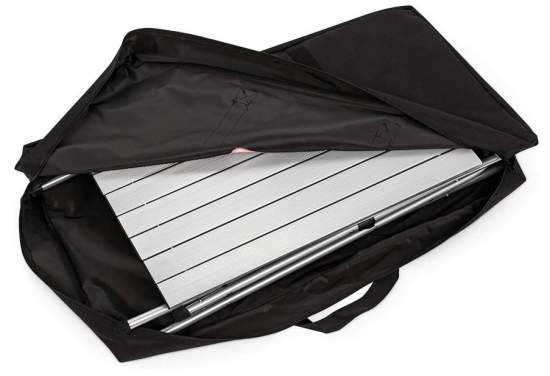 Storage features
The lower wire shelf with its 17.75 x 21.6 inches (45 x 55 cm) dimensions provides enough space for storage. You also have several elements to attach gear, 4 hooks and a paper towel holder, see the picture below. This is why I have included it in my list of tables with storage elements.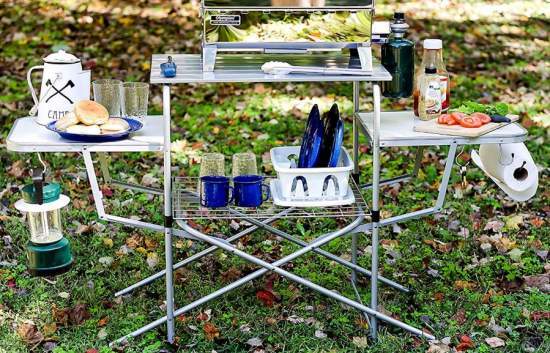 The two tables on the sides can be used for storage as shelves, or as dining tables as well. They are 17.75 x 15.4 inches (45 x 39 cm) each. So clearly you have plenty of working and dining area here.
The main tabletop is 32 inches (81 cm) above the ground and it comes assembled. Its dimensions are around 26.25 x 15.5 inches. It is equipped with clips on its underside, so you attach it to the frame easily, see the picture: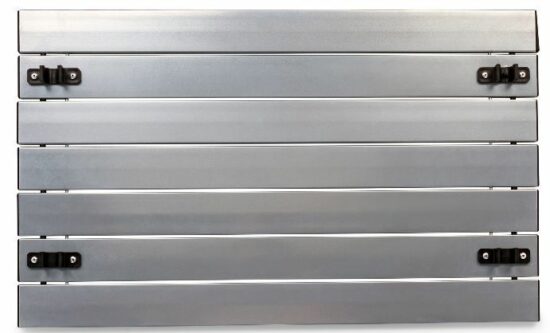 Its upper side is shown below, so this is a water-resistant and heat-resistant area as you would want to have in a grill table: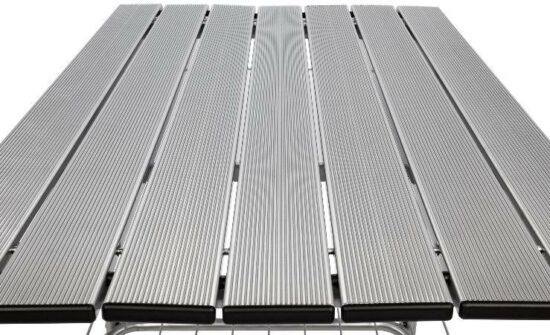 ---
Materials
They describe this table as lightweight but note that it weighs 27.5 lb (12.5 kg). So you would not want to carry it long distances. But this is a strong steel construction so there is a reason for such a weight. The total weight capacity is around 100 lb (45 kg).
This is a grill table so the main top table is aluminum. The side tables look like some engineered MDF covered with plastic. It is best to avoid water getting in because the wood inside may swell.
The wire shelf attaches easily to the frame, you have plastic clips pre-attached on the legs, see the picture: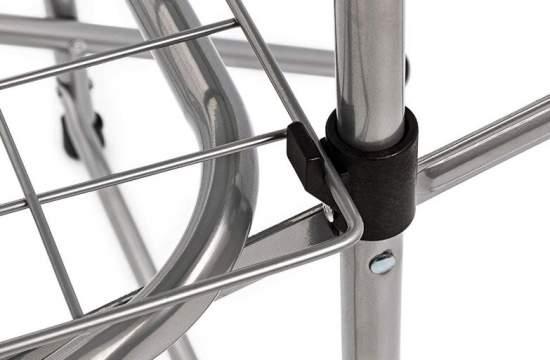 The video below is years old, so this tells you that the table has been on the market for a long time. Please have a look:
---
Rating, pros & cons
Camco is a company that started in 1966 with one employee and one product, to more than 350 employees and over 3000 products now. So you know what you are buying when you purchase a product form such a brand.
This table has been on the market for years, so there are many reports by customers and users. On Amazon, you will find hundreds of reports and the table has scored a very high rating. Please see how I rate is:
My rating of the Camco Deluxe Folding Grill Table:
Weight -

2/10

Dimensions -

9.1/10

Packed size -

3.5/10

Craftsmanship & features -

9.5/10
Summary
My overall rating of this table is Good:
Pros
Very easy to use.
Portable.
Storage features.
Affordable.
Carry bag.
Cons
Heavy.
Large when packed.
---
Specifications
Weight: 27.5 lb (12.5 kg).
Total weight capacity: 100 lb (45 kg).
Packed size: 37.5 x 20.3 x 6 in (95 x 52 x 15 cm).
Dimensions (L x W x H): 57.75 x 19 x 32 in (147 x 48 x 81 cm).
Main tabletop dimensions (L x W x H): 26.25 x 15.5 x 32 in (67 x 39 x 81 cm).
Shelf: 17.75 x 21.6 in (45 x 55 cm).
Side tables each: 17.75 x 15.4 in (45 x 39 cm).
Frame: steel.
---
Camco 57293 Deluxe Folding Grill Table vs Competitors
I give this table side by side with two other tables built in the same style. As you realize it is heavier and its packed size is not so impressive. But it is also a bit larger than the other two tables.
Note that the CampLand table has some extra features. On the other hand, the GCI table has 4 side tables. In any case, please follow the links to read more.
Top Table Dimensions
(L x W x H), in (cm)

26.3 x 15.5 x 32
(67 x 39 x 81)

37.5 x 20.3 x 6
(95 x 52 x 15)

CampLand Folding Cooking Table
26 x 13 x 31.7
(66 x 33 x 81)

31 x 19.7 x 6
(79 x 50 x 15)

GCI Outdoor Slim-Fold Cook Station
24 x 16 x 32.3
(61 x 41 x 82)

34.6 x 20.9 x 3.7
(88 x 53 x 9.5)

---
Final thoughts
So in summary, this Camco 57293 Deluxe Folding Grill Table is a very reliable camping item. On the market for many years, it has been tried and tested by many people, so you know what you are buying. Fully recommended.
Check on Amazon
Check at Walmart
Please check under the category Camping tables if you want to see more options. Compare this table with the Mountain Summit Gear Deluxe Roll Top Kitchen that has a very large storage compartment and it is much lighter.
This is not a sponsored text, and I am not paid by the manufacturer. Please use the comment box below in case of questions or comments. Have a nice day.
---