---
Eureka! Camp Kitchen Camping Cooking Table is a very functional grill table with aluminum hardtop, storage features, adjustable feet, and a carry bag included.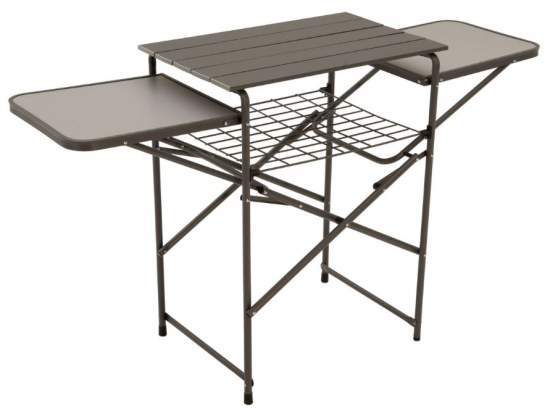 ---
Key features & benefits
Collapsible design.
Storage features.
Adjustable foot.
Aluminum tabletop.
Very easy to use.
Carry bag included.
---
What type of camping table is this
Here you have a grill table with an aluminum central table and two side tables. The structure is collapsible and folding. This means that the biggest part (the frame and the two side tables) are permanently connected and you fold them and open in seconds.
The main tabletop is a collapsible aluminum construction that must be added after you prepare the frame, you can see it collapsed in the picture below. There are plastic clips underneath the tabletop so it attaches easily to the frame.
There is also a wire shelf that is added underneath the central table. So you have three separate pieces here. All the elements are shown in the picture. This is why I have added this table in my list of best collapsible camping tables.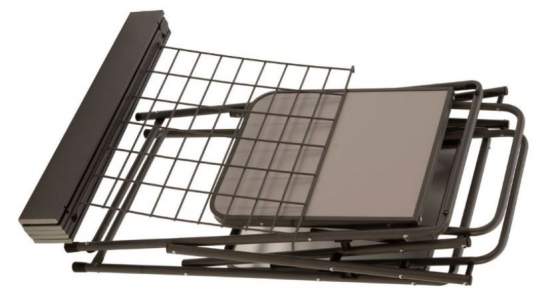 Adjustable foot
The table allows for some small adjustability in case of uneven ground. This may be just enough to avoid rocking of the table in a camp because the ground is never perfectly flat. The picture shows the adjustable foot: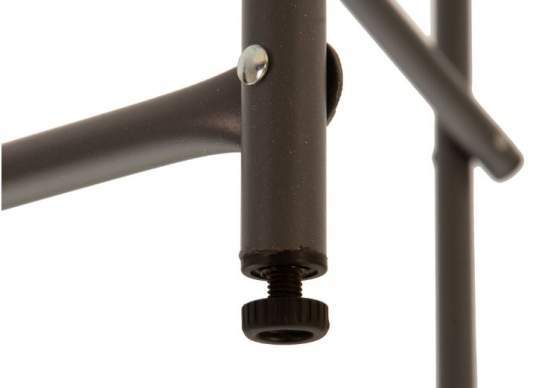 Carry bag
There is a carry bag in the package, see the picture below, and all the elements shown above fit easily in. Note that the packed size is not so impressive, the measures are 36.5 x 19.5 x 5 inches (93 x 50 x 13 cm). So you will need a car for transportation. The good thing is that it is very thin when packed.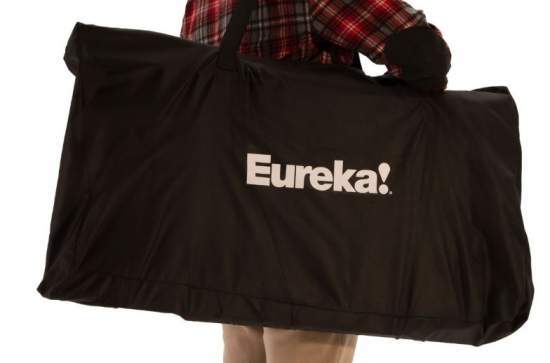 ---
Materials & construction
The frame is powder-coated steel. The main table is aluminum, and the side tables seem to be some sort of engineered material, it is not clear what is inside, but they are not suitable to keep hot pots on them.
The central table is up to 33 inches (84 cm) above the ground, so this is a perfect height for grilling and cooking. The two side tables are at 30 inches (75 cm) above the ground.
The wire shelf is steel and you can store anything here. Its dimensions are 20 x 17.5 inches (51 x 44 cm) and it is 28 inches (71 cm) from the ground.
Note that the complete weight capacity is 90 lb (41 kg).
---
Rating, pros & cons
Eureka is a world-renown brand, best known for their camping tents, but they build other camoing stuff as well as you see here.
Below is my rating for this Eureka Camp Kitchen table. I use my standard set of criteria and apply them consistently to all the tables here in the site. Please have a look:
My rating of the Eureka Camp Kitchen Camping Cooking Table:
Weight -

3.5/10

Dimensions -

9.7/10

Packed size -

4/10

Craftsmanship & features -

9/10
Summary
My overall rating for this table is Good:
Pros
Very functional.
Easy to use.
Portable.
Storage features.
Foot adjustability.
Carry bag.
Cons
Large when packed.
A bit heavy.
---
Specifications
Weight: 17 lb 14 oz (17.86 lb; 8.1 kg).
Weight capacity: 90 lb (41 kg).
Dimensions (L x W x H): 56.5 x 19.5 x 33 in (144 x 50 x 84 cm).
Central tabletop size: 26 x 17 in (66 x 43 cm).
Side tables size: 17.5 x 16 in (44 x 41 cm).
Packed size: 36.5 x 19.5 x 5 in (93 x 50 x 13 cm).
---
Eureka Camp Kitchen Camping Cooking Table vs Competitors
In the table below you have this Eureka table side by side with two others built in the same or similar style. So the Camco table is also collapsible and with two side tables, but the GCI table is folding. Regarding the weight, the Eureka table is in between the other two, and the same holds for its packed size.
Top Table Dimensions
(L x W x H), in (cm)

26 x 17 x 33
(66 x 43 x 84)

36.5 x 19.5 x 5
(93 x 50 x 13)

26.3 x 15.5 x 32
(67 x 39 x 81)

37.5 x 20.3 x 6
(95 x 52 x 15)

GCI Outdoor Slim-Fold Cook Station
24 x 16 x 32.3
(61 x 41 x 82)

34.6 x 20.9 x 3.7
(88 x 53 x 9.5)

---
Final thoughts
In summary, this Eureka! Camp Kitchen Camping Cooking Table is a product from a renown brand that has been around since 1895. So when you buy something from such a brand, you know what you are buying.
The table is a bit large when packed and heavy, but this is quite typical for such a type, you have seen the comparison table above.
I have added it to my list of tables with storage features and also to my list of best outdoor tables for grilling. If you need more options, please check in the category Camping tables here in the site.
Note that this is not a sponsored text, and I am not paid by the brand. Please use the comment box below in case of comments or questions.