---
The Byer Of Maine Military Cot is a very sturdy great capacity cot built for very tall people, with 213 cm this is one of the longest cots on the market.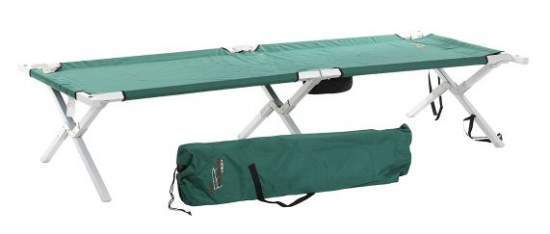 Key features
This is a very large cot, suitable for tall people.
Velcro tabs for adjustable deck tension.
Gear pouch on the side.
Carry bag included.
The type of the cot
As the name of the cot suggests, this is a military type cot which requires a simple assembly. This can be done without any extra tools.
It is also in the group of collapsible cots, which means that it packs to a relatively small size with only one large dimension, 43 x 9 x 5 inches (109 x 23 x 13 cm).
Where you can use it – who is it for
Obviously, there are two main purposes of this cot:
You can use it as a spare bed at home, for sleepovers and emergency situations. When not in use, just pack it in its stuff sack and store in the closet. It does not take much space, you have seen its packed size above.
The packed size and the weight 20 lb (9.07 kg) limit its outdoor use. It is portable, but not designed to be carried long distances. So this is a great outdoor bed suitable for sleeping at places with a car access. Obviously, this can include a variety of outdoor activities.
Overview and assembly
This is the largest cot of the Byer of Maine brand, but note that they have built the wooden version as well and it is available on the market as the Maine Heritage Cot.
The Maine Military Cot is built with full 1-1/4" square aircraft aluminum tubing which is reinforced with steel tubing inside the three leg sets. The bed deck is a strong ripstop polyester fabric, treated for water repellency, and you will notice that it is reinforced in the central area.
The cot comes with a nice carry bag in the same green color as the bed fabric, equipped with straps for an easy transport. The bed fabric is very strong and it comes with a nice feature – you can adjust its tension. This is possible due to the Velcro hook-and-loop connection shown in the picture: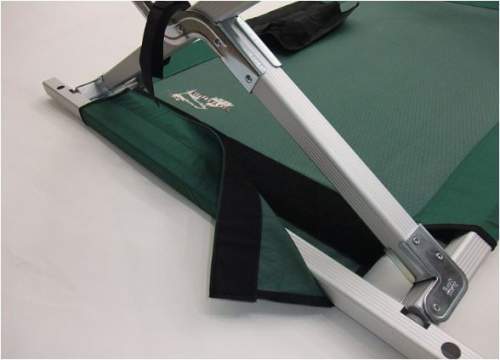 I have mentioned in the Key features above that it comes with a bonus pouch with multiple pockets, which is good to have to store some essential items close to you when you are in bed.
The working weight capacity is 375 pounds, but they have tested it with the weight up to 1100 pounds, see the picture: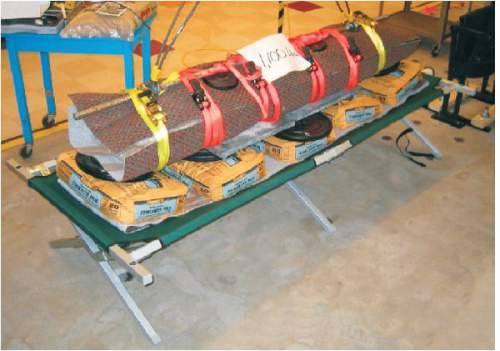 The cot needs an assembly, but this is easily done with just a bit of force when adding the second end bar. Please see this short video by the Byer of Mine:
Using this cot in a tent
The cot is long and high, bear this in mind when you plan your camping trip. So it will not fit in every solo tent, but you will not have problems with any larger tent. It is best to assemble this cot outside the tent, but getting it inside may be tricky, so it is good to use it in a tent with a front door instead of a side door.
The legs are with plastic caps, but I would be very careful regarding the tent floor. Add something extra underneath the legs if you are a heavy person.
In a cold environment you will need some insulated pad, but being so much off the ground, you need far less insulation than when you sleep on the ground.
Note that the 18 inches (46 cm) of its height allows for storing equipment under the bed. So in a 2-person tent used solo, you will have a lot of space for you and for a dog if you have it with you.
Pros & cons, my rating, price
The Amazon price of this cot is shown in the link below. Note that this is an Amazon Prime product, so you can have it shipped for free. Also, this is an Amazon's Choice item, which means well-priced, recommended by Amazon, and ready to ship immediately. It is worth the money.
The cot has been on the market for several years already. There are many reviews everywhere. See how I rate it:
My rating breakdown of the Byer Of Maine Military Cot
Weight -

6.8/10

Size -

9.1/10

Capacity -

8.5/10

Packed size -

8/10

Ease of use & features -

9.3/10
Summary
My overall rating of this cot is Very Good:
Pros
• Very large cot.
• Great capacity.
• Stable construction.
• Versatile tool.
• Carry bag included.
• Deck adjustability.
Specifications
Weight: 20 lb (9.07 kg).
Capacity: 375 lb (170 kg).
Dimensions (L x W x H): 84 x 30 x 18 in (213 x 76 x 46 cm).
Folded dimensions (L x W x D): 43 x 9 x 5 in (109 x 23 x 13 cm).
Frame: aircraft aluminum tubing reinforced with steel tubing inside the three leg sets.
Color: Forest Green.
Summary
To summarize this Byer Of Maine Military Cot review, the cot has been on the market for a number of years already, all is known about it, and it has stood the test of the time. The Byer Of Maine is a reliable brand, a company founded in the 19th century. I trust the brand and can warmly recommend this cot to anybody.
Best places to buy:
All Byer of Maine cots available on the market in 2017 are presented in this site in separate reviews and you can search them above, and the overview article of all cots side by side you can see here.
In any case, if you need something different, please use the Categories above on the right; this site is all about cots and you will surely find what you need.
Thank you for reading. In the case of questions or comments please use the comment box below. Have a nice day.