---
This Travelchair Joey Chair review is about a very light comfortable and stable chair with an exceptionally small packed size, and suitable even for carrying it in the backpack.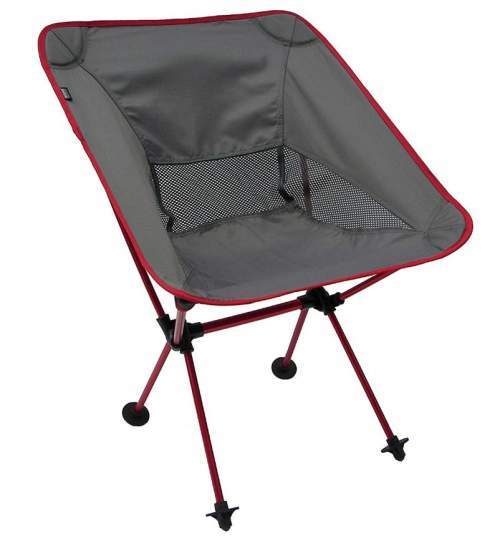 ---
Key features
(Almost) Ultralight chair.
Patented design.
Very easy to use.
Ultra-small packed size.
Reasonable price.
---
What this is about
This Travelchair Joey Chair has been on the market for longer than 5 years already, so this is a well-known and popular product. This is a collapsible design, and you have only two pieces:
A hubbed frame which includes several shock-corded poles. They are all permanently interconnected so you cannot lose any element.
The seat fabric.
So this implies a simple assembly when you take the chair from its carry bag, but this is done in seconds. The pictures below show the two elements:

Below you see zoomed detail of the place where the pole enters the holster in the fabric, this is the most important part related to its durability and weight capacity. It looks well-done as you realize from the picture.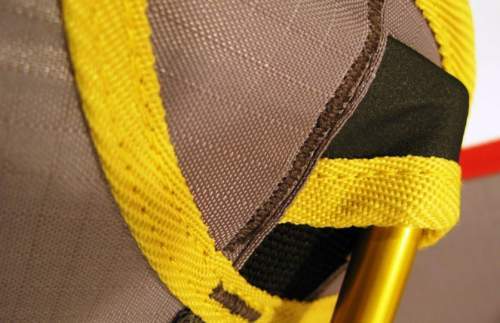 Yet another important segment in the constriction are the two hub elements where the poles converge, you can see it in the picture below. This is rather massive, though it is similar to most of the chairs of this type. You might want to know that recently, a few chairs have appeared on the market with all-metal construction like in the case of Big Agnes Mica Basin chair.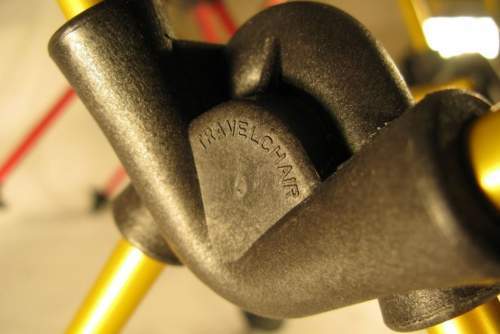 ---
Who is it for
Weight-wise, with its 2.35 lb (1.07 kg), this chair is almost in the group of ultra-light chairs that can be carried on the trail. I have not included it in my list of best backpacking chairs because of the 1-kg limit which I set for the list. But it deserves to be in the other list of best collapsible portable chairs where it is among the lightest.
The packed size is simply excellent, 14 x 4 x 4 inches (36 x 10 x 10 cm), so regardless of how you transport it, it will not take much space. It is surely small enough to ba carried attached to a backpack.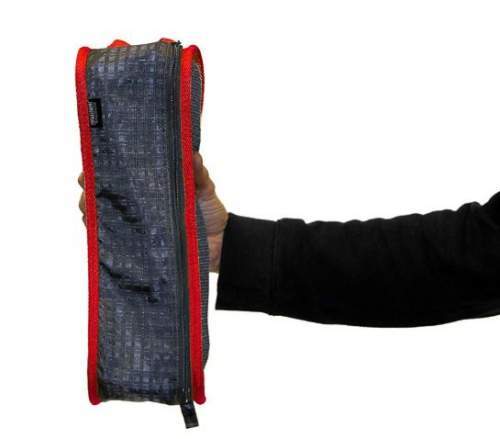 To realize how excellent this packed size is, you can compare it with the lightest chair on the market (of that type), the Helinox Chair Zero where the packed size is almost identical (L x D) 13.8 x 4 inches (35 x 10 cm).
Capacity-wise, in view of its design and weight, the declared capacity of 300 lb (136 kg) is really impressive. But it is fair to say that this is quite typical for quality chair of that type, you will see some below.
Size-wise, the chair is not so large but the dimensions are reasonable (W x D x H) 21 x 21 x 28 inches (53 x 53 x 71 cm). The seat is at 16 inches (41 cm) above the ground so getting in and out is not difficult.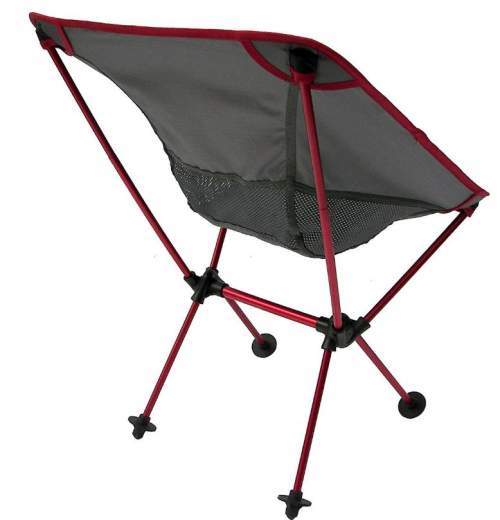 The feet are with caps that are supposed to prevent sinking in a soft ground. They will surely help a bit and this is better than in many other similar chairs on the market. But if this is important to you, see also this Big Agnes Helinox Ground Chair with bars instead of feet.

So in view of all these features, this versatile chair is suitable for hikers, kayakers, motorcyclist, RV campers, urban adventurers, and for many other outdoor activities.
Please see a bit more in this short video:
My rating
This is an Amazon Prime item and also Amazon's Choice product. The daily updated price is given below. So this is very reasonable for such a lightweight and nicely packable item. However, on the EU market, this chair is much more expensive.
The average rating on Amazon, as of the moment of writing this text, is quite high. Please see how I rate this chair against the standard set of parameters used for all the chairs in the site, so you can make an easy comparison:
My rating breakdown of the Travelchair Joey Chair:
Weight -

9/10

Dimensions -

7.2/10

Packed size -

9.8/10

Capacity -

7.5/10

Comfort -

9.3/10

Cratfsmanship -

9.2/10
Summary
My overall rating for this chair is Excellent:
Pros
Great weight.
Great packed size.
Good price.
Easy setup.
Carry bag.
Cons
Complaints about durability.
---
Specifications
Weight: 2.35 lb (1.07 kg).
Capacity: 300 lb (136 kg).
Dimensions (W x D x H): 21 x 21 x 28 in (53 x 53 x 71 cm).
Seat height: 16 in (41 cm).
Packed size: 14 x 4 x 4 in (36 x 10 x 10 cm).
---
Travelchair Joey Chair vs Competitors
It is always great to see such a chair compared with some other models on the market, this helps in understanding the true meaning of the parameters and the value of the chair.
So in the table below I am showing the Helinox Chair Zero which is the lightest on the market. The other chair is Big Agnes Mica Basin and this is one of those with an all-metal frame, and it is also just at the upper limit regarding the weight of the chairs included in my list of ultralight backpacking chairs.
So you realize that i) the Joy Chair is almost the same packed size as the lightest chair on the market, and ii) it is very close in the weight to be included in the group of ultralight chairs. Please follow the links for more details.
Dimensions
(W x D x H), in (cm)
21 x 21 x 28
(53 x 53 x 71)
14 x 4 x 4
(36 x 10 x 10)
19.7 x 18.9 x 25.2
(50 x 48 x 64)

13.8 x 4 x 4
(35 x 10 x 10)

22 x 19.5 x 29
(56 x 50 x 74)

17.5 x 3.5 x 3.5
(44 x 9 x 9)

---
Travelchair brand
This brand was established in 1984, and they have been building comfortable outdoor stuff ever since. Their repertoire includes camp chairs, camp cots, folding tables, and camp stools.
---
Final thoughts
So you have seen how lightweight this Travelchair Joey Chair and how compact it is when packed; its packed size is completely on the level of the top chairs in this industry. Although this is not the lightest possible option if you plan to carry it on the trail, it is very close by weight to the lightest chairs on the market.
If you check around you will also realize that it is one of the most affordable chairs of this weight and size. For such a type and size, this is an exceptionally comfortable chair.
For more items of this type check under the category Camping Chairs here in the site.
Note that this is not a sponsored text and I am not paid by the brand. Please use the comment box below in case of questions or comments. Have a nice day.