---
The Nemo Moonlander Dual Height Table is an incredibly advanced compact and lightweight outdoor item, completely unique and versatile.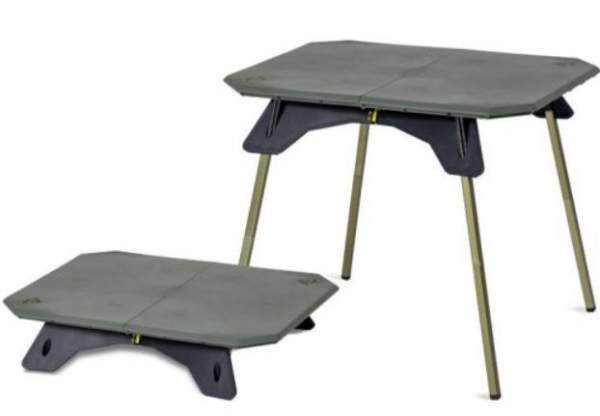 ---
Key features & benefits
Two possible heights.
Supper-compact.
Very light.
Folding & collapsible.
Great carry bag.
---
Overview
Nemo's designs usually look outside of this world, and the name of this table sounds the same. So this is a table that can be described as folding and collapsible. I shall explain below why both of these terms apply here.
But let me start first with the two heights shown in the top picture above. When you begin opening (or unfolding) the table as in the picture below, the legs open automatically. You can see them as those black elements inside the half-open table below.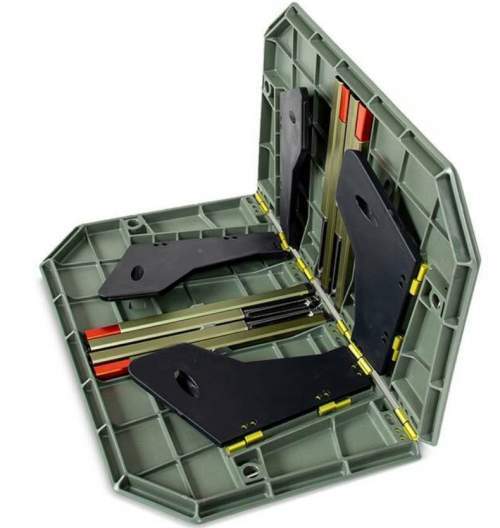 Below you can see how the table looks from below when it is fully unfolded. As you realize the legs are now in their normal position. So just turn it upside down and it is ready.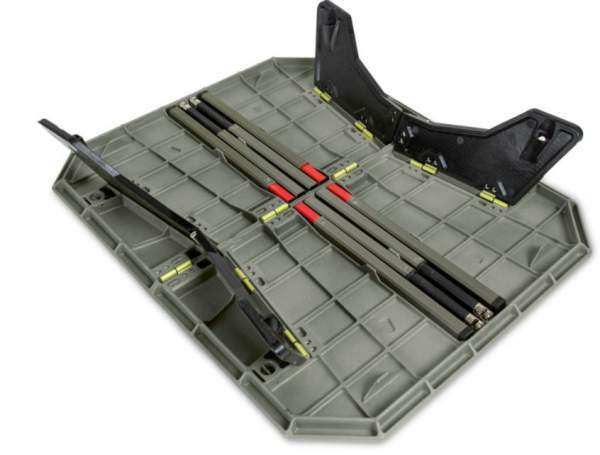 So for such low height use, it can be described as a folding table, there is no assembly of any kind. The height, in this case, is 4 inches (10.2 cm).
But see the leg extensions in the picture above. They can remain fixed in their position. However, if you want to use the table in its higher setup, you will have to attach these 4 legs separately.
This is what makes the table collapsible, and therefore it needs this simple assembly only for its higher setup. In this setup, it is a typical side table as you realize from the picture below.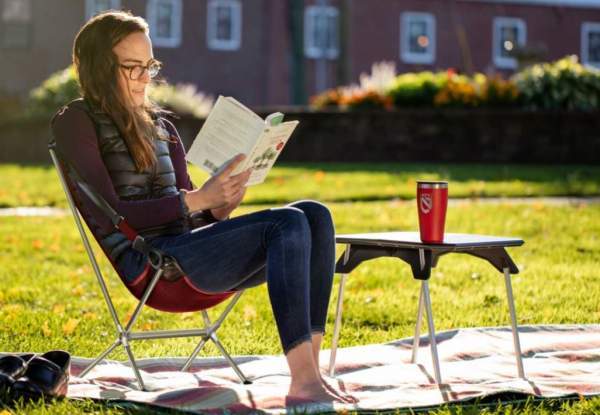 Carry case
The table comes with a nicely designed padded carry case shown below. It looks like a carry case of a notebook computer, and its shape follows the shape of the folded table. In fact, its dimensions are similar to a notebook case, and you can indeed transport it in the sleeve of your ordinary daypack. The carry case is with a zipper and it is equipped with a shoulder strap. 
The dimensions when packed are 14.5 x 9.5 x 1.5 inches (37.3 x 23.9 x 3.4 cm). Observe how thin it is, unbelievable. You might want to compare this size with the packed size of yet another great table of this type, the REI Co-op Outward Side Table.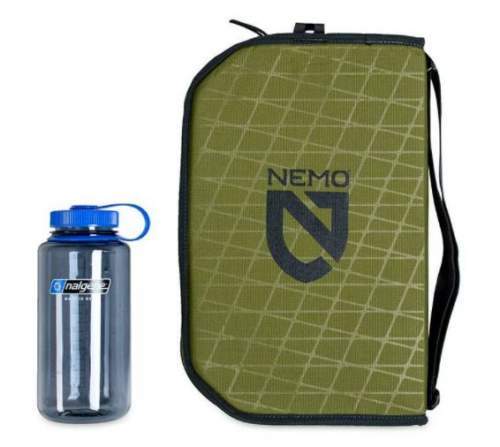 Materials
The lags/poles are rugged shock-corded aluminum and carbon fiber combination, with zinc pole tips, and they twist-lock into place on the underside of the tabletop. You will see this in the video below.
The tabletop is a very smooth and impervious solid and heat-resistant nylon material that is easy to clean. But they suggest not to use it for hot stoves.
You have also custom engineered aluminum hinges that are molded into the table for security and longevity. This is what is behind the weight capacity which they provide, the table can withstand up to 100 lb (45 kg) of weight. Quite an impressive feature again. Please see a bit more in this video:
---
Who is it for
Regarding the weight, the table weighs 4 lb 14 oz (2.2 kg). So I would describe it as very light but not ultralight. This is why it is not in my list of ultralight backpacking tables. 
But you have seen its impressive packed size, so it is definitely backpack-portable. I have included it in my list of best collapsible outdoor tables. 
Regarding the dimensions & best use, the tabletop size is the same in both setups, it measures 19 x 15 inches (48 x 37 cm). But the height is different. So this is a side table in any case. You have seen it above in use, it is perfect for solo use or perhaps by two people.
The tabletop is not really for cooking, this is a pity, otherwise, it would be simply perfect.
Regarding the price, it is steep. But what else to expect from such an advanced outdoor piece. The price changes all the time so please follow the links below and see where you can get the best offer.
---
Specifications
Packed weight: 4 lb 14 oz (2.2 kg).
Packed size: 14.5 x 9.5 x 1.5 in (37.3 x 23.9 x 3.4 cm).
Dimensions: 19 x 15 in (48 x 37 cm).
Heights: 4/16 in (10.2/40.6 cm).
Capacity: 100 lb (45 kg).
Protected by the NEMO Lifetime Warranty.
---
Rating, pros & cons
Below you can see how I rate this table, and my pros and cons. I use the same criteria for all the tables presented here in the site, so this may help when you compare them.
Advanced & Unique Outdoor Table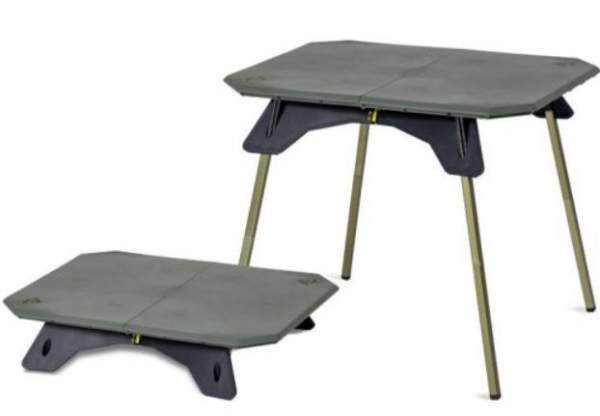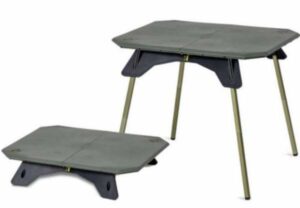 Product Name: Nemo Moonlander Dual Height Table
Product Description: The Nemo Moonlander Dual Height Table Is an Incredibly Advanced Compact and Lightweight Portable Outdoor Table, Completely Unique, Versatile & Reliable.
Brand: Nemo
Weight -

9.2/10

Dimensions -

7.1/10

Packed size -

10/10

Craftsmanship & features -

9.8/10
Summary
The tabletop affects the rating negatively, but it is still Excellent.
Pros
Very light.
Unique.
Compact.
Quality craftsmanship.
---
Final thoughts
In summary, this Nemo Moonlander Dual Height Table is an incredibly versatile piece with some truly unique and advanced features.
If you need an item as a gift for somebody who enjoys going outdoors, this is a perfect choice. This will be a valuable present that will last for many years. In any case, fully recommended.
Please check under the category Camping Tables here in the site if you want to see more options. You will find them many in all sizes and shapes.
In the case of questions or comments, please use the comment box below. Thank you for reading and have a nice day.