---
As the title suggests, this Big Agnes Helinox Ground Chair review is about an incredibly lightweight and completely collapsible and portable chair, suitable for any outdoor activity, including backpacking, camping, hunting trips, sitting on the beach, excursions with a motorbike, and you name it.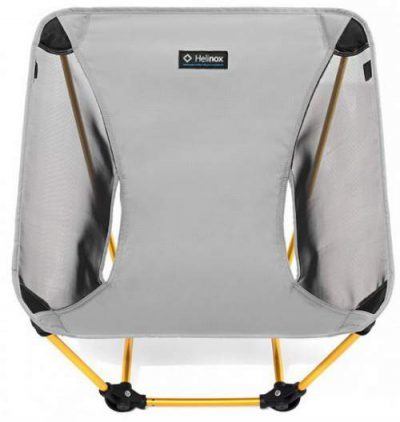 This chair packs down to 12.2 x 5.9 x 5.9 inches (31 x 15 x 15 cm), and it weighs just 1.35 lb (615 g). In spite of such a lightweight construction, the Ground Chair supports up to 265 pounds (120 kg).
Key benefits
Ultra lightweight as you have already seen.
Very packable, it fits in any backpack, literally.
Easy setup, no extra tool required.
Supportive and comfortable.
---
Best place to buy
Usually, the best place regarding the price and shipping conditions is Amazon.com.
Helinox Ground Chair – description
This is a lightweight and strong folding camp tool, which essentially contains two parts, a durable DAC aluminum single-pole construction, and a breathable mesh. From the specifications below, you will realize that it is more wide than high, so this with such a sturdy construction makes it rather stable because when you are sitting on it, the gravity center is very close to the ground.
The poles are shock corded, they fit each other similar to tent poles, you set them up in seconds and the same is when you dismantle the chair. All done by hands, no tools, and you will not lose them as they are interconnected to each other all the time. This is an ingenious construction.
On the poles' sections you will see black marks, so make sure that they are not visible when you set up the chair. This means that they are in proper positions and you have the chair stable and secure.
The sling is a breathable 600D Polyester mesh. The chair comes with an integrated storage sack which has a daisy chain along its length, so you can fix it securely if you transport it on a motorbike, or if you carry it attached to the pack.
When the poles are set up, you simply put the sling on the four ends of the poles. There are some small pockets on each corner of the fabric (they are visible in the pictures), so the poles' ends will slide into the pockets and this will create tension in the fabric.
The four feet are rather wide and rounded, see the pictures, so they do not sink into the ground easily, you will be able to see this in the video below. It shows the difference between the Big Agnes Helinox Ground Chair and the Chair one from the same brand, which is described elsewhere in the site. The video shows how to set up both types, so please have a look:
Pros and cons
As the name suggests, the Ground Chair is rather low and for some, this is too low, it may not be so easy to get up once you are sitting. But this is really the only thing that I can say against this nice tool. If this is an issue for you, please check the Big Agnes Helinox Chair One, it is described in detail in this separate post.
Here is my short summary:

Easy to use.
Great quality.
Very comfortable.
Great packed size.
Very lightweight.

I love the design of the Ground Chair, and so do many others. On Amazon, the average rate for this chair is no less than 4.3/5. See how I rate it:
Big Agnes Helinox Ground Chair
Weight -

9.8/10

Dimensions -

6.8/10

Packed size -

8.6/10

Capacity -

7.5/10

Comfort -

9/10

Reliability -

9.7/10

Price -

7.8/10
---
Specifications
Purpose: camping, backpacking, open-air festivals, casual use in general.
Weight: 1.35 lb (615 g).
Packed size: 12.2 x 5.9  x 5.9 in (31 x 15 x 15 cm).
Width: 20.5 in (52 cm).
Depth: 19.7 in (50 cm).
Height: 17.3 in (44 cm).
Capacity: 265 lb (120 kg).
Breathable 600D Polyester fabric mesh on back and sides.
Single shock-corded pole structure.
Warranty: limited lifetime.
Sets up quickly and easily.
Storage sack with daisy chain included.
---
Summary
So to conclude this Big Agnes Helinox Ground Chair review, as you have seen this is an incredibly lightweight tool, very packable and portable, easy to set up and to dismantle. It does come with a bit high price tag, at the moment of writing this text it is around $110 on Amazon. I have included it in my list of best ultralight backpacking chairs.
But if you like its design and need such a tool, then the price should be secondary. Just imagine how useful this chair is when you are in the camp and everything is wet around. You might want to compare it with the Helinox Chair Zero which is ultra-lightweight and suitable for backpackers. If this chair is too low for you, check this high-quality and versatile LEKI Sub 1 Chair.
There are less expensive options, of course, you might want to check this Alite Designs Mayfly Chair. Would you rather have a rocking camp chair? If so check this Helinox Chair Two Rocker.

Thank you for reading. I love to hear from you so please use the comment box below in the case of questions and comments. I wish you a pleasant day.


---