---
The Redmon Baby Umbrella Chair with Matching Shoulder Bag is a steel folding easy to use outdoor chair with a removable umbrella and a bottle holder.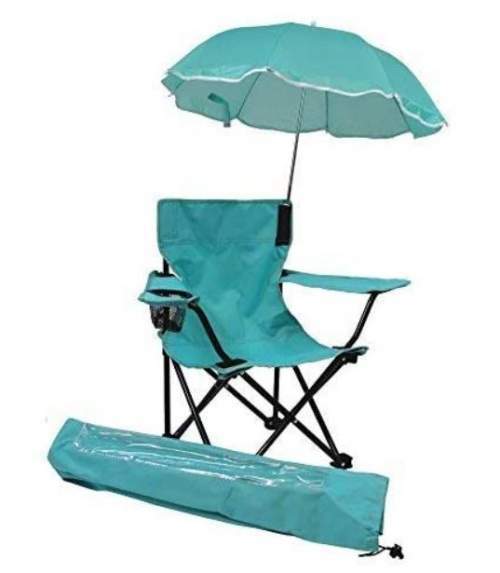 ---
Key features & benefits
Folding chair.
Removable umbrella included.
Carry bag.
Excellent price.
---
Overview
This Redmon Baby Umbrella Chair is a folding type, and this means there is no assembly and it folds into a thin but a bit elongated tube. As usual with such chairs for kids, it is equipped with safety locks to prevent inadvertent closing.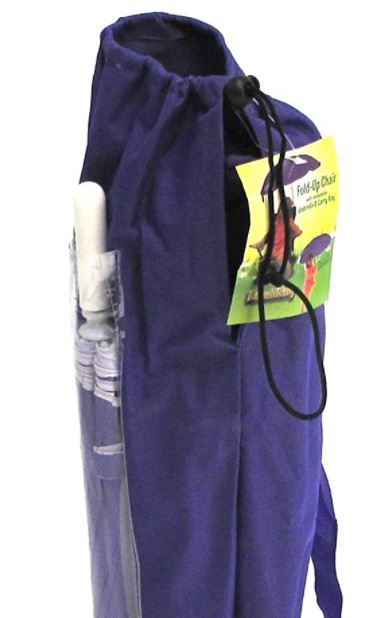 The chair comes with a tote bag equipped with a drawstring and a shoulder strap (see the picture above). As the name suggests, the chair includes a removable umbrella shown below, that packs into a separate pocket on the side of the carry bag (it is visible in the picture above).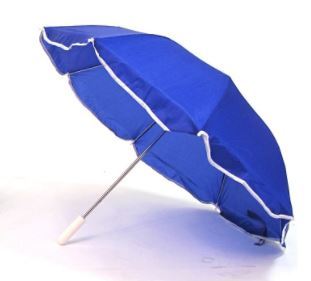 The diameter of the umbrella is 27.5 inches (70 cm), and it is 21.5 inches (55 cm) high. One of its soft armrests is equipped with a mesh bottle holder.
Materials
The frame is steel and it looks very strong with those X-shaped cross bars on all sides. This is for kids in any case so it is definitely strong enough.
The feet are very wide so the chair will work well no matter where you use it, and it will not easily sink in the ground. The sling is polyester. The mentioned feet are some sort of plastic.
---
Who is it for
Capacity-wise, they do not provide the weight capacity but there is a statement that it is for kids of the age 2-5 years.
Weight-wise, with its 3.5 lb (1.6 kg), the chair is moderately light. You can compare it with the Coleman Kids Quad Chair that is almost the same weight. On the other hand, the STRONGBACK Prodigy Kids Folding Heavy Duty Camping Chair is heavier.
Regarding the dimensions, in view of the official kids' age, they are reasonable. Note that the seat is 11 inches (28 cm) high and this is only 2 cm higher than the seat of the mentioned Coleman chair, but it is 1 cm lower than the seat of the Strongback chair. So these are all expected and typical numbers.
Regarding the price, it is amazing. You will hardly find a more affordable kids' chair with such features.
Specifications
Weight: 3.5 lb (1.6 kg).
Dimensions (H x W x D): 40 x 22 x 20 in (102 x 56 x 51 cm).
Packed size: 20 x 5 x 5 in (51 x 13 x 13 cm).
Seat height: 11 in (28 cm).
Capacity: kids 2-5 years of age.
---
Rating, pros & cons
Below you can see how this chair stands against my standard set of criteria. This makes it easier to compare with some other camping chairs for kids.
Reliable steel chair with a removable umbrella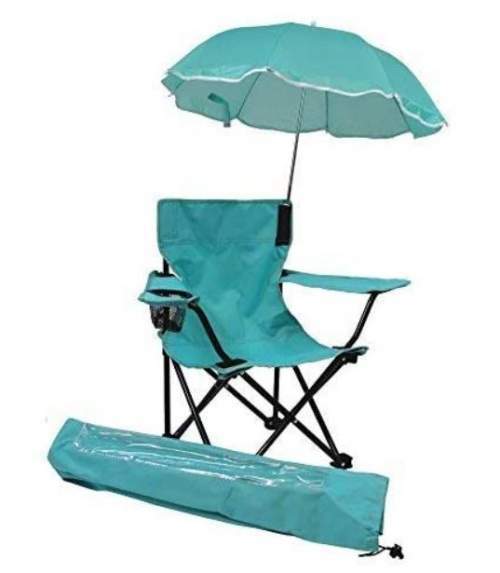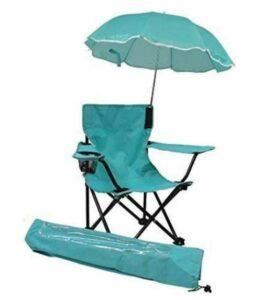 Product Name: Redmon Baby Umbrella Chair with Matching Shoulder Bag
Product Description: The Redmon Baby Umbrella Chair with Matching Shoulder Bag is a Steel Folding Easy to Use Outdoor Chair with a Removable Umbrella and a Bottle Holder.
Brand: Redmon
SKU: B01MY0J3O2
MPN: 9106AQ
Weight -

7.6/10

Dimensions -

7.9/10

Packed size -

7.8/10

Capacity -

8/10

Comfort -

9.5/10

Craftsmanship -

9/10
Summary
The chair scores well in almost all rating criteria so the overall rating is quite good.
Pros
Included umbrella.
Carry bag.
Easy to use.
Great price.
---
Final thoughts
In the summary of this Redmon Baby Umbrella Chair review, I would again point out the excellent price of this chair. But this is not only about the money, this chair is easy to use and functional, and the umbrella is a true bonus that will protect your kid from harmful UV radiation. The chair is included in my list of best little kids camping chairs.
For more chairs for kids and adults please check under the category Camping Chairs here in the site. You will find them in hundreds.
If you have any questions or comments, please use the comment box below. Thank you for reading and have a nice day.