---
If you want to sit low to the ground and need a versatile outdoor chair, this unique Helinox Incline Festival chair with an adjustable base is the one to check. Keep reading.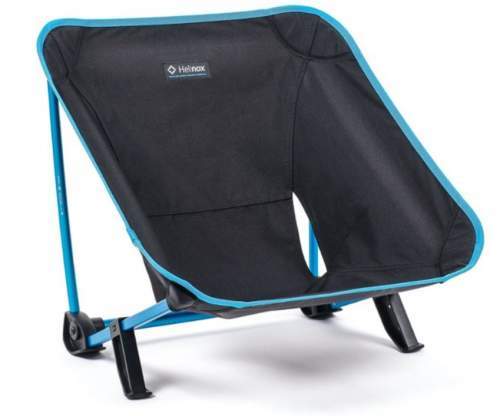 ---
Key features & benefits
Very light chair.
Backpack-portable.
Adjustable front feet.
Two different colors.
Bluesign-approved.
DAC aluminum alloy frame.
---
What this is about
So here you have a collapsible chair, and this means at least two different things, i) it needs a simple assembly, and ii) it is backpack portable.
The assembly simply means adding the fabric to the shock-corded frame. The frame tubes easily fit into the connectors and there is nothing to guess. The picture below shows its carry bag, so the packed size is 20 x 6 x 5.5 in (51 x 15 x 14 cm).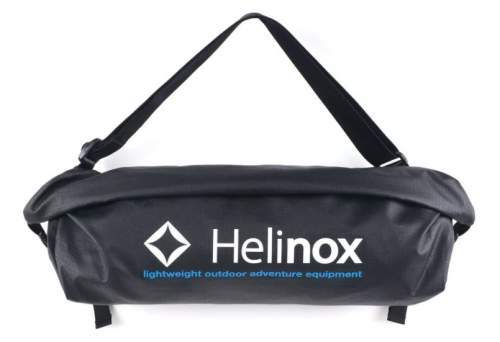 Note that the chair is built in two different colors, you can see them in the pictures here. Even the carry bag matches the colors of the chair.
As the name of this chair suggests, you can use it for festivals and also on the beach. So the carry bag is a sling-type with a roll-top closure, and it offers lots of storage for all the essential gear you might need at such places.
Below you can see the chair from the back side and you realize how simple and elegant the frame is. This is all an anodized DAC aluminum alloy for maximum strength and minimal weight.
The DAC is the leading manufacturer in the tents pole industry, and you will not find anything better or more reliable. They claim that Helinox is the only camping furniture brand to use DAC aluminum alloy poles.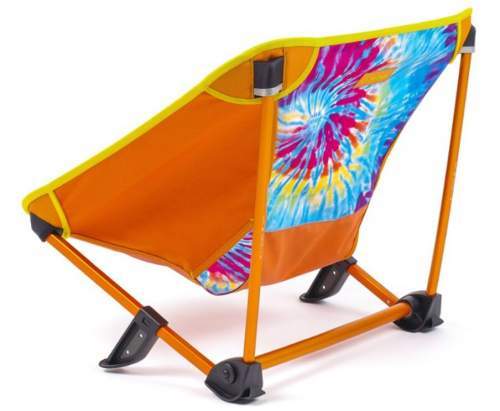 Below you can see the zoomed view of the pocket where one of the poles rests, it is reinforced and stitching is properly done. When you see all this, you realize the top-level craftsmanship that you have here. Nevertheless, the manufacturer's 5-year warranty is still incredible to see in this industry. This shows confidence which they have in their product.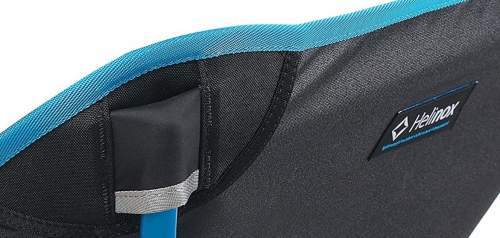 Adjustable legs/backrest
This is a unique detail that you have with this chair. The two front legs can slide in two directions along the poles.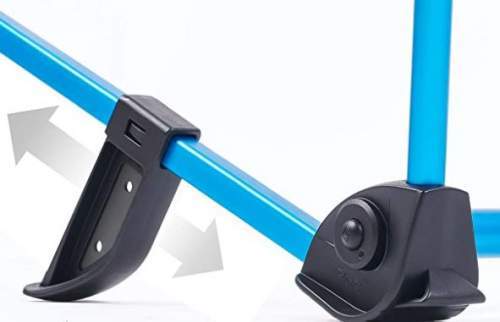 You do this while sitting on the chair, just lean a bit backward so that the weight is on the back legs, and then push the front legs in the directions you want. This is demonstrated in the picture: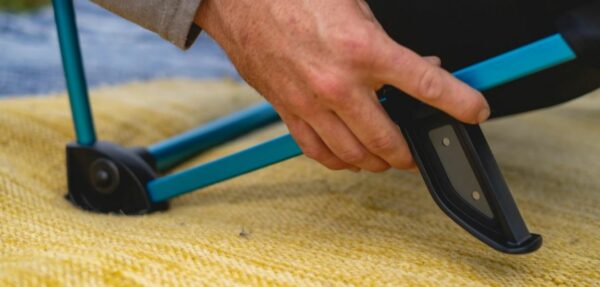 When you reposition the front legs, the angle of the backrest also changes, so the chair could be described as partly-reclining.
The seat fabric is a durable UV-resistant woven polyester, no doubt it will hold up to years of use. These are all bluesign approved materials.
The hubs and joining components are molded using a high-strength nylon resin. You have a carefully engineered design that provides precise, solid, and secure pole attachments. The picture below shows how it looks: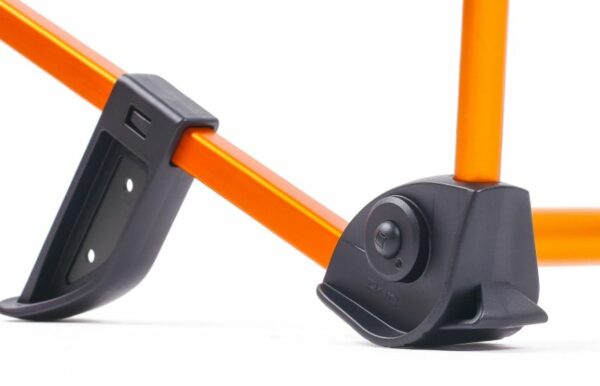 Note that the feet are moderately large, so the chair will not easily sink in the ground. But even if this happens, there is a bottom connecting bar that will prevent any further sinking. So there is no doubt the chair will behave well even on sand.
---
Who is it for
Regarding the capacity, this tiny chair is designed to support a weight of up to 320 lb (145 kg). So this should work great for most potential users.
Regarding the dimensions, you have (H x W x D) 20 x 21.5 x 21.5 inches (51 x 55 x 55 cm), and this is reasonable, but this is not a big chair.
Note that the chair is very low, the lowest point of the seat is only 3 inches (8 cm) above the ground. This all is on purpose, including the low backrest, so that people on a festival sitting behind you will have views.
Regarding the weight, the chair can be described as very light, it weighs 2 lb 9 oz (1.15 kg). Yet it is not included in my list of ultralight backpacking chairs. You have already seen its packed size, so it is backpack-portable and it can be transported also on a bicycle.
Regarding the price, Helinox products are not the cheapest on the market, but they are definitely of the highest quality. You have seen its incredible warranty.
A few more details are available in this video:
Specifications
Weight (assembled): 2 lb 9 oz (1.15 kg).
Weight (packed): 3 lb (1.366 kg).
Capacity: 320 lb (145 kg).
Dimensions (H x W x D): 20 x 21.5 x 21.5 in (51 x 55 x 55 cm).
Packed size: 20 x 6 x 5.5 in (51 x 15 x 14 cm).
Seat base height: 3 in (8 cm).
Frame: aluminum.
Warranty: 5 years.
---
Rating, pros & cons
Please see below the summary of my pros and cons and the rating of the chair against my standard set of criteria. This allows for easy comparison with similar chairs here in the site.
Unique chair with adjustable base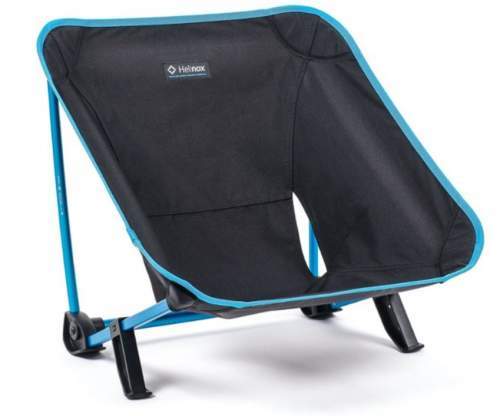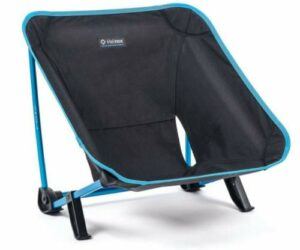 Product Name: Helinox Incline Festival Chair
Product Description: If you want to sit low to the ground and need a versatile outdoor chair, this unique Helinox Incline Festival chair with an adjustable base is the one to check.
Brand: Helinox
SKU: B08NXXXXZX
Weight -

9/10

Dimensions -

7/10

Packed size -

7.2/10

Capacity -

8/10

Comfort -

8.5/10

Craftsmanship -

9.8/10
Summary
The chair is not very large, but see its weight and features. The high overall rating is well-deserved.
Pros
Unique legs adjustability.
Very light.
Good capacity.
Incredible warranty.
---
Final thoughts
In the summary of this Helinox Incline Festival Chair review, I wish to point out again its incredible warranty and its unique features. Note also that the chair is very low so perhaps this is not the best option for elderly users. Other than that, I can fully recommend this chair. It is included in my list of best collapsible camping chairs.
When you have such a top-quality product, it is normal to see many globally-known sellers that have it on their lists. So below you can check the links and see the prices.
For more options in this group, check under the category Camping Chairs. In particular, see this unique recliner, the NEMO Moonlite Reclining Chair.
Thank you for reading. Please let me know if you have a comment or question, there is a comment box below. Have a nice day.