---
The MacSports C932S-130 Padded Cushion Outdoor Folding Lounge Patio Club Chair is incredibly comfortable, easy to use, and with a huge capacity.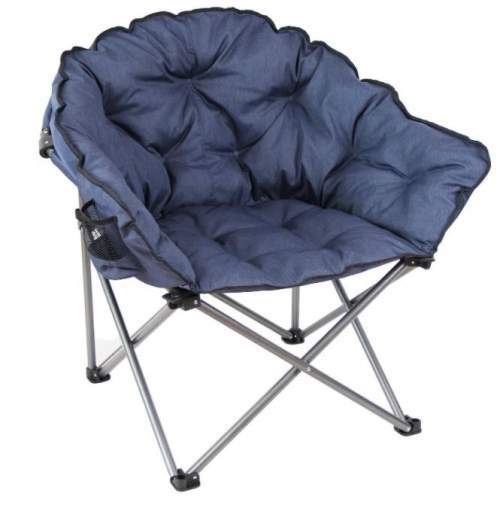 ---
Key features & benefits
Great padding.
Huge capacity.
Easy to use folding design.
Carry bag included.
---
Overview
The long title given above is the official name under which they sell this chair on Amazon. So it is very descriptive and you realize instantly what this is about. This is a folding chair that needs no assembly, very easy to use and you open it or close in seconds.
The picture below shows how it looks when folded, the dimensions in this case are around 42 x 12 x 10 inches (107 x 30 x 25 cm).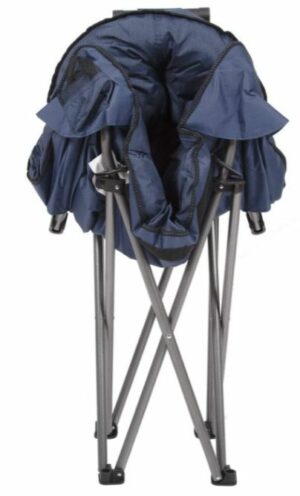 It comes with a convenient carry bag shown below, this is good to have to keep it clean from dust when you store the chair for a long time at home.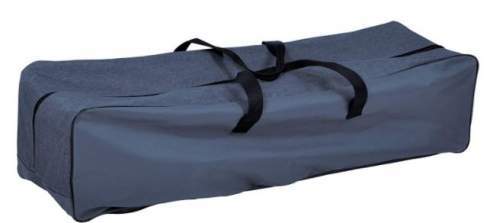 As you realize, the chair is generously padded, as usual for such club chairs, the picture below shows the top view to realize the thickness of the padding. Because of this I have added it in my list of best club camping chairs.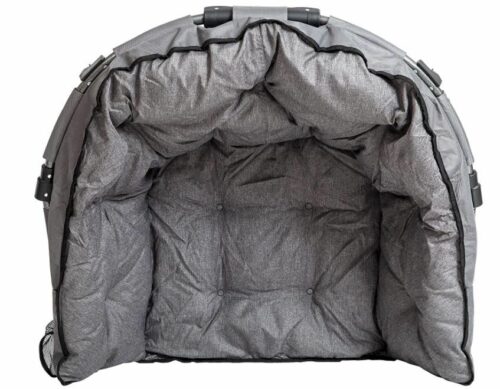 Materials
The frame is steel, and the chair is with X-crossed bars on all sides, plus two vertical legs on the back. Observe that there is a loop bar on the top, the picture below, and it continues on the front so you have solid but nicely padded armrests.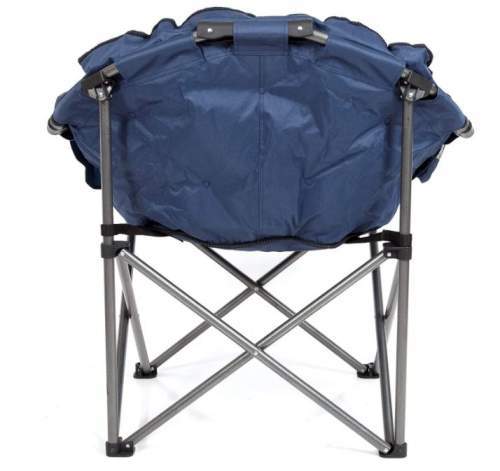 There is no information about the fabric and the inner padding, they only write it is stain resistant. I would not expose the chair to rain, it may be very difficult to dry it if it gets wet. 
Note that there are two possible colors, they are shown in the pictures. The seat cannot be removed, just to know, but this is rarely so with such club chairs.
The feet are plastic, wide, and floor friendly, but I would not use it in a floored family camping tent. One small mesh pouch is on the side, shown below, it can be used to store a bottle or any other small item.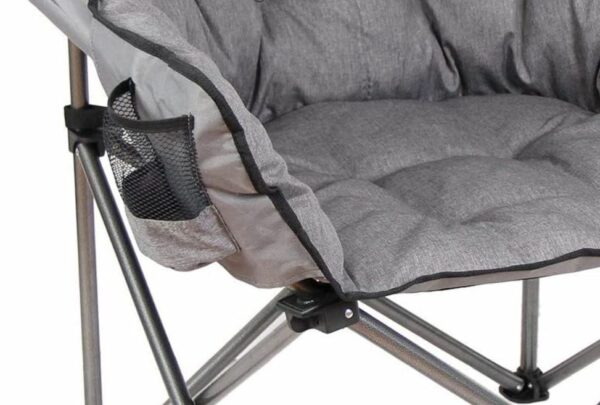 ---
Who is this chair for
Regarding the capacity, this is an impressive chair, officially it supports the weight of up to 375 lb (170 kg). 
Regarding the dimensions, it is large with its dimensions of (L x W x H) 28.7 x 32 x 36 in (73 x 81 x 91 cm). You can compare this with the dimensions of the Guide Gear Oversized Club Camp Chair which measures 27 x 34 x 36 in (69 x 86 x 91 cm). 
So the chair is indeed suitable for large and heavy users. But note that you do not have a headrest here, I have seen people asking about this.
Regarding the weight, with 13.64 lb (6.19 kg) it is not very light but such a weight is typical for club chairs of this type.
You have already seen its packed size, so it is a bit long and bulky when folded but this is again quite typical for such a type. My rating of club chairs packed size is always low, but it is consistent so you can compare.
Regarding the price, I think this is very good for such a great chair, great value for the money.

---
Specifications
Weight: 13.64 lb (6.19 kg).
Capacity: 375 lb (170 kg).
Dimensions (L x W x H): 28.7 x 32 x 36 in (73 x 81 x 91 cm).
Folded dimensions: 42 x 12 x 10 in (107 x 30 x 25 cm).
Seat height: 17.5 in (44 cm).
Frame: steel.
---
Rating, pros & cons
Below you can see the summary of my rating, and some pros and cons. I use the same rating criteria for all the chairs here in the site so you can easily compare. Feel free to rate it yourself, you have a rating bar below.
Large padded chair with a great capacity
Product Name: MacSports Padded Cushion Outdoor Folding Lounge Patio Club Chair
Brand: MacSports
SKU: B084T6NPVG
MPN: C932S-130
Weight -

4.5/10

Dimensions -

8.9/10

Packed size -

2/10

Capacity -

8.5/10

Comfort -

9.5/10

Craftsmanship -

9.5/10
Summary
The chair is bulky and heavy and this affects the overall rating, but see the other features.
Pros
Great capacity.
Great comfort.
Quality craftsmanship.
Carry bag.
Final thoughts
So this MacSports C932S-130 Padded Cushion Outdoor Folding Lounge Patio Club Chair is what its official name says, a very comfortable chair with such a generous padding.
The huge capacity makes it suitable even for the heaviest users. This chair is a great option if you want to buy a gift for somebody. Fully recommended. 
Best places to buy:
For more options, please check under the category Camping Chairs, you will find them many here in the site, and in all sizes and shapes.
Let me know if you have questions, there is a comment box below. Thank you for reading and have a nice day.