---
This Helinox Table One Hard Top review is about an ultralight and ultra-packable camping table suitable for basecamps, picnics, and for ordinary camping.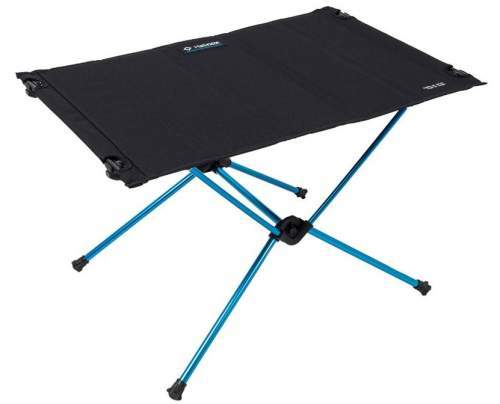 ---
Key features
Collapsible camping table.
Ultralight.
Ultra packable.
Quality craftsmanship.
Hardtop.
---
What type is this camp table
This Table One Hard Top is a tool that will save you from the trouble of finding a free table in your favorite picnic area, and if you go camping with it, you will have a stable platform for meals and for preparing your food.
The elements
This table consists of the following elements:
The frame.
The tabletop.
Two support poles.
The carry bag.
The frame
This is a collapsible structure with the frame that is with the same technology they use in their camping chairs and in tents. So the poles are shock-corded and permanently connected to each other. You can never lose any of them and there is nothing to guess when you make the table ready.
So what you have here is the best that you have in this industry. This is a strong and durable DAC aluminum construction. The DAC is the leading manufacturer in the tent poles industry.
They use a hubbed design here with joints where the poles converge, this is the same system you have in their Helinox Chair One which fits nicely with this table.
The frame is shown below without the tabletop so you can see its structure. Note that the two horizontal poles are separate pieces as mentioned above. You put them in place and they are fixed to the frame with slots.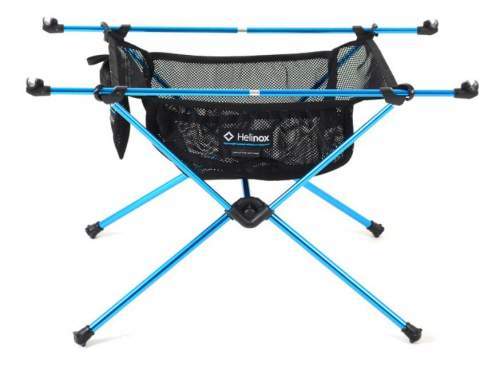 The optional storage net in the picture is sold separately. It comes with its own carry pouch which is preattached to the net so you will not lose it. The weight of the net and the pouch is around 145 grams.
The tabletop
The tabletop is a hard surface as you realize from the title, but this is still a folding construction which has 5 solid pieces kept together with a durable fabric. The picture shows how it folds: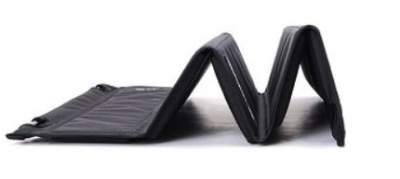 It attaches to the frame shown before at four points with clips. Its size is 23.5 x 15.7 inches (60 x 40 cm) so this is enough space for two people. Note that the tabletop is 15.4 inches (39 cm) above the ground, so you can use it even when sitting on the ground, or combined with their mentioned Chair One or with any other low camping chair.
You can use it for meals or for playing cards in the camp. Note that the whole structure is strong, its capacity is 110 lb (50 kg) and you will never need more.
This all is less than one kilogram of weight, quite an amazing structure. The picture below shows how it looks when packed in its carry bag; the size is only 15.7 x 5.1 x 4.7 inches (40 x 13 x 12 cm).

Here is a video which shows how to make this camping table ready, please have a look:
---
The price & rating
The daily updated Amazon US price is available below. So this is probably the most expensive camping table of this type on the market. But you will hardly find a better quality one. Please see how I rate it:
My rating breakdown of the Helinox Table One Hard Top:
Weight -

10/10

Dimensions -

7.2/10

Packed size -

9.8/10

Craftsmanship & features -

9.8/10
Summary
My total average rating is:
Pros
Great packed size.
Great weight.
Top quality.
---
Specifications
Weight: 2.14 lb (970 g).
Weight capacity: 110 lb (50 kg).
Dimensions (L x W x H): 23.5 x 15.7 x 15.4 in (60 x 40 x 39 cm).
Packed size: 15.7 x 5.1 x 4.7 in (40 x 13 x 12 cm).
Storage bag included.
Warranty: 5-year limited.
---
Helinox Table One Hard Top vs Big Agnes Woodchuck Table
So here I show these two tables which are similar in features and parameters, but there are some structural differences. The Big Agnes Woodchuck table is a hubless design without plastic elements in the frame. It is a bit more affordable though still expensive but a top quality table.
Dimensions
(W x D x H), in (cm)

Helinox Table
One Hard Top
23.5 x 15.7 x 15.4
(60 x 40 x 39)

15.7 x 5.1 x 4.7
(40 x 13 x 12)

21.5 x 15.5 x 17
(55 x 39 x 43)

21.5 x 3.5 x 3.5
(55 x 9 x 9)

---
Final thoughts
To conclude, this Helinox Table One Hard Top is an advanced construction, light enough even for hiking and backpacking. It offers the comfort you need in the camp and it may be worth the effort of carrying it at least on some shorter tours.
This camping table is also a great option for all situations where you would not carry it, for people using motorbikes, bicycles, kayaks, and for car camping. It is included in my list of best collapsible outdoor tables and also in the list of best backpacking tables.
They have a version of the table without the hardtop, the dimensions are the same. There is also a large size of the hardtop table, both are shown in the links below.
If this table is too expensive for you, please check this Kelty Linger Side Table which is a bit more affordable. But see also this Trekology Portable Camping Side Table which costs about three times less.
Note that this is not a sponsored text, and I am not paid by the brand. Please use the comment box below in case of questions or comments.