---
The KINGS TREK Camping Chair Heated with Battery Pack is heated and padded, but with a removable cushion so it is incredibly versatile and for year round use.
---
Key features & benefits
Folding chair.
Heating in the seat and in the backrest.
Battery included.
Solid armrests.
Multiple storage options.
Removable cushion.
Carry bag included.
---
What this KINGS TREK Camping Chair is about
Here you have a really easy to use folding chair, so this means there is no assembly and you open or close the chair in seconds.
When folded, you can store it in its included carry bag, and keep clean from dust. The folded dimensions are 41 x 8 x 8 inches (104 x 20 x 20 cm), so it is a bit long but quite narrow tube.
Integrated heating
The chair comes with a 10000 mAh certified Lithium-ion battery included, see the picture, it weighs about 6.7 oz (190 g) and it is safe against overload and overcharge.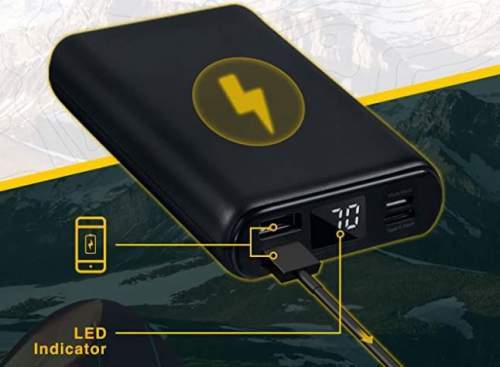 You have an extra port added so it can be used to charge your phone.
The battery offers 3 heating levels shown in the picture below, so you have 10 hours on low, 6 hours on medium, and 3 hours on high. You can also control heating in the seat and in the backrest separately.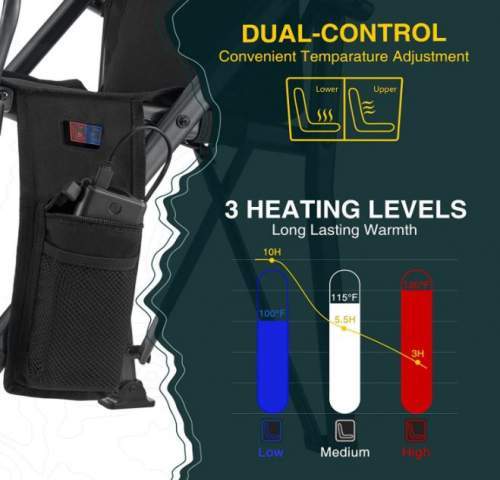 Multiple storage options
The mentioned battery you can store in any of multiple pockets which this chair offers. You have them on the front and on the side, see the picture: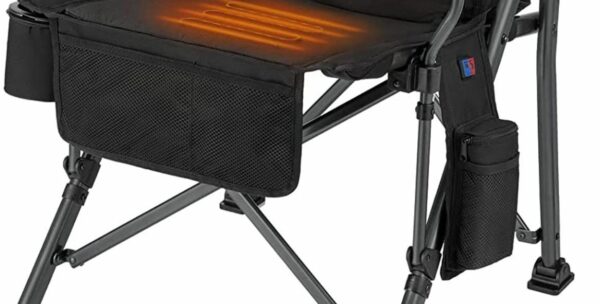 But this is not all, there is also a large pocket on the rear side behind the neck. In addition, you also have an integrated cup holder on the right side.
The materials
The chair is impressively built, so you have a strong high quality 600D polyester combined with a reinforced breathable nylon mesh. So this is a design suitable for all seasons. Observe that they offer two different color options.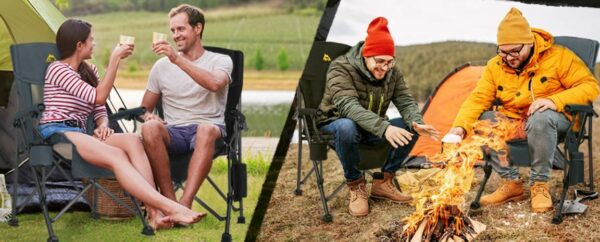 This all is supported with a powder-coated steel frame that includes numerous support bars.
I am also very impressed with its wide feet, with such a design they will not easily sink in the ground. Most likely they are safe to use even in a floored family camping tent.
---
Who is it for
Regarding the capacity, the chair is quite impressive, officially it is for users of up to 350 pounds (159 kg). No doubt this should be strong enough for almost everybody.
Regarding the dimensions, you can see the numbers below, here to stress that the seat is moderately high 19 inches (48 cm), and chair height is 40.1 inches (102 cm). So you have a headrest here and it is included in my list of camping chairs with a headrest.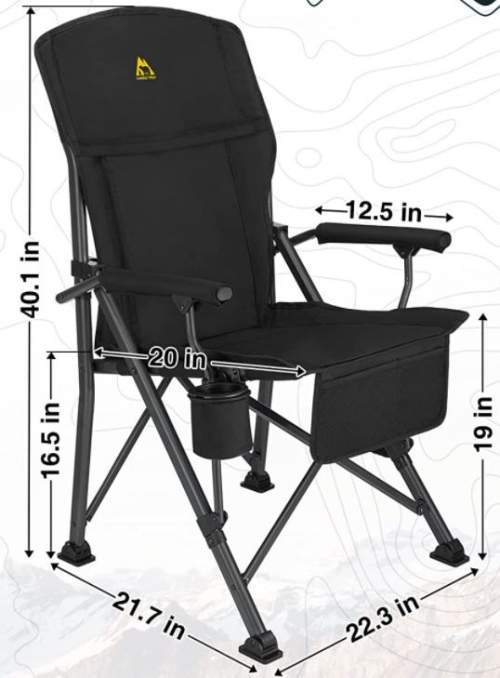 With those padded and solid armrests, the chair is also suitable for elderly users because it is easy to get in and out.
Regarding the weight, the chair is on the heavy side, but this is not surprising when you see all that it offers. You have already seen its packed size and although it is long, you realize it will not take much space in the car trunk.
Regarding the price, it may look steep, but bear in mind this is a 4-season outdoor chair, and you also have a battery pack included.

---
Specifications
Weight: 16.9 lb (7.7 kg).
Capacity: 350 lb (159 kg).
Dimensions (L x W x H): 21.7 x 22.3 x 40.1 in (55 x 57 x 102 cm).
Folded dimensions: 41 x 8 x 8 in (104 x 20 x 20 cm).
Seat height: 19 in (48 cm).
Frame: steel.
---
Rating, pros & cons
Below you can see how this chair stands against my standard rating criteria. You can rate it from your side, there is a rating bar for this purpose.
Heated and versatile chair with a great capacity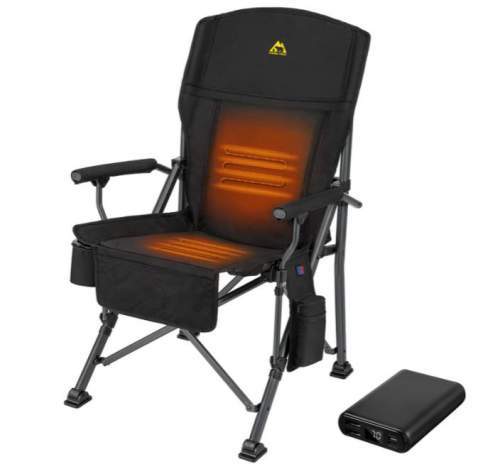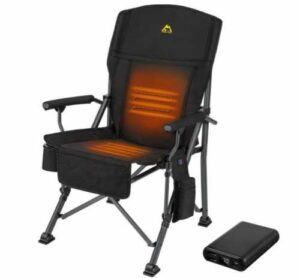 Product Name: KINGS TREK Camping Chair Heated with Battery Pack
Product Description: The KINGS TREK Camping Chair Heated with Battery Pack Is Heated & Padded, but with a Removable Cushion so It Is Incredibly Versatile and for Year Round Use.
Brand: KINGS TREK
SKU: B09C25C89F
Weight -

3/10

Dimensions -

7.8/10

Packed size -

4.5/10

Capacity -

8/10

Comfort -

9.7/10

Craftsmanship -

9.7/10
Summary
This chair is with many great features but its weight and folded size affects the overall rating.
Pros
Versatile.
Comfortable.
Battery included.
Carry bag.
Quality built.
---
Final thoughts
So this KINGS TREK Camping Chair Heated with Battery Pack is truly nicely design and with plenty of useful features that make it suitable for year-round use. The included battery pack with all its functionality is a true bonus. I have included it in my list of best folding camping chairs. Fully recommended.
Best place to buy:
For more options, please check under the category Camping Chairs, you will find them many here in the site, and in all sizes and shapes.
Bookmark this site and visit it when you find time, this will keep you informed, you have new texts added here on a regular basis. Let me know if you have questions, there is a comment box below. Thank you for reading and have a nice day.