---
The Stoic Convertible Cot is in fact a set of two stackable cots that can also be used separately, and they can be transformed into a bench with a backrest.
---
Key features & benefits
Stackable cots.
3-in-1 Design.
Storage pouches.
Carry bag included.
---
What this is about
Here you have an example of two stackable cots that can be used as in the top picture above. Both of them are collapsible, so the set needs some assembly but this is easily done.
When it is time to go, or for storage, you have a carry bag for each of them, it is shown in the picture. The dimensions are determined by the sides of the cots, so it measures 34 x 28 x 7 inches (86 x 71 x 18 cm).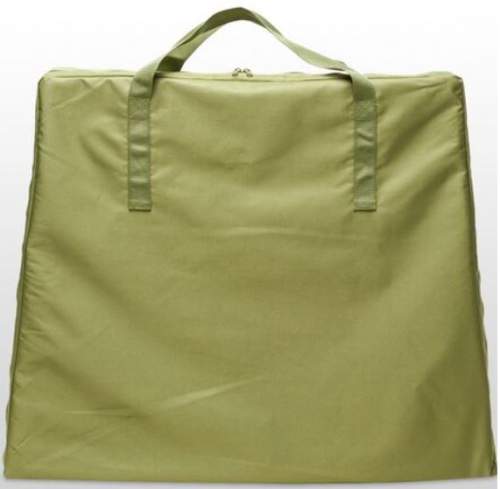 But the name of this cot includes the word Convertible. This means you can use the cots separately, and you can also transform the set into a bench. These setups are shown in the pictures: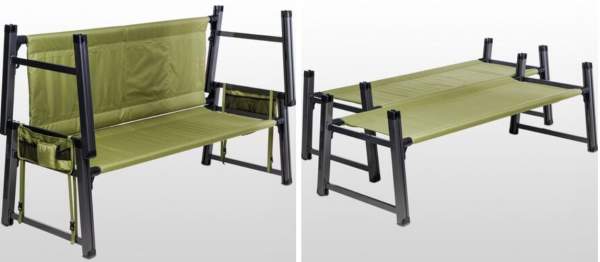 I wish to stress that this set is not unique, it is practically the same as the Timber Ridge Stacking Cot. No doubt they come from the same factory.
But such sleeping sets are quite rare on the market, you have them all in my list of stackable cots for camping.
Note that both users have a set of storage pouches on the narrow sides, see how they look: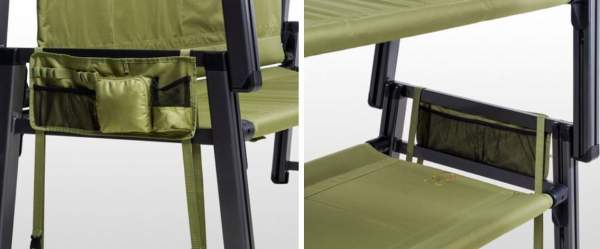 Materials
You have a strong and stable steel frame. The sides are in the shape of a letter H, and this determines the packed size as I mentioned above.
There are straps on the sides that connect the two cots so the structure is stable, no worry if kids jump around.
The feet are wide, but if you use this set in a floored family camping tent it is best to add something for the floor protection. They do not provide information about the fabric, but no doubt this is a polyester.
You have an instruction manual included so no worry, this is easy to use and you need no extra tools.
---
Who is this Stoic Convertible Cot for
Regarding the capacity, they do not provide it, so my guess is that it is the same as in the mentioned Timber Ridge Stacking Cot, and this would mean 500 lb (227 kg). If this is indeed so, this would be very impressive. But this is not a reliable information.
Regarding the dimensions, it is surprisingly short, you will see the numbers below. So this is for shorter users and for kids. But the bed is wide, though there are bars on all sides, bear this in mind.
However, with such a set you can save lots of floor space in a family camping tent, and kids will love it. Note that even when stacked, the set is not very tall, so it will fit in almost any camping tent. It is best suited for cabin-type camping tents with steep and straight walls.
On the other hand, when you have such a bunk cot in the tent, you can still store some stuff underneath the cot. As you know, this space is lost when you sleep on the floor.
You have already seen about its bench setup, so this is a versatile and functional outdoor product.
Regarding the weight, it is substantial, 36 lb 10 oz (16.6 kg) per cot. You have already seen its packed so you realize it is also bulky. In any case this is a set for car camping.
---
Specifications
Weight per cot: 36 lb 10 oz (16.6 kg).
Dimensions (L x W x H):
– Single: 70.5 x 32.5 x 27.25 in (180 x 83 x 69 cm).
– Stacked: 70.5 x 32.5 x 50.5 in (180 x 83 x 128 cm).
Folded dimensions per cot: 34 x 28 x 7 in (86 x 71 x 18 cm).
Frame: steel.
---
Rating, pros & cons
Below you can see how I rate this set, note that you can rate it yourself, there is a rating bar for this:
Functional and versatile outdoor sleeping set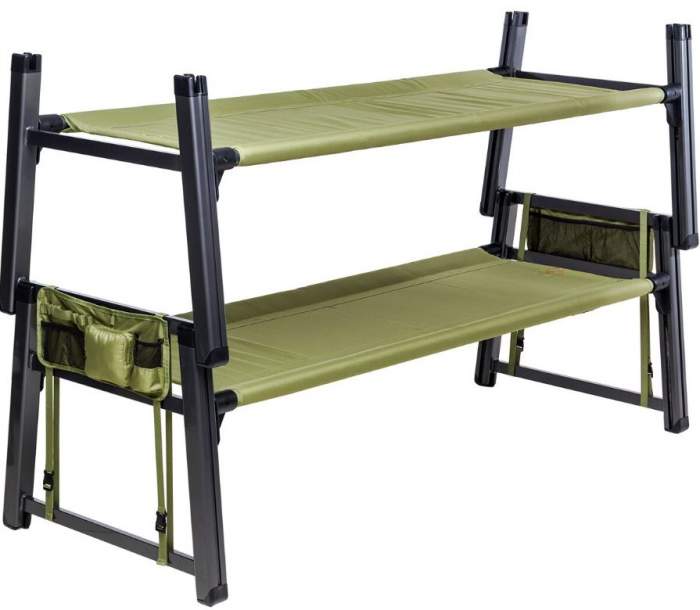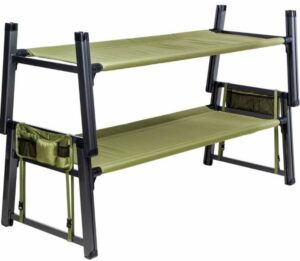 Product Name: Stoic Convertible Cot
Product Description: The Stoic Convertible Cot Is in Fact a Set of 2 Stackable Cots that Can Be Used Separately, and They Can Be Transformed into a Bench with a Backrest.
Brand: Stoic
SKU: SICZ2JT
Weight -

4.6/10

Size -

8.7/10

Capacity -

9.5/10

Packed size -

7.4/10

Ease of use & features -

8.8/10
Summary
The cot is a bit heavy but the overall rating is still Good.
Pros
Functional.
Versatile.
Easy to use.
Reliable.
Carry bag.
---
Final thoughts
So this Stoic Convertible Cot is a set of two and not just one cot, the set is versatile and you can use it in several different ways. It can be used in the camp or in the garden, as well as spare beds for sudden guests. It is included in my list of stackable cots for camping.
Best places to buy:
For more options, please check under the category Bunk Cots, see in particular this Cabela's 2XL Outfitter Bunk Bed if you need something much larger.
Bookmark this site and visit it when you find time, this will keep you informed, you have new texts added here on a regular basis. Let me know if you have questions, there is a comment box below. Thank you for reading and have a nice day.