---
The Kampa Bunkie Camp Bunk Bed is a collapsible and portable set of two cots in one, easy to use, affordable, and with a nice carry bag included.
---
Key features & benefits
Two cots in one.
Compact.
Carry bag.
---
What this is about
Here you have a collapsible Kampa Bunkie Camp Bunk Bed that includes two cots in one. The term collapsible implies that it needs a simple assembly but this is easily done and without extra tools.
The structure is quite stable and it is not very tall, the upper bed is only 90 cm above the floor. The legs are U-shaped bars, but to improve the stability, they have added extra feet. So there are 3 of them on each side, see how this looks.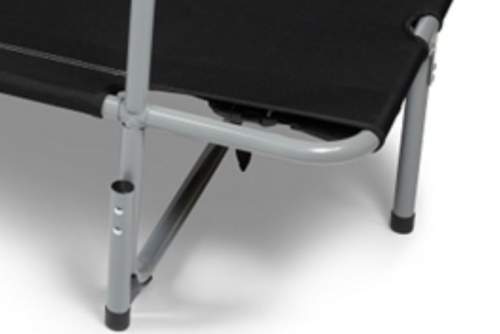 Below you can see the mentioned U-bar and also the integrated pillow. Observe the thick tubes, this is all steel. The fabric is a 600D polyester, a typical material used for such structures.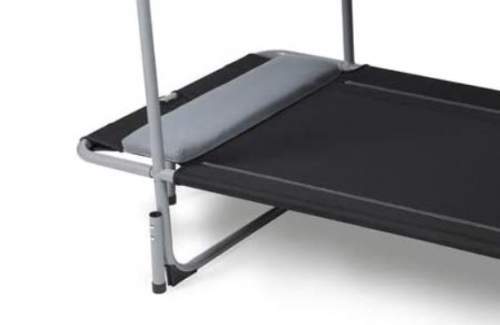 Please see a bot more in this video:
---
Who is it for
Regarding the capacity, officially this set is for the combined weight of 220 + 176 lb (100 + 80 kg). The first and the second numbers are for the lower and for the upper beds, respectively.
Regarding the dimensions, you have the beds that measure 73.6 x 27.6 inches (187 x 70 cm). So the width is quite good but the length is more for kids and for short users in general.
Note that there is a frame around, and this takes a few centimeters of the true useful length.
The height of the lower and upper beds are 11 and 35.4 inches (28 and 90 cm). This is fine for kids and they love it. There is enough space between the lower bed and the upper, so a small kid can sit on the lower bed.
Regarding the weight, the set is quite heavy, the total weight is 37.5 lb (17 kg). You can compare this with yet another bunk bed for kids, the Disc-O-Bed Youth Kid-O-Bunk with Organizers.
The packed size is very good, this all measures only 32.7 x 12.2 x 7.1 inches (83 x 31 x 18 cm) when stored in its included carry bag.
Regarding the price, I see it as a true bargain for such a double-bed.
Using this bed in a tent
So you have seen its total height, the bed will fit in almost any family camping tent. I see it best suited for cabin style tents with straight and steep walls. With such a bunk cot you save a lot of floor space in the tent.
Note that you still have plenty of volume underneath the lower cot to store your camping gear.
The legs are U-shaped bars, but they have added extra 3 feet on both sides. This is great for stability and the bed will not easily sink in the ground. There are also plastic caps for the floor protection.
For summer camping you do not need sleeping pads, except for extra comfort. In a cooler environment some insulation is needed, but you always need less when you sleep on such a platform off the ground.
---
Specifications
Weight: 37.5 lb (17 kg).
Capacity: 220 + 176 lb (100 + 80 kg).
Dimensions (L x W x H): 73.6 x 27.6 x 11/35.4 in (187 x 70 x 28/90 cm).
Folded dimensions: 32.7 x 12.2 x 7.1 in (83 x 31 x 18 cm).
Frame: steel.
---
Rating, pros & cons
Below you can see how this bunk cot stands against my standard rating criteria which I use consistently here in the site for easy comparison. You can rate it from your side as well, there is a rating bar for this purpose.
Functional two in one cots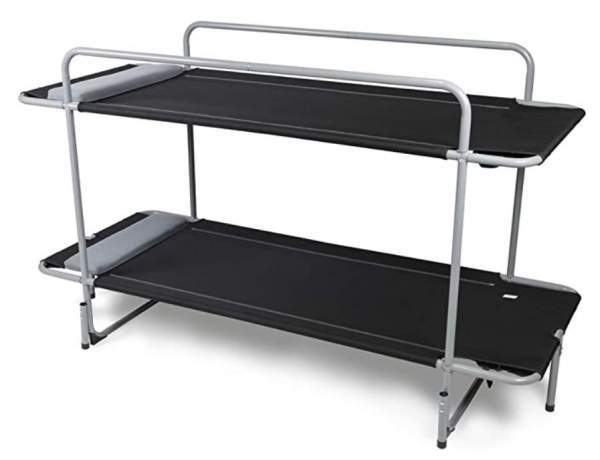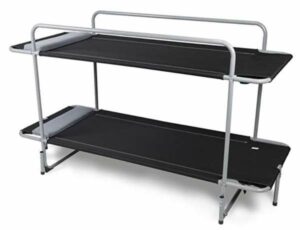 Product Name: Kampa Bunkie Camp Bunk Bed
Product Description: The Kampa Bunkie Camp Bunk Bed Is a Collapsible and Portable Set of Two Cots in One, Easy to Use, Affordable, and with a Nice Carry Bag Included.
Brand: Kampa
SKU: B08TJ3RLKQ
Weight -

7/10

Size -

8.3/10

Capacity -

6/10

Packed size -

9/10

Ease of use & features -

8/10
Summary
The weight and capacity negatively affect the overall rating but it is still Good.
Pros
Compact.
2 Cots in 1.
Carry bag.
Great price.
Cons
Moderate capacity.
Heavy.
---
Final thoughts
So as of the moment of writing this text, this Kampa Bunkie Camp Bunk Bed is quite unique on the market. It is truly compact for such a set that includes two cots, and its price is more than fair. It is included in my list of best stackable cots for camping.
Best places to buy:
For more options, please check under the category Bunk Cots and also in the group of Double Cots. You might want to compare the cot presented here with this Hi-Gear Duo Bunk Bed and also to the very similar set Outdoor Revolution Premium Folding Bunk Beds.
Bookmark this site and visit it when you find time, this will keep you informed, you have new texts added here on a regular basis. Let me know if you have questions, there is a comment box below. Thank you for reading and have a nice day.