---
The Helinox Cafe Chair is lightweight, easy to use, and reliable, built from high-tech and advanced materials, and with an excellent 5-year warranty.
---
Key features & benefits
Collapsible chair.
Very light.
Compact.
Easy to use.
Excellent warranty.
Carry bag.
---
Overview
They describe this chair as made for dining and tasking. So when you compare it with their Chaor One (on the left in the picture below), you realize it is much higher.
Note also that the backrest is for 12 degrees more vertical than in the Chair One.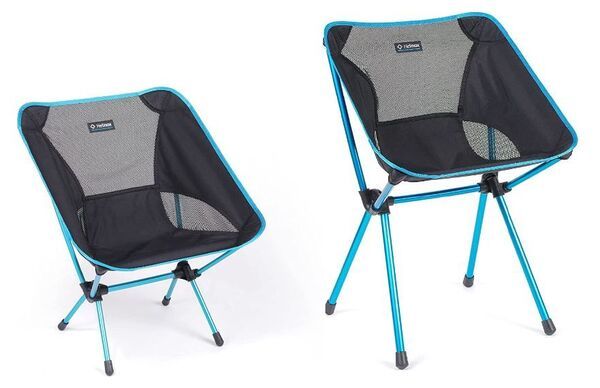 Note also that regarding several parameters, it is in between the Chair One and Chair One XL.
But this is again the same collapsible design, so you have only two main parts, a seat fabric and a chock corded hubbed frame, see the picture below.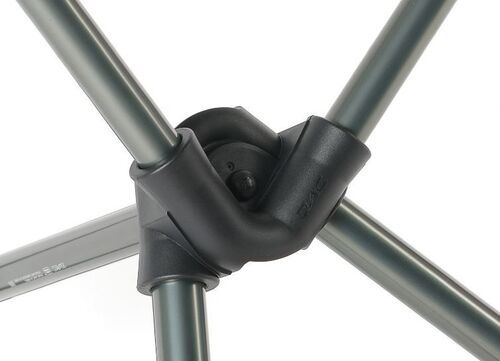 These hubs are custom-designed and in-house molded from high-strength, fiber-reinforced Nylon 66.
For transportation and storage it fits in its included carry bag shown below, which measures 24 x 7.5 x 4.5 inches (62 x 19 x 12 cm).

They make it in two fabric colors, you have both in the pictures here.
It is very easy to use, there is nothing to guess with its shock-corded frame because all those tubes are already pre-attached. So you simply attach the fabric on the frame.
The metal parts are an advanced high-tech aluminum alloy, and it is a higher specification than aircraft-grade aluminum. It is ultra-durable and sturdy.
In the picture below you see that it has those tiny pockets where you place the ends of the poles.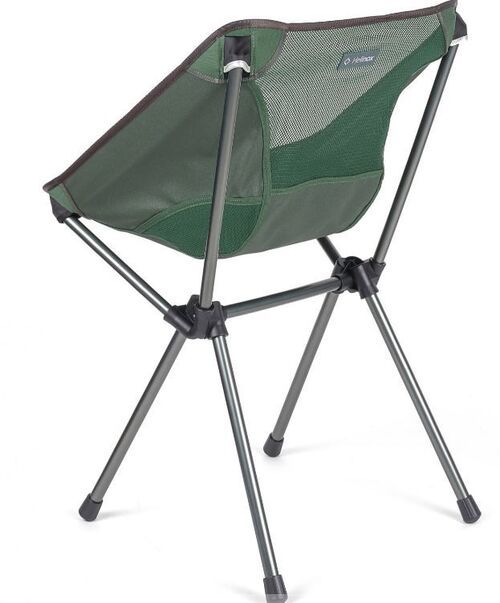 The legs are with caps, but they are narrow so do not use it in a floored family camping tent.
You cab see more in this short video, please have a look:
---
Who is it for
Regarding the capacity, the chair is officially for users of up to 320 lb (145 kg), so this is quite impressive for such a light chair. No doubt this should be good enough for many potential users.
Regarding the dimensions, some are given in the picture below, so you realize that the seat height is typical for a dining chair.
It is not very wide, so consider the mentioned Chair One XL if you need something wider.
Regarding the weight, it can be described as very light, but this is not a backpacking chair. I have a separate list of Helinox ultralight backpacking chairs if you need something for the trail.
You have already seen its packed so it is a bit long when packed, but this is still fine to be transported even on a bicycle.
Regarding the price, it is high as usual with this brand. But you have a high quality product here, and its 5-year warranty is without a match.

---
Specifications
Packed weight: 3 lb 2 oz (1403 g).
Assembled weight: 2 lb 13 oz (1273 g).
Capacity: 320 lb (145 kg).
Dimensions (L x W x H): 20 x 22 x 33.5 in (50.5 x 56 x 85 cm).
Folded dimensions: 24 x 7.5 x 4.5 in (62 x 19 x 12 cm).
Seat height: 15 in (38 cm).
Frame: aluminum.
Warranty: 5 years.
---
Rating, pros & cons
Below you can see how this chair stands against my standard rating criteria that I use for all the chairs here in the site. You can rate if from your side as well.
High quality and excellent warranty product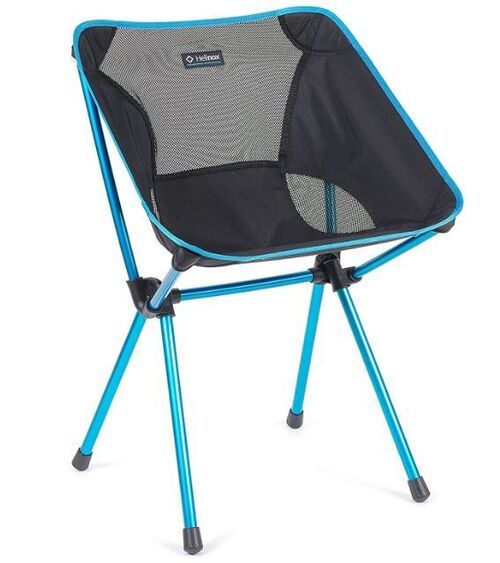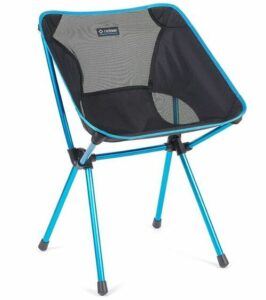 Product Name: Helinox Cafe Chair
Product Description: The Helinox Cafe Chair Is Lightweight, Easy to Use, and Reliable. It Is Built from High-Tech and Advanced Materials, and with an Excellent 5-Year Warranty.
Brand: Helinox
SKU: B09NMHZ1TQ
MPN: 14351
Weight -

8.7/10

Dimensions -

7.4/10

Packed size -

7.2/10

Capacity -

8/10

Comfort -

9.2/10

Craftsmanship -

9.5/10
Summary
It stands good regarding all the rating criteria so the overall rating is Very Good.
Pros
Easy to use.
Reliable.
Excellent warranty.
Carry bag.
Cons
A bit long when packed.
Expensive.
---
Final thoughts
So this Helinox Cafe Chair is designed to be used with any standard 71 cm dining table. You can use it for camping or in the garden and on picnics.
It is very light, packable, and portable, so this all makes it very versatile. Fully recommended. It is included in my list of best collapsible camping chairs.
Best places to buy:
For more options, please check under the category Camping Chairs, you will find them many here in the site, and in all sizes and shapes.
Bookmark this site and visit it when you find time, this will keep you informed, you have new texts added here on a regular basis. Let me know if you have questions, there is a comment box below. Thank you for reading and have a nice day.