---
Here you have my selection of ultralight Helinox backpacking chairs, all easy to use, compact, collapsible, and reliable.
Helinox is a brand that makes the lightest outdoor furniture, and this includes tables, chairs, and cots.
You will want to know that Helinox offers incredible 5-year warranty on their products. So this is unparalleled in this industry, and it shows their confidence in the products they build.
Is Helinox a Korean brand?
The answer is yes, this is a South Korean privately owned company founded as a spin-off of DAC poles. On the other hand, DAC is the best known brand of tents poles. The same technology is used in the chairs that are in the list here.
Who founded Helinox?
Helinox was founded in 2008 by Jake Lah and his son Young Lah. It appears that the brand name comes from the words Helios, which is the God of sun, and Nox which is the Goddess of night.
Where is Helinox made?
Helinox frames are manufactured in South Korea, the seat fabric and carry bags are made in Vietnam.
My list of the best Helinox backpacking chairs
The chairs below are ordered by weight from heavier to lighter.
---
1. Helinox Chair Zero Highback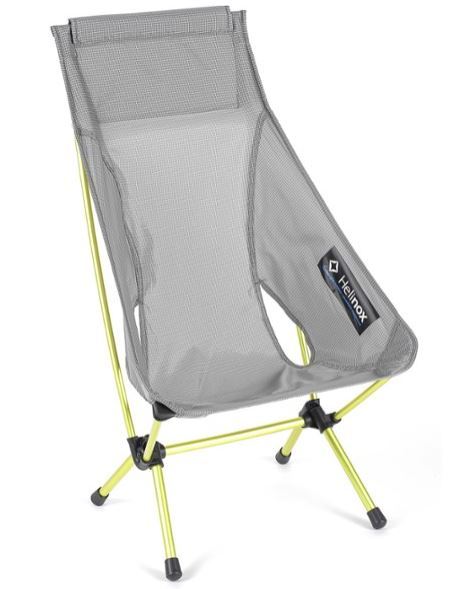 It is amazing that a chair with such a high backrest and headrest weighs only 1 lb 8 oz (680 g). It can be described as collapsible, so it has two separate parts, a shock-corded aluminum frame and a seat fabric that you attach to the poles.
The chair is very easy to use and backpack portable with its compact packed size which is only (L x D) 16 x 5 inches (41 x 13 cm). The weight capacity is 265 lb (120 kg).
The feet are with plastic caps, and the frame elements are connected through two hubs that are made of hard nylon. It comes with their incredible 5-year warranty and a nice carry bag.

---
2. Helinox Chair Zero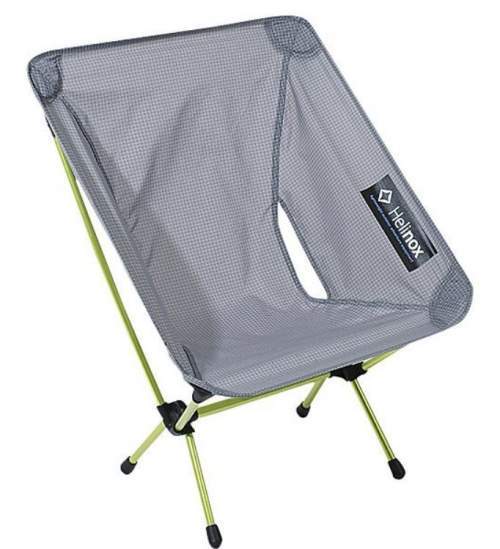 The Chair Zero is their best know outdoor chair and it has been on the market for a number of years already.
It offers a quite good backrest yet it weighs only 18 oz (510 g) together with its carry bag. But if you leave the bag at home, you have only 17.3 oz (490 g). Nevertheless, such a light chair can support up to 265 lb (120 kg), this is quite remarkable.
Here too you have quality DAC poles used for the frame, all segments are shock-corded, and setting it up is in seconds. The packed size is extraordinary (L x D) 13.8 x 3.9 inches (35 x 10 cm).

---
3. Helinox Speed Stool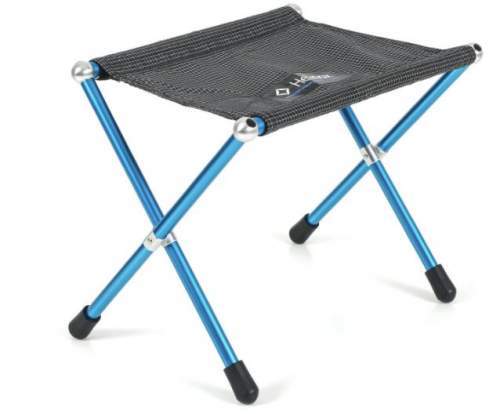 Here you have a stool, so this is a folding construction, there is no assembly, the seat and the frame are already pre-attached. So it is incredibly easy to use.
The stool is ultralight and ultra-compact, the weight is only 1 lb (470 g) and the packed size is 16.5 x 3.5 x 3.5 inches (42 x 9 x 9 cm).
You have a carry bag included, and the warranty is again incredible 5 years. The capacity is 220 lb (100 kg).

---
Final thoughts
So this was my selection of Helinox backpacking chairs, the list will be updated whenever I find the chair of this brand that is light enough to be included here.
This is why you might want to bookmark this post and visit it occasionally. You can find more outdoor chairs and other products of Helinox here.
Thank you for reading. There is a comment box below, so let me know if you have questions or comments. Have a nice day.