---
GigaTent Kids Junior Cot is a portable folding travel bed without assembly, easy to use and with a nice carry bag included.
Key features & benefits
Folding cot.
No assembly.
Several different colors.
Carry bag included.
---
What this is about
This GigaTent Kids Junior Cot is a purely folding design, so there is no assembly of any kind. It is all one single piece and you open it or close in seconds.
The pictures below show how easy it is to unfold it: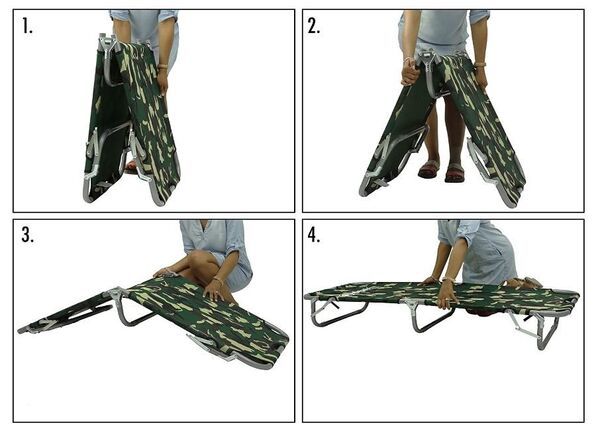 When not in use or for transportation, you store it in its carry bag shown in the pictures. Its dimensions are 30.5 x 24 x 5.5 inches (77 x 61 x 14 cm). As you realize, it is very thin when folded and packed.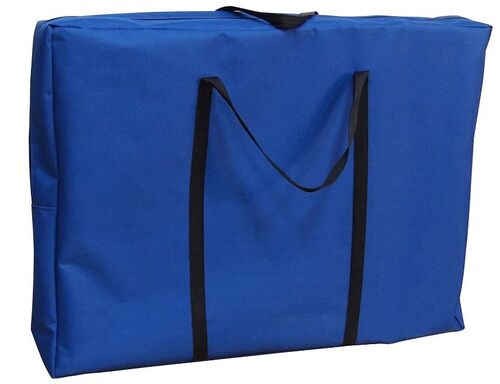 Materials and other details
The frame is a steel construction, and its three legs are U-shaped so this is a floor friendly design. You can use this cot anywhere, even in a floored family camping tent.
With such a shape of its legs, the cot will not easily sink in a soft ground.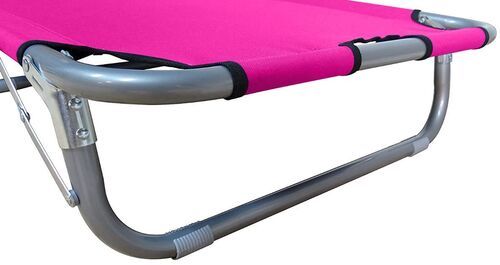 Note that you have locking bars at both ends, one is shown below. So the cot will not collapse if the kid jumps around.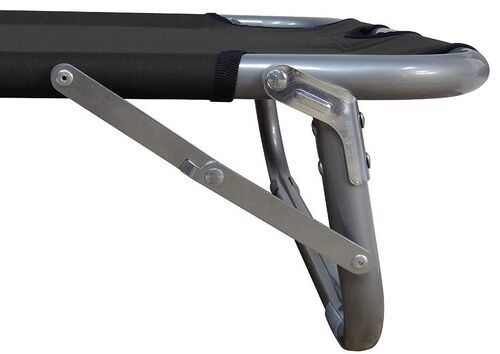 From the pictures you realize that they build this cot in several great colors, and the carry bag is in the same color as the cot. This is a heavy-duty polyester.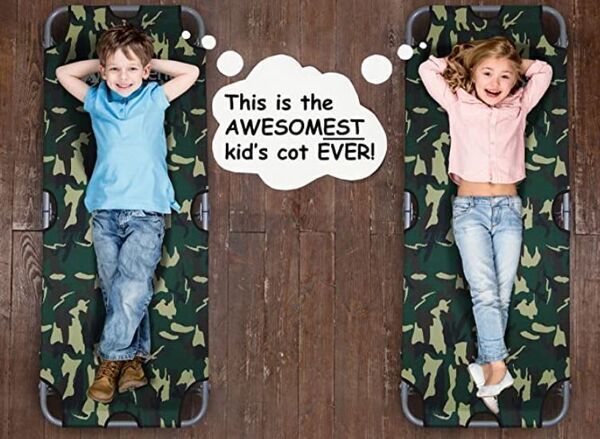 ---
Who is it for
Regarding the capacity, the cot is officially for users of up to 200 lb (91 kg). No doubt this is more than enough for most kids.
Regarding the dimensions, you can see the numbers below, they write it is for kids up to 57 inches (145 cm). This is true, there is a frame around that takes a few centimeters.

Note also that it is quite low, you have 8.5 inches (22 cm) from the ground. This is still high enough to store some stuff underneath the cot and to keep them out of way.
Being so low, it will also easily fit in any low tent.
Regarding the weight, with its 13 lb (5.9 kg) the cot is quite heavy, but this is not designed to be carried anywhere. It is for places with a car access.
You have already seen its packed size, so it is a bit large in two dimensions as usual for folding cots, but it is thin and it will fit in narrow spaces.
Regarding the price, it may be a bit steep but there are no many cots on the market that are built specifically for kids.

---
Specifications
Weight: 13 lb (5.9 kg).
Capacity: 200 lb (91 kg).
Dimensions (L x W x H): 60 x 23.5 x 8 in (152 x 60 x 20 cm)
Folded dimensions: 30.5 x 24 x 5.5 in (77 x 61 x 14 cm).
Frame: steel.
---
Rating, pros & cons
Below you can see how this cot stands against my standard rating criteria. You can rate it from your side as well.
Very easy to use and reliable cot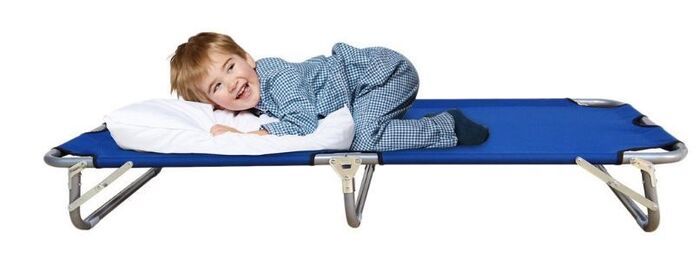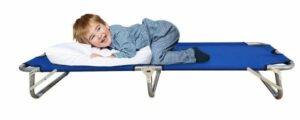 Product Name: GigaTent Kids Junior Cot Portable Folding Travel Bed
Product Description: GigaTent Kids Junior Cot Is a Portable Folding Travel Bed Without Assembly, Very Easy to Use and with a Steel Frame and Nice Carry Bag Included.
Brand: GigaTent
SKU: B01LWPYQHL
MPN: JFC04
Weight -

8.2/10

Size -

7.5/10

Capacity -

6/10

Packed size -

6/10

Ease of use & features -

9.5/10
Summary
I apply the same criteria used for the cots for adults, this is why some parameters, like capacity, may not look great, but this is a cot for kids.
Pros
Very easy to use.
Great color options.
Carry bag.
---
Final thoughts
So this GigaTent Kids Junior Cot is indeed very easy to use, but this is why it is a bit bulky when folded. There are several great colors to choose from, and I am sure your kid will like it.
You can use it for travel with kids, for camping, and also as a spare bed for your kid's friends staying overnight. It is included in my list of best cots for kids.
Best places to buy:
For more options, please check under the category Cots for kids.
Bookmark this site and visit it when you find time, this will keep you informed, you have new texts added here on a regular basis. Let me know if you have questions, there is a comment box below. Thank you for reading and have a nice day.