---
This CampLand Aluminum Height Adjustable Folding Table review is about an all-aluminum camping table with independently adjustable legs and a storage net. Read more below.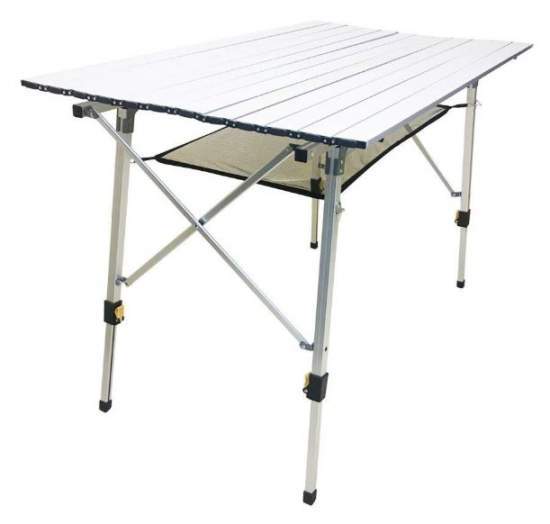 ---
Key features & benefits
Height-adjustable legs.
Versatile table.
Aluminum construction.
Collapsible design.
Great dimensions.
Storage net.
---
Where to buy
This camping table is available on Amazon. So please follow the link and check shipping conditions for your location, as you know they operate globally.
---
What type of a camping table is this
As you see from the name of this table, the manufacturer describes it as folding but strictly speaking this is no so. Here you have a camping table that could be described as collapsible.
Namely,
the biggest part of it is a folding structure which you simply expand as the picture below shows. But there is also a roll-up hardtop that must be added after you prepare the frame and the legs. You realize this is easily done in seconds and without extra tools. So I have included it in my list of best collapsible camping tables.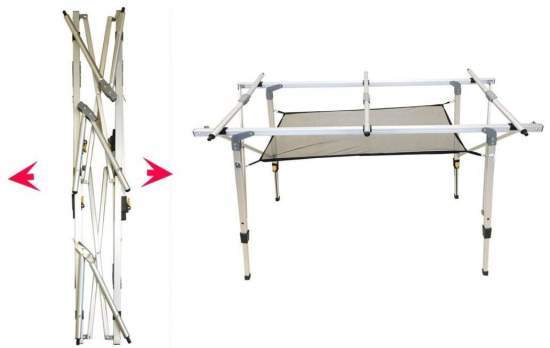 Storage net
This is a bonus here and you can see it in the picture above. The net is removable and it attaches underneath the tabletop. This is the reason for adding it to my list of camp tables with storage elements.
Adjustable legs
You have one of the best designs of legs' adjustability here. All the legs can be adjusted independently, and this in the height range 23.6-31.5 inches (60-80 cm).
This is a really nice design because the ground in a camp is rarely leveled and flat, and adjusting the lags independently is essential to have a stable table without rocking. The picture below shows the guiding pointers on one of the legs, and the yellow release button is above. So there is plenty of reasons for including this CampLand Aluminum table in my list of best height-adjustable camping tables.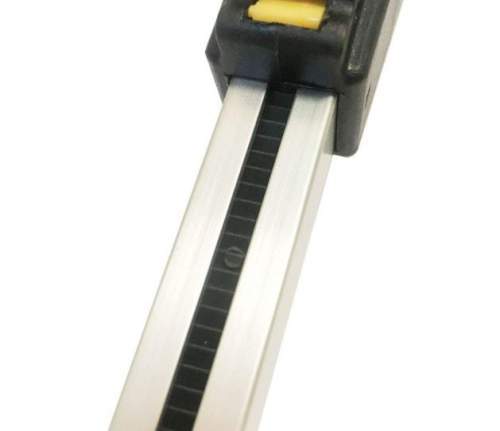 ---
Materials
As I already mentioned, everything here is aluminum. So the tabletop is heat-resistant, and the frame is built from 19-mm aluminum pipes. This is all stain-resistant, easy to clean, and waterproof. There is not much one could object to this structure.
The table is strong and stable with its X-shaped supporting bars, and the declared weight capacity is 66 lb (30 kg).
---
Who is it for
Size-wise, this is a large camping table with the tabletop 47.2 x 27.6 inches (120 x 70 cm). So this is plenty of space to use as a dining table for 4 people.
It is also rather tall when the legs are expanded to their maximum and you. The maximum height is 31.5 inches (80 cm), so you can sit normally with most of the camping chairs. Such a height and the tabletop material make it also suitable for cooking and grilling.
I mentioned above the legs adjustability range, and as you realize, in the lowest position, this table can be used as a side table. The lowest height is 23.6 inches (60 cm) only.
Weight-wise, the table is moderately heavy with its 15 lb (6.8 kg) of weight. You will see in the comparison table below how it stands when compared with some similar tables.
The packed size is not so impressive because it is long when packed. The dimensions are 49.2 x 7.9 x 4 inches (125 x 20 x 10 cm). But you realize, it is a very thin bundle when packed.
---
Rating, pros & cons
Note that they sell two options, large and extra-large; the text here is about the extra-large table which comes with the net.
The table has collected many reports around and the rating is not bad. Please see how I rate it:
My rating of the CampLand Aluminum Height Adjustable Folding Table
Weight -

5/10

Dimensions -

10/10

Packed size -

7.5/10

Craftsmanship & features -

9/10
Summary
My overall rating for this table is Very Good:
Pros
Great size.
Adjustable legs.
Great materials.
Storage net.
---
Specifications
Weight: 15 lb (6.8 kg).
Weight capacity: 66 lb (30 kg).
Dimensions (L x W x H): 47.2 x 27.6 x 31.5 in (120 x 70 x 80 cm).
Minimum/Maximum height: 23.6/31.5 in (60/80 cm).
Packed size: 49.2 x 7.9 x 4 in (125 x 20 x 10 cm).
---
CampLand Aluminum Height Adjustable table vs Competitors
I have decided to show you this CampLand table side by side with two others, to see how it stands when compared. This may help in making an informed choice.
So the Camp Field table is very similar by shape but it is lighter, and this is simply because it is much smaller. The KingCamp table is with a steel frame and the same weight, and it is also smaller. Please follow the links for more.
Dimensions
(L x W x H), in (cm)

47.2 x 27.6 x 31.5
(120 x 70 x 80)

49.2 x 7.9 x 4
(125 x 20 x 10)

35.4 x 19.7 x 25.19
(90 x 50 x 64)

36.8 x 7.5 x 5.1
(93 x 19 x 13)

42 x 27.5 x 27.5
(107 x 70 x 74)

43 x 9 x 4
(109 x 23 x 10)

---
Final thoughts & rating
To summarize this CampLand Aluminum Height Adjustable Folding Table Review by stressing again that this is a nicely built table suitable for camping, picnics, barbecues, backyard parties, etc. Its height-adjustable legs add a lot to its versatility. It is long when packed but it is very thin so it will easily fit in the car trunk. The price is more than fair.

If you need more options to check, please follow this link to the category Camping tables here in the site. You might want to compare it with this Camp Chef Mesa Aluminum Camp Table built in the same style.
Note that this is not a sponsored text, and I am not paid by the manufacturer. Please use the comment box below in case of questions or comments. Check also our rating below.