---
This Camp Chef Mesa Aluminum Camp Table is an excellent steel and aluminum construction with adjustable legs, easy to use, strong, and very reliable.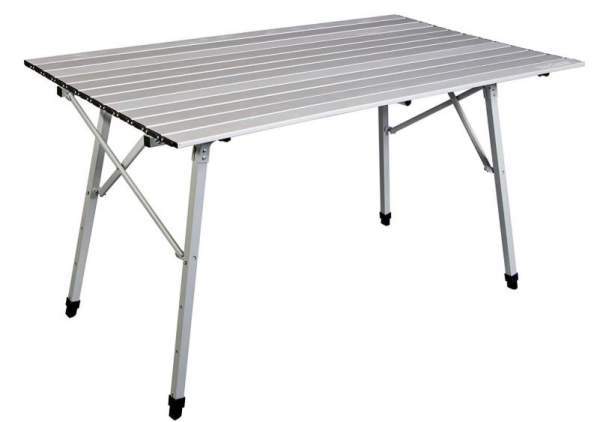 ---
Key features & benefits
Height adjustable legs.
Aluminum & steel construction.
Collapsible design.
Carry bag included.
---
What type of camping table is this
This Mesa Table could be described as a collapsible table because it needs some simple assembly and it has a couple of separate elements. Those include a roll-up tabletop which you see in the picture below, and the folding frame.
So as you see above, the tabletop is an accordion-type aluminum structure that packs thin but long, and it comes with pre-attached clips that fix it to the frame.
The frame is shown below, and this is a powder-coated steel construction with all the elements permanently attached to each other. So you simply unfold it and then attach the tabletop from above. This is all easily done and in seconds.
In view of such a great design, I have added it to my list of best collapsible camping tables.
Adjustable legs
This is yet another great feature here. You have telescopic legs that can be extended in the range 27 -39 inches (69 – 99 cm). The picture below shows its impressive height with fully extended legs.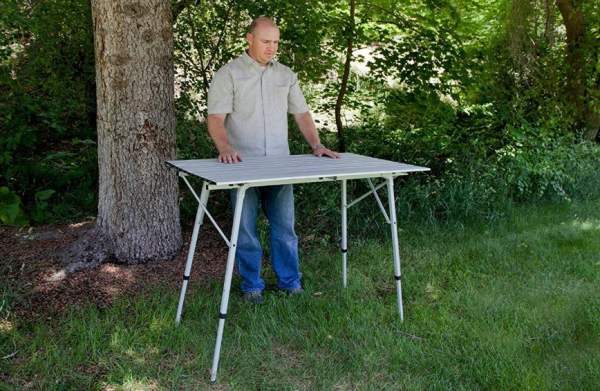 You have three different positions with pop-out buttons, so this is not a continuous and leveling design. The height is 27 inches, 33 inches, and 39 inches (69, 84, and 99 cm).
It remains very stable even in the highest position shown above. So I had all the good reasons to include it in my list of best camping tables with adjustable legs.

---
Who is it for
Regarding the size & height, this is an impressive table with dimensions of 48 x 27 inches (122 x 69 cm). The tabletop is aluminum, so it is heat-resistant and weather-resistant. The picture below shows its close view, with the brand's logo in the corner.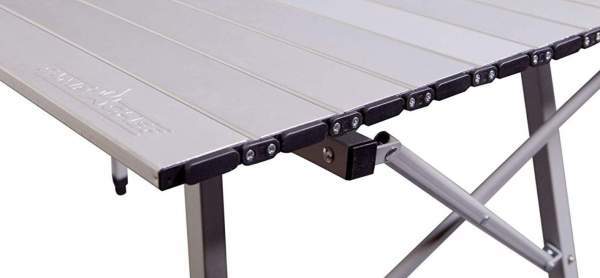 They do not provide an official weight capacity but this is a very strong construction capable of supporting all the usual camping cooking or eating utensils, including ovens and gas burners.
Regarding the height, it is tall in all three levels so you can use it as a dining table for up to 4 people. In all three heights it is also suitable for cooking.
Regarding the weight, the table is on the heavy side with its 22 lb (10 kg). But this is a strong item so the weight is justified. You can carry it short distances, see its carry bag below.
As for the packed size, it is quite long when packed but it is very thin with the packed dimensions 48 x 7 x 6.5 inches (122 x 18 x 17 cm). So you definitely need a car for transportation.

---
Specifications
Weight: 22 lb (10 kg).
Dimensions: 48 x 27 x 27/39 in (122 x 69 x 69/99 cm).
Packed size: 48 x 7 x 6.5 in (122 x 18 x 17 cm).
Frame: steel.
Tabletop: aluminum.
---
My rating, pros & cons
Please see below how I rate this table. The average value may not look high but I use the same criteria for all the tables here in the site and apply them consistently for easy comparison.
My rating of the Camp Chef Mesa Aluminum Camp Table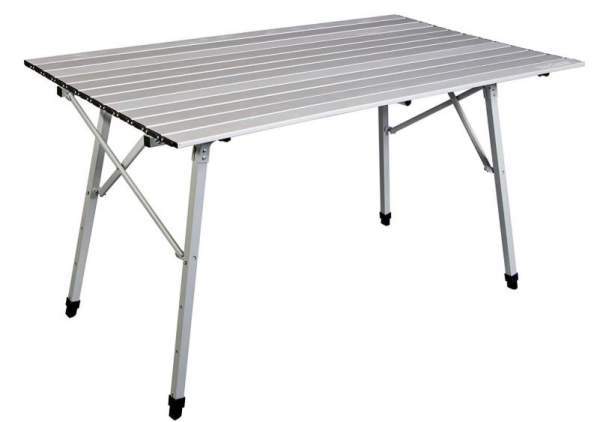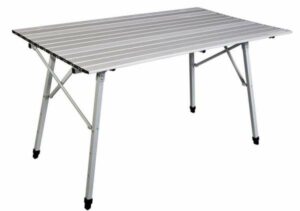 Product Name: Camp Chef Mesa Aluminum Camp Table
Brand: Camp Chef
SKU: B00OB6S5VU
Weight -

3/10

Dimensions -

10/10

Packed size -

6/10

Craftsmanship & features -

9.5/10
Summary
My overall rating is negatively affected by the weight and packed size. But all in all, it is Good:
Pros
Very strong & reliable.
Great size.
Adjustable height.
Great carry bag.
Easy to use.
Cons
Heavy.
Long when packed.
A bit expensive.
---
Final thoughts
So this Camp Chef Mesa Aluminum Camp Table is a versatile outdoor item, collapsible and very easy to use. Its changeable height allows you to use it standing and sitting, for cooking, dining, playing cards, and you name it.
This is a table built to last, strong and very stable in each of its three heights. Fully recommended.
In the links below you might get different prices so please check.
If you need more options, please check under the category Tables here in the site, you will find them in all sizes and shapes. Check this Portal Outdoor Folding Portable Picnic Camping Table with Adjustable Height if you want something lighter.
Note that we add texts regularly, so bookmark this site and visit occasionally. Subscribe to our weekly newsletter and stay informed, there is a subscription form below.