---
The Eureka Tagalong Lite Chair is very light and compact, easy to use and backpack portable, with a great carry bag included.
---
Key features & benefits
Collapsible chair.
Compact.
Very light.
Easy to use.
Great carry bag.
---
What this Eureka Tagalong Lite Chair is about
This is a chair from a new series of three chairs shown below. It is on the left, so it is the smallest in the group.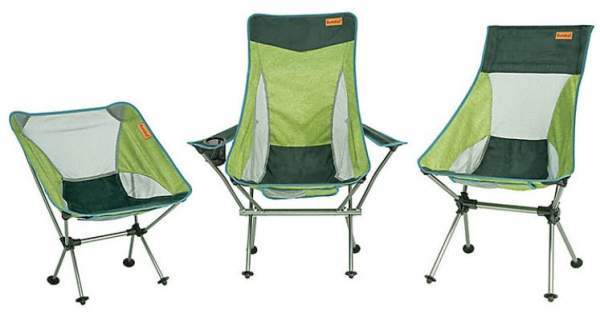 The chair is collapsible type, and this means it has only two separate parts, a shock corded frame and the sling. Both are shown in the picture.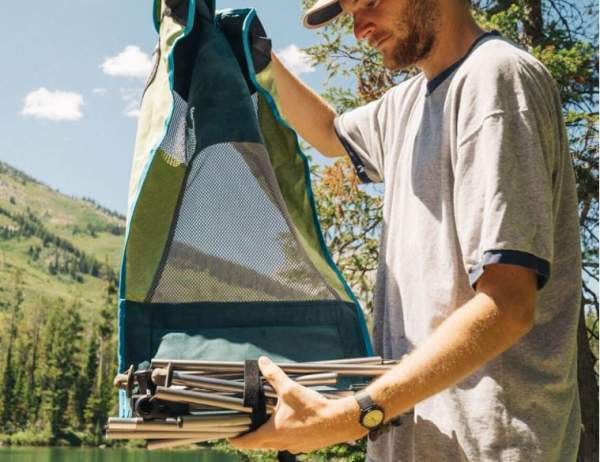 This also means it needs a simple assembly. But note that the frame tubes are all pre-attached to each other, so there is nothing to guess, they click in place almost by themselves. After that you simply attach the sling on the four ends of the poles.
When not in use, you can keep it in its really nicely designed carry bag. It is with a zipper and with carry handles, plus a daisy chain on the side, so you can easily attach it to a pack with an extra piece of cord. The picture shows how it looks: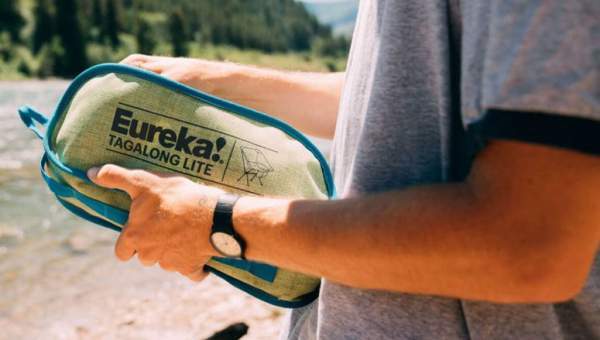 Note that the chair has a sizeable hideaway front storage pouch under the seat. It is visible in the top picture above. But when you do not use it, you can attach it under the seat, there is a Velcro hook and loop tab for this purpose. The picture below shows how the chair looks when the pouch is moved under the seat: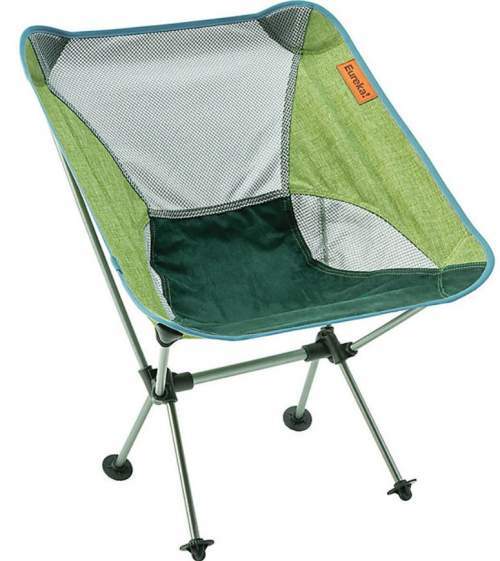 Materials
The frame tubes are 7000 series aluminum alloy. There are massive plastic hub elements, this makes it different from the largest chair in the series which is all metal.
Note that the feet are with plastic caps built wide so that you can use the chair on almost any ground. But I would not use it in a floored family tent, the feet are too narrow and this could damage the floor.
The fabric is a surprisingly strong 1000D cationic polyester, such a denier value is not so frequent in light outdoor chairs. The carry bag seems to be the same material.
But what is cationic polyester? There are no many chairs around with such a material, this is a fabric that is chemically modified so that it possesses a permanent cationic, or positive, charge. Such a charge is always surrounded by a cloud of excess counter-ions, and as a result the total charge is zero. This should save you from static electricity that can be annoying with such synthetic materials.
With such a structure it is dyed with cationic dyes at the temperature of 110℃, as compared to conventional polyester that is dyed at a temperature of 130℃. Note that there are also cationic cotton materials on the market.
The chair has very intricate mesh panel for venting on the sides, see how this looks: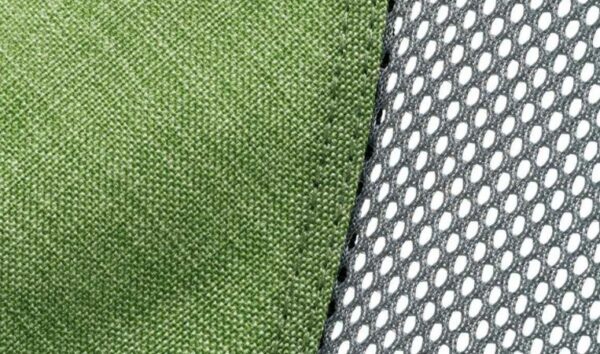 You can see a bit more about the Eureka Tagalong Chairs series in this video:
---
Who is it for
Regarding the capacity, the chair is quite modest, it is officially for users of up to 220 lb (100 kg). This far more than I need myself, but heavier users might check elsewhere.
Regarding the dimensions, it is quite small, you realize this from the picture below. You will see the numbers in the specifications.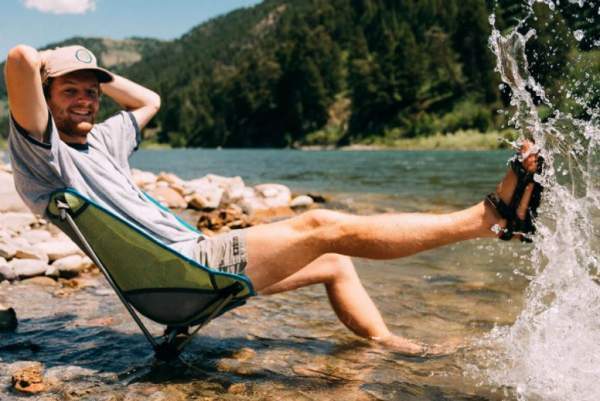 But this is enough to keep you off the ground, and you can cook your meals while sitting on the chair. The seat is 13 inches (33 cm) above the ground.
Regarding the weight, it is in the group of very light chairs, almost ultralight with its 2.4 lb (1.15 kg). But it fair to say that there are much lighter options if you need a chair for the trail.
The packed size is very good, you see how it looks in the carry bag that measures only 15 x 6 x 5 inches (38 x 15 x 13 cm).

Regarding the price, it is a bit steep, but you have a great product and a renown brand behind it.

---
Specifications
Weight: 2.4 lb (1.15 kg)
Capacity: 220 lb (100 kg).
Dimensions (L x W x H): 19.3 x 22 x 26 in (49 x 56 x 66 cm).
Folded dimensions: 15 x 6 x 5 in (38 x 15 x 13 cm).
Seat height: 13 in (33 cm).
Frame: aluminum.
---
Rating, pros & cons
Below you can see how this chair stands against my usual rating criteria. You can rate it from your side, there is a rating bar for this.
Very compact and light outdoor chair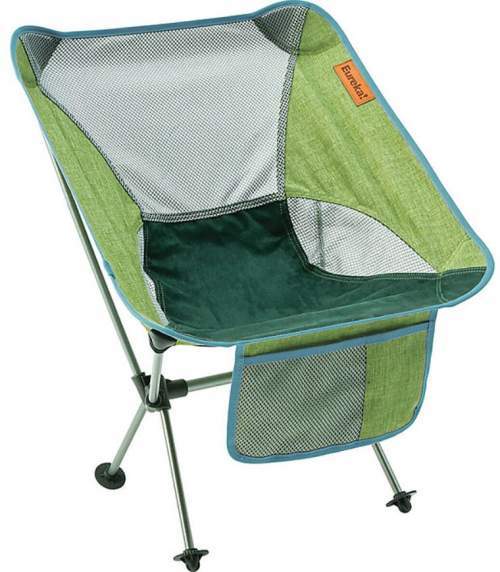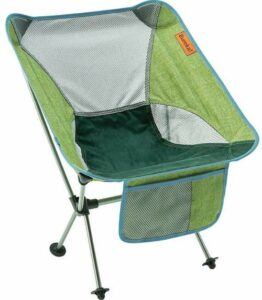 Product Name: Eureka Tagalong Lite Chair
Product Description: The Eureka Tagalong Lite Chair Is Very Light and Compact, Easy to Use, Backpack Portable, and with a Great Carry Bag Included.
Brand: Eureka
SKU: B09DTBMH21
MPN: 2571126
Weight -

9/10

Dimensions -

7.1/10

Packed size -

8.4/10

Capacity -

7/10

Comfort -

8.5/10

Craftsmanship -

9.5/10
Summary
The chair is of a moderate size and capacity, but its overall rating is still Very Good.
Pros
Very light.
Compact.
Storage pouch.
Easy to use.
Cons
Modest capacity.
Not very large.
---
Final thoughts
So the Eureka Tagalong Lite Chair is comfortable enough for such a small, compact, and lightweight chair. Mesh panels provide ventilation and make it suitable for summer camping. Its hideaway storage pocket is a bonus to keep your phone or keys close at hand.
I have included it in my list of best collapsible camping chairs. Fully recommended.
Best places to buy:
I mentioned several chairs in this series, so check the largest of them the Eureka Tagalong Highback Chair.
Bookmark this site and visit it when you find time, this will keep you informed, you have new texts added here on a regular basis. Let me know if you have questions, there is a comment box below. Thank you for reading and have a nice day.