---
Freestanding swinging camp chairs are becoming increasingly popular, they are easy to use, portable, and versatile, and they look cool. So, see some great models below.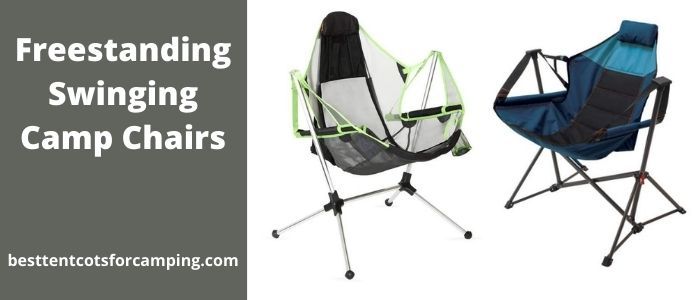 ---
Swinging camp chairs – what this is about
The swing camp chairs presented here are designed to sway freely due to an integrated suspension. But note that this is not due to overhead support, you do not hang them anywhere. In fact, as the title above suggests, these are all freestanding chairs.
This means that you can use them anywhere and no need to look for a tree to hang them above. Equally important is to stress that these are all collapsible chairs. They pack nicely and they are portable. But this also implies that they need a simple assembly, and this is easily done without any extra tools or brute force.
There are several of them also here with a reclining design so you can easily change the backrest position. To realize what I am talking about, it is best that you see this short video:
---
My list of swing camping chairs
Below is my list with chairs ordered by weight from heavier to lighter:
---
1. ALPHA CAMP Hammock Camping Chair Folding Swing Chair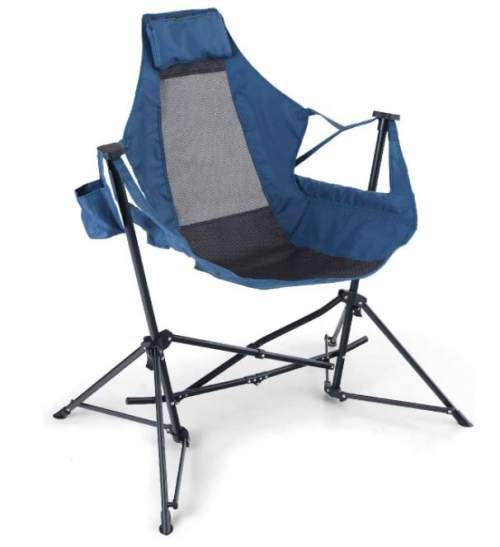 ALPHA CAMP Hammock Camping Chair Folding Swing Chair has a huge seat and incredible 500 lb (227 kg) capacity. This is why it is also in my list of camping hairs for heavy people. It weighs 12.27 lb (5.56 kg) so you realize why it is in such a position here in the list.
You also have a padded headrest, solid armrests, a bottle holder, and a carry bag included. This all comes with a really affordable price.

---
2. Rio Gear Outdoor Foldable Hammock Lounger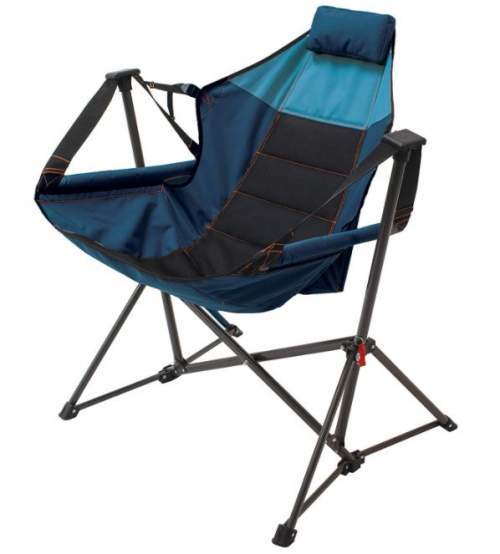 This Rio Gear Outdoor Foldable Hammock Lounger is a very specific and large swinging structure. This is a padded chair with a high backrest and a great headrest and this is why I have included it also in my list of chairs with a headrest.
It comes also with solid padded armrests. The chair weighs 11 lb (5 kg) and its capacity is 300 lb (136 kg). Note that a carry bag is included, and you will want to know that the chair is very affordable.

---
3. NEMO Stargaze Recliner Luxury Chair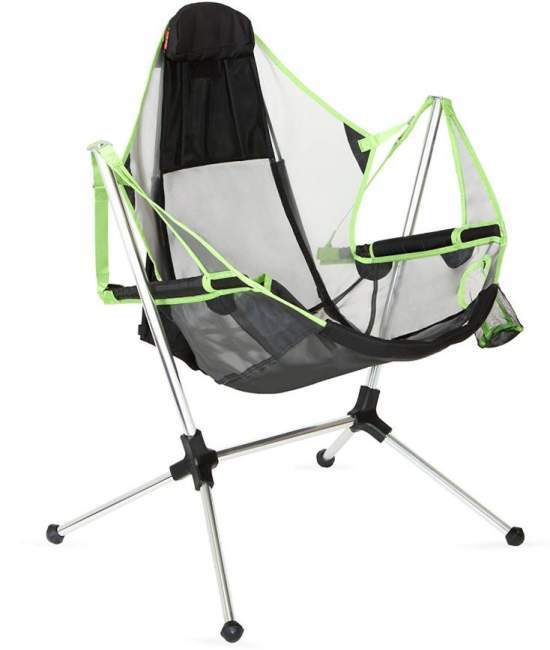 NEMO Stargaze Recliner Luxury Chair was the first of that type that appeared on the market and this was totally new. This is a chair from a completely new series and the word Luxury in the name means that it has more features than the other of its cousin chairs.
This is a swing chair with the seat attached by straps to the side poles and this is what makes it swing. It is also with reclining features based on its auto-reclining mechanism.
The chair also has an adjustable headrest, solid armrests, and it comes with a carry bag. It weighs only 6 lb 5 oz (2.86 kg). This is a quite expensive but top-quality item.

---
4. Nemo Stargaze Recliner Chair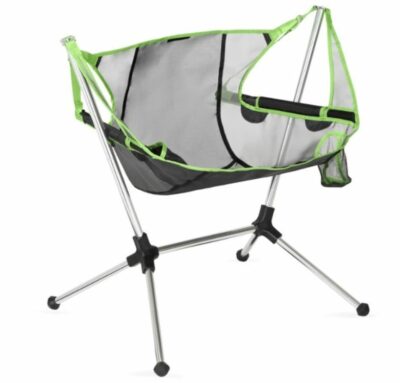 This chair has most of the features of its bigger cousin shown above, but here you do not have the headrest. This is reflected in its weight and packed size and I would say also in its comfort.
It weighs 5 lb 11 oz (2.59 kg) and its packed size is 23.5 x 6 x 6 inches (60 x 15 x 15 cm). Solid armrests are avalable as well.

---
5. NEMO Stargaze Recliner Low Chair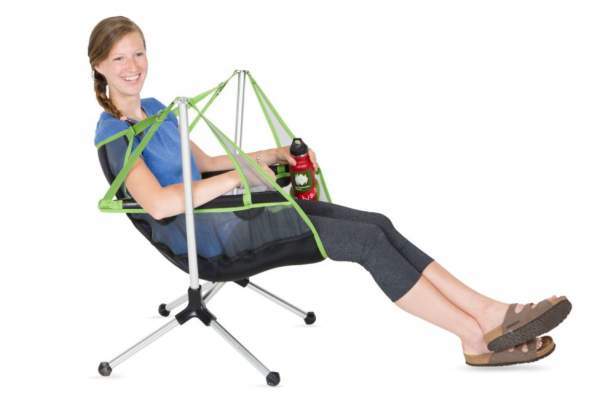 Stargaze Low Chair is from the same series presented above, this is the lowest of them and it is without the headrest.
The picture above shows that here too you have a swing structure attached to the side polls, and the chair is also with the same reclining design. It is nicely packable and backpack-portable. The weight is 5 lb 2 oz (2.32 kg) and its nicely designed carry bag measures 23.5 x 5.5 x 5.5 inches (60 x 14 x 14 cm).

---
Final thoughts and how to choose
This list of swinging camp chairs will be updated whenever I find something suitable and appropriate to include in the text. This is why you might want to bookmark this text and visit it occasionally, this will keep you informed.
Back to the list above, all the chairs are collapsible and this means they pack nicely. But there are big differences in the weight, so if you plan to carry the chair for longer distances you might focus on this parameter.
Regarding the ease of use, there is no much difference, these are great designs and the chairs are very easy to use.
There are differences in the price as well. If you are on a budget you will pay attention to this. Note that Nemo is a great brand and they are known for quality and innovations, but this all comes at a price.
Thank you for reading. It will be great to hear from you, so please let me know if you have some question or comment, or if you know a good swing chair that should be included here, there is a comment box below. Have a nice day.