---
This NEMO Stargaze Recliner Low Chair Review is about a feature-rich backpack-portable lightweight reclining swing camping chair with solid armrests.
---
Key features & benefits
Recliner chair.
Swing design.
Fully collapsible.
Carry bag.
Backpack-portable.
---
What this is about
This is the third chair in the series after Nemo Stargaze Recliner Luxury and Nemo Stargaze Recliner chairs. There are differences among them in the dimensions, weight, and design.
So this is a patent-pending design and a fully collapsible and backpack portable chair. It fits nicely in its carry bag (picture below) which measures 23.5 x 5.5 x 5.5 inches (60 x 14 x 14 cm). It has an adjustable strap on the side so you can carry it attached to the shoulder.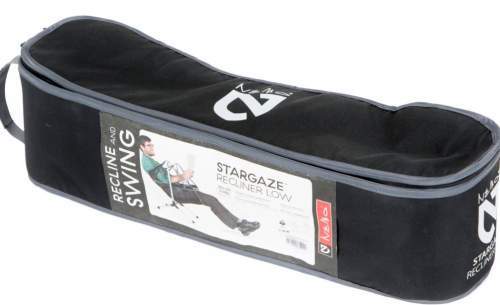 This also means that it needs assembly when you want to use it. But this is easily done and without any tools. I have included it in my list of best collapsible camping chairs.
As mentioned above, this chair swings smoothly and gently, with a relaxing motion that is designed for comfort. This is due to the fact that it hangs on the two side poles which you see in the picture below.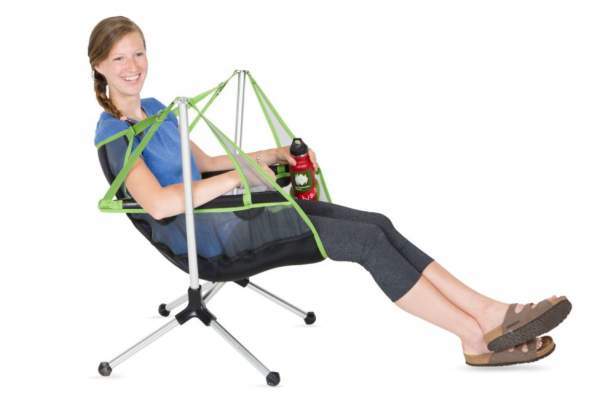 Clearly, this swinging is not affected by the surface where you use this chair. It will swing anywhere.
This is also an auto-reclining design so you can have the best position of the backrest regardless of where you use it. This is why I have added it to my list of best reclining chairs. You adjust it simply by leaning back and shifting your body weight.
My guess is that the term Stargaze in the name is related to this reclining feature, implying that you would lean back and enjoy watching the sky. But its backrest is very low as you realize from the picture above. So I would say that this reclining feature is not as important here as in the largest chair from this series, the Nemo Stargaze Recliner Luxury Chair.
The picture below shows the detail where the chair attaches to one of its two side poles.
Other features include:
Solid yet padded armrests, you can see one in the picture above.
A mesh cup holder on the left side, see the picture below.
A storage pouch for small items also shown below.
The frame is an aircraft-grade aluminum, very strong and sturdy. The fabric is a non-absorbent monofilament mesh, it is cool and breezy and it resists bacteria and withstands sun exposure.
Please see a bit more about the complete series in this short video:
---
Who is it for
Weight-wise, with its 5 lb 2 oz (2.32 kg) of weight this is a lightweight chair. You have already seen its packed size, so it is indeed backpack-portable. But this is not exactly a backpacking chair.
Capacity-wise, it is designed to support up to 300 lb (136 kg). So this is very respectable capacity and suitable for most of the users.
Size-wise, with the dimensions (W x D x H) 24 x 34 x 31 inches (61 x 86 x 78 cm), it is a bit smaller than the other two chairs from the Stargaze series. This is to know if you are a very big person.
So this is a very versatile chair and you can use it anywhere. You can transport it on a bicycle, on a motorbike, in a kayak, etc.
---
My rating, pros & cons
Please see how I rate this chair against my standard set of criteria used for all the chairs presented here in the site. With this you can easily compare them.
My rating of the NEMO Stargaze Recliner Low Chair:
Weight -

8.2/10

Dimensions -

8.3/10

Packed size -

7.2/10

Capacity -

7.5/10

Comfort -

9.4/10

Craftsmanship -

9.7/10
Summary
My overall rating is – Very Good:
Pros
Lightweight.
Very easy to use.
Top craftsmanship.
Carry bag included.
Great warranty.
---
Specifications
Weight: 5 lb 2 oz (2.32 kg).
Capacity: 300 lb (136 kg).
Dimensions (W x D x H): 24 x 34 x 31 in (61 x 86 x 78 cm).
Packed size: 23.5 x 5.5 x 5.5 in (60 x 14 x 14 cm).
NEMO Lifetime Warranty.
---
NEMO Stargaze Recliner Low vs Stargaze Recliner vs Stargaze Recliner Luxury
So here are the parameters of all three chairs from the Stargaze series side by side. The biggest difference is in the weight and in the headrest design which you have in the Luxury Chair only. Please follow the links to see more.
24 x 34 x 31
(61 x 86 x 78)

25 x 36 x 45
(65 x 92 x 116)

24 x 36 x 35
(61 x 92 x 89)

---
Final thoughts
In summary of this NEMO Stargaze Recliner Low Chair review, I wish to stress that this chair comes with features that are unique to this Stargaze series only. I have not seen anything similar to this on the market. This is a top-quality product from a renown brand, expensive bur reliable, and with great warranty conditions. Fully recommended.
For more options please check under the category
Camping chairs
here in the site, you will find them in all shapes and types.
Note that this is not a sponsored text, and I am not paid by the brand. Please use the comment box below in case of questions or comments.
---