---
The Snow Peak Stainless Steel Kitchen Table is a reliable and versatile modular construction that can be extended with various elements from the same brand.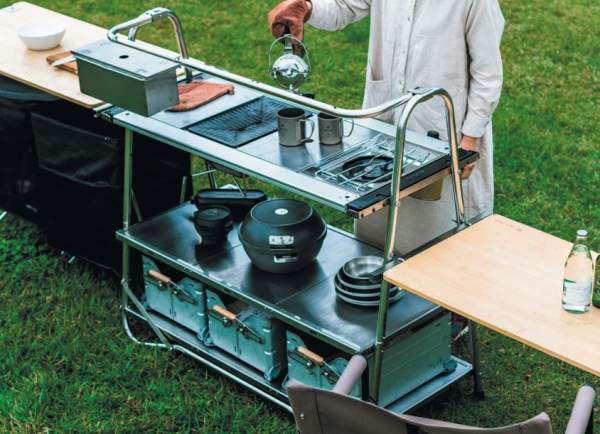 ---
Key features & benefits
Collapsible camping table.
Modular design.
Stainless steel.
Converts into a hanger.
Suitable for home and outdoor use.
---
Overview
So here you have yet another great product from this globally known brand. It can be described as a collapsible camping table, and this means it needs a simple assembly. But this is all easily done without tools.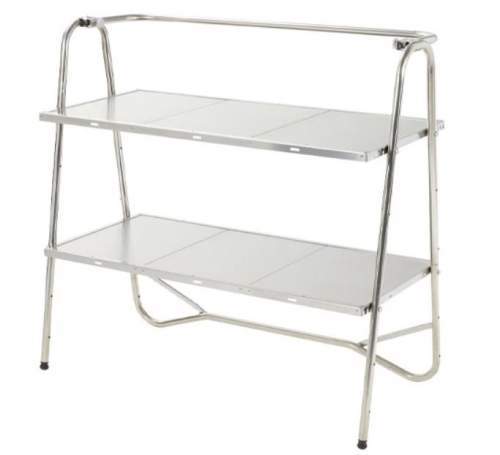 When packed, it becomes a very thin bundle that measures 47.2 x 20.5 x 4.7 inches (120 x 52 x 12 cm). As you see the other two dimensions are substantial.
The table comes with two shelves (tabletops) shown in the picture above, but it is designed to fit yet another that can be ordered separately.
Modular design
Note that you can place these shelves at various heights. So the top bar can be used as a hanger when the shelves are moved to lower positions, see the picture.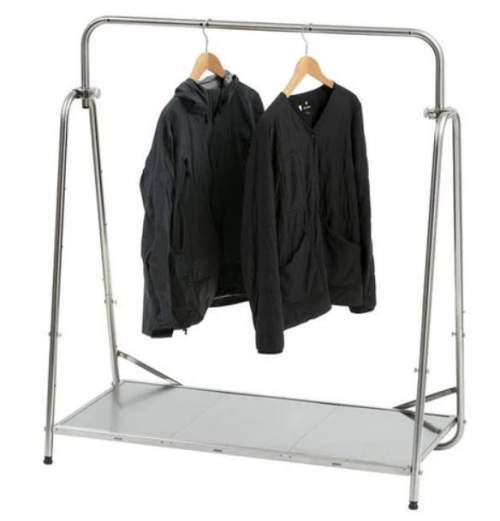 Obviously, you can use such a great stainless steel piece even at home. And when the time for camping comes, simply fold it and take with you. Ingenious.
The table is designed also to accommodate their IGT Four Unit Frame that serves as the starting block for their modular Iron Grill Table System.

You can use this four units of space to customize cooking and prep surfaces in various ways, see how this can look: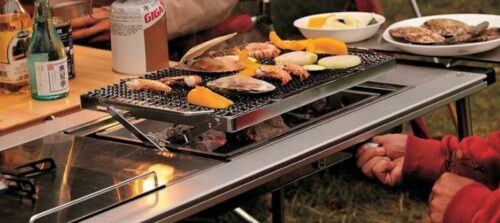 You can also add their IGT Side C to add IGT Side Extensions, one is shown in the picture. So the system can grow to a very large set.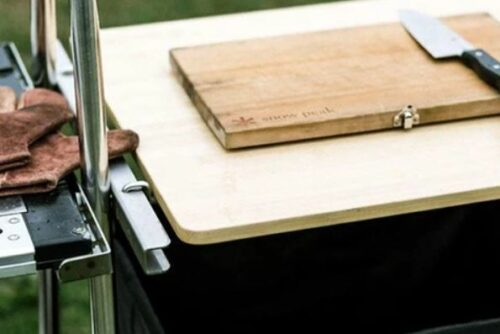 As for the materials, you have seen already in the name that this is a very durable stainless steel structure so you can use it in any way, there is no problem with hot items or rain.
---
Who is this chair for
Regarding the best use and size, I already mentioned that you can use this piece at home and also in the camp. The tabletop surface is huge and you can use it as it suits you.
The overall dimensions are (L x W x H) 3.8 x 1.7 x 3.6 ft (118 x 54 x 110 cm), so this is already lots of space as it is. But you can grow it even further with various additions.
Regarding the weight, this is not its best feature, it weighs 34.1 lb (15.5 kg). But this is a very strong steel structure, and its size is impressive, and the weight is justified. You have already seen its packed size, so in any case you need a car for transportation.
Regarding the price, as you probably know, Snow Peak products are very expensive. But they are of the highest possible quality, and above all, you have a lifetime warranty with all of their products. So you know what you are buying.
---
Specifications
Weight: 34.1 lb (15.5 kg).
Dimensions (L x W x H): 3.8 x 1.7 x 3.6 ft (118 x 54 x 110 cm).
Folded dimensions: 47.2 x 20.5 x 4.7 in (120 x 52 x 12 cm).
Frame: stainless steel.
Warranty: lifetime warranty.
---
Rating, pros & cons
Below you can see how this table stands against my standard criteria. The weight and packed size negatively affect the overall rating. There is a rating bar below so you can rate the table from your side.
Unique, reliable, and versatile product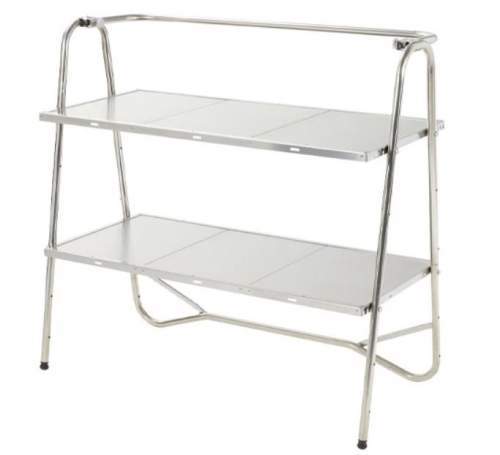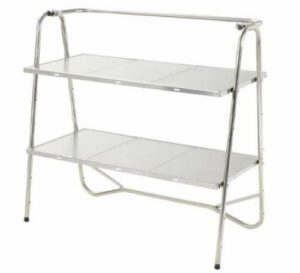 Product Name: Snow Peak Stainless Steel Kitchen Table
Product Description: The Snow Peak Stainless Steel Kitchen Table Is a Reliable and Versatile Modular Structure that Can be Extended with Various Elements from the Same Brand.
Brand: Snow Peak
SKU: LV-310
Weight -

1.5/10

Dimensions -

9.8/10

Packed size -

3.5/10

Craftsmanship & features -

9.7/10
Summary
The table is heavy and bulky, but it is also very large.
Pros
Very durable.
Reliable.
Functional.
Modular design.
---
Final thoughts
So this Snow Peak Stainless Steel Kitchen Table is very unique, but one cannot expect less from such a brand. The craftsmanship here is at the highest level, and you have premium materials. This is a versatile and modular design. Fully recommended. I have included it in my list of best collapsible tables and also in best portable camp kitchen.
Best places to buy:
For more options, please check under the category Camping Tables. You will find them many here in the site, and in all sizes and shapes.
Let me know if you have questions, there is a comment box below. Thank you for reading and have a nice day.