---
This Camp Chef Sherpa Table and Organizer review is about a camping table with incredible storage features, telescopic legs, and much more. Keep reading.
---
Key features & benefits
Aluminum roll-top table.
4 Zippered compartments for storage.
3 Padded removable bags (boxes).
1 Padded lined removable bag that doubles as cooler or as a sink.
Telescoping aluminum legs.
Very versatile.
2 Packed options.
---
What this is about
Here you have a collapsible camping table with two different packing options (more below) and with an accordion-type aluminum tabletop. This means that it needs some simple assembly when you want to use it. The table comes with some interesting features so I present them below one by one.
Removable bags
So there are 4 removable bags with zippers. You can use them to store your camping cooking gear and use as bags for transportation.
One of them (the blue one)  is lined, so you can use it to keep your food cool ar warm. When needed, you can put water inside and use it as a sink. See them all below: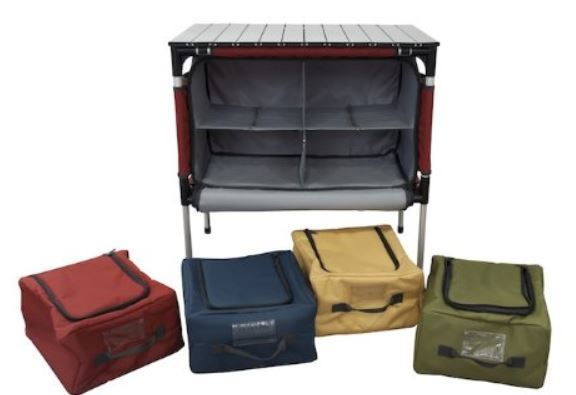 You can use all of them inside the table in its zippered storage compartment. This is shown in the picture below. But you can use this zippered compartment as a storage area on its own, as you see it has its own flap with zipper. The 4 bags can be left outside to keep your camping gear organized, or you can use them as bags for your clothes, etc.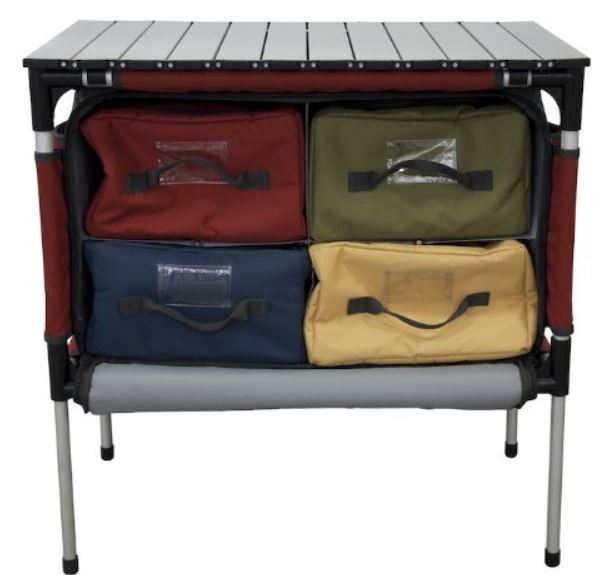 Note that the storage organizer itself has 4 zippered compartments. The lover divider can be unzipped and you have one large bottom compartment where you can store any Camp Chef Mountain Series stove. This is shown in the picture below.
Observe also the handle on the side, the same is on the other side, so moving the table with all the stuff inside is easy.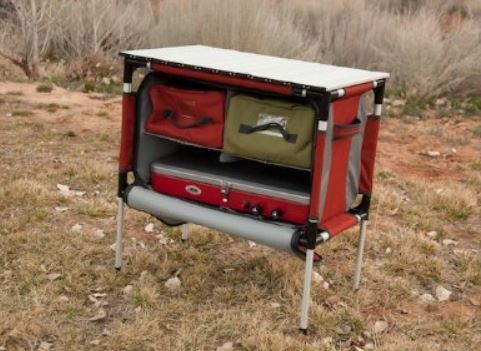 Note that all these boxes and the main storage compartment are constructed from a durable 600 denier fabric.
In view of all these features, I have included this table in my list of best camping tables with storage.

Packed size
There are two different options:
♦ The packed option 1 – when you only pack the legs. This is the shape shown in the top picture above. In this case you have all 4 storage bags on the shelves in the main compartment, and the telescopic legs simply pushed inside the frame above, you will see this in the video. The tabletop is in its zippered pocket.
The size in this case is 27.5 x 18.5 x 17 inches (70 x 47 x 43 cm). This may look bulky for transportation, but note that you can keep a lot of your geat in the 4 bags inside the main compartment. So such a bulky item is not wasted space, you would have to keep your camping stuff somewhere in any case.
The point of this is that it keeps all your items tidy and organized, you just take it out of the car and all is ready instantly as you prepared it at home.
♦ The packed option 2 – when the table is fully disassembled. This is how it is shipped. In this case all the elements are stored in the main storage compartment which serves as a carry bag, except the tabletop which is in its own zippered pocket on the back of the main storage compartment.
The 4 storage bags (boxes) can be made thin and flat and they come compressed inside the storage compartment. Two packed dimensions in this case are similar to the first option, but the package is much thinner, around 8 inches (20 cm) or so.
You will see all this in the video:
Telescopic legs – adjustable height
This is how the manufacturer describes them, telescopic. So indeed they can be pushed inside the upper tubes which give the shape to the main compartment. You have a pop-out button on each of them and this is how the leg is fixed into position.
There is a ridge along the legs shown in the video, this keeps them perfectly aligned so that the pop-up button matches the hole, nicely done indeed.
Because of such a design, the table can have two different heights.
One height is with the legs extended, and the height in this case is 29 inches (74 cm), this is official number from the manufacturer. This is how it can be used as a dining or cooking table.
The other height is when the legs are pushed completely inside, and the height in this case is 18.25 inches (46 cm). In this configuration you can use it as a side table.
Due to these features, I have included it in my list of tables with adjustable height.
Setting the table up
You have seen it in the video. If you do the complete setup, then this is a lot of work, but it is easy and without extra tools.
But if you do the other packed option, setting the table up implies only extending its legs. Note that you can transport it with the tabletop in place, no need to store it at all. But even if you do this, attaching it is in seconds.
What is in the package
There are many elements here and the list is as follows:
In total 16 pieces of tubes that create the frame and legs.
4 Upper corner elements, some sort of plastic.
4 Lower corner elements.
4 Boxes (storage bags) with their zippers.
1 Main storage compartment with its removable dividers. Note that it has Velcro tabs that attach it to the frame, plus a zippered compartment on the back for the tabletop. There is also a zippered flap on the front, with Velcro tab which you use to attach the flap underneath the table when you want to keep this storage compartment open.
1 Aluminum accordion-type tabletop. It is equipped with clips on its underside, for its attachment to the frame.
---
Who is it for
♦ Regarding the packed size, in any of the two options mentioned above, you will need a car. So this is an item for places with a car access.
♦ Regarding the weight, the structure is a bit heavy with its 13 lb (5.9 kg) of weight. But there is lots of material here, you have seen all those tubes. They make the structure strong and the weight capacity 66 lb (30 kg) is impressive, see the picture: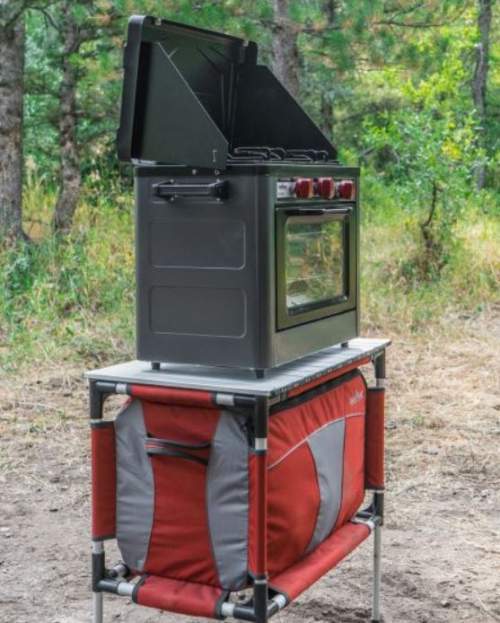 In any case, as I mentioned above, you will need a car, so the weight is immaterial here.
♦ Regarding functionality & features, this is a table for camping and also for picnics. The latter in particular if you use its mentioned packed option 1 with legs retracted inside. So you take it out of the car and it is ready instantly with all your picnic gear in place.
You can store a stove inside for travel, or food as well and it will not get crushed.
---
Rating, pros & cons
This table is incredibly highly rated by users, and this is not surprising. On Amazon alone you have hundreds of reports.
My own rating is lower because I have a set of criteria and I apply them consistently to all the tables presented here in the site, have a look:
My rating of the Camp Chef Sherpa Table and Organizer
Weight -

7/10

Dimensions -

7.8/10

Packed size -

4/10

Craftsmanship & features -

9.9/10
Summary
My overall rating is affected by the packed size but it is still Good:
Pros
Incredible storage space.
Top-level craftsmanship.
Quality materials.
Reasonable price.
---
Specifications
Weight: 13 lb (5.9 kg).
Weight limit: 66 lb (30 kg).
Tabletop working height: 29 in (74 cm).
Set-up dimensions (H x W x D): 28.5 x 27.5 x 17 in (72 x 70 x 43 cm).
Individual bag dimensions: 12 x 11 x 6.5 in (30 x 28 x 17 cm).
Packed size – option 1: 27.5 x 18.5 x 17 in (70 x 47 x 43 cm).
Packed size – option 2: 27.5 x 18.5 x 8 in (70 x 47 x 20 cm).
---
Final thoughts
So this Camp Chef Sherpa Table and Organizer is a nicely built product, a bit bulky when packed but very functional and versatile. It will help you keep all your stuff in the camp well-organized and at hand. The price is appropriate for such a product, fully recommended. It is included in my list of best collapsible camping tables.
For more items of this type please check under the category Camping Tables here in the site.
Thank you for reading. Note that this is not a sponsored text and I am not paid by the manufacturer. Please use the comment box below in the case of questions or comments. Have a nice day.