---
This KLYMIT Timberline Camp Chair is lightweight, nicely packable, collapsible, suitable for backpackers and campers, and very affordable.
---
Key features & benefits
Collapsible chair.
Very compact.
Very light.
Headrest.
Carry bag.
Great price.
---
What is this about
The Klymit brand is globally known for its unique sleeping pads, but here you have their outdoor chair. This is a collapsible product, and this means it needs a simple assembly. But this is easily done and without any tool.
The chair comes with a great carry bag and the packed size is great, it measures only 17 x 5 x 5 inches (43 x 12.7 x 12.7 cm). There are more compact outdoor chairs of course, but not many of them have a headrest and such a packed size.
Note that the chair is 35.5 inches (90 cm) high so this is high enough for shorter users to have a headrest. Taller people will have at least a proper neck rest, as you see there is a segment with padding on the top: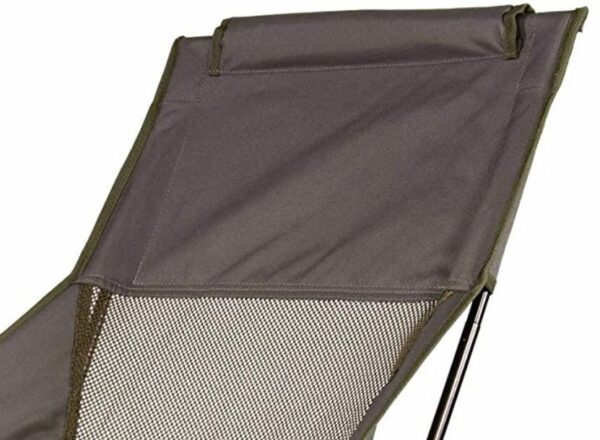 Materials
The picture above shows a mesh section on the back, and you have the same material on the sides. The rest is probably polyester but they did not bother with providing any information. The same holds for the frame which is clearly some aluminum alloy with shock-corded tubes. 
So you have only two separate parts, the frame, and the sling. The joints are some sort of plastic, no info about this. The feet are with plastic caps but they are indeed narrow and not the best option on a soft ground. I would not use it in a floored family camping tent.
---
Who is it for
Regarding the capacity, officially this is 225 lb (102 kg). So this is a very low value. If you need something for a heavy user, better check some of these chairs.
Regarding the dimensions, the chair measure (W x D x H) 22 x 20.5 x 35.5 inches (55.8 x 52 x 90 cm). So it is not particularly large but see also its weight below. Not many chairs on the market with such a weight offer a headrest.
Regarding the weight, the chair could be described as very light in view of its 2.75 lb (1.25 kg). This is indeed impressive, just see its dimensions. But it is not included in my list of ultralight backpacking chairs, although you can certainly use it for such a purpose. 
Regarding the price, this is again something extraordinary, a true bargain.

---
Specifications
Weight: 2.75 lb (1.25 kg).
Capacity: 225 lb (102 kg).
Dimensions (W x D x H): 22 x 20.5 x 35.5 in (55.8 x 52 x 90 cm). 
Packed size: 17 x 5 x 5 in (43 x 12.7 x 12.7 cm).
---
Rating, pros & cons
Below you can see how I rate this chair, the same criteria are used for all the chairs so this makes it easier to compare with some other chairs presented here in the site.
Very light and compact chair
Product Name: KLYMIT Timberline Camp Chair
Product Description: This KLYMIT Timberline Camp Chair Is Lightweight, Nicely Packable, Collapsible, Suitable for Backpackers and Campers, and Very Affordable.
Brand: Klymit
SKU: B08SXZC9VZ
Weight -

8.8/10

Dimensions -

7.5/10

Packed size -

8.6/10

Capacity -

7/10

Comfort -

9.2/10

Craftsmanship -

9.1/10
Summary
The capacity of this chair is a bit modest but the overall rating is still very good.
Pros
Very light.
Great packed size.
Headrest.
Carry bag.
Great price.
Cons
Modest capacity.
Small feet.
---
Final thoughts
To summarize this KLYMIT Timberline Camp Chair, this is a product from a very known and globally established brand, so you know what you are buying. Its features are such that it is suitable for both worlds, backpacking and also camping. I have included it in my list of best collapsible camping chairs.
For more options of this type please check under the category Camping Chairs. In particular, check this MARCHWAY Ultralight Folding Camping Chair that weighs only 898 grams.  See also this lightweight REI Co-op Flexlite Camp Dreamer Chair which is more for camping than for the trail.
If you have any questions or comments, just let me know, there is a comment box below. Subscribe to my weekly newsletter, the subscription form is also below, this will keep you informed because I add texts here on a regular basis.