---
The OneTigris Lightweight Camping Cot with Leg Extenders is a collapsible and compact outdoor sleeping bed with two possible heights.
---
Key features & benefits
Collapsible cot.
Two heights.
Compact.
Sturdy and stable.
Storage features.
Carry bag included.
---
What this is about
Here you have a collapsible structure with a number of separate elements shown in the picture below. This means that it needs a simple assembly, but this is an easy job and all is done without extra tools.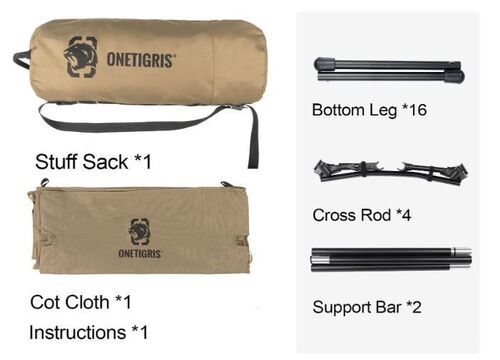 Note that the extensions come in their own mesh bag, so you can keep them separately if you wish. This is convenient if you decide to leave them at home, or even in the camp if you do not use them.
When it is time to go, this all fits in its nice carry bag shown in the picture. It is equipped with a strap on the longer side and a handle on its short side, you also have a zipper on it.
Now you realize the advantage of such collapsible cots, they pack small for transportation.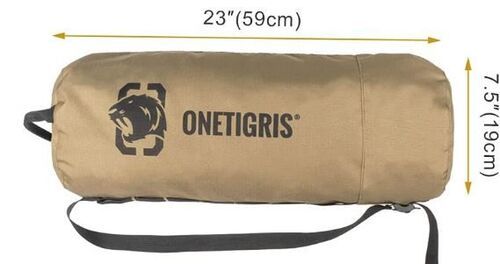 Two heights
There are 16 leg extensions, each of them is with a pop-up button and it is easy to put them in place. The cot height with them is 14.6 inches (37 cm).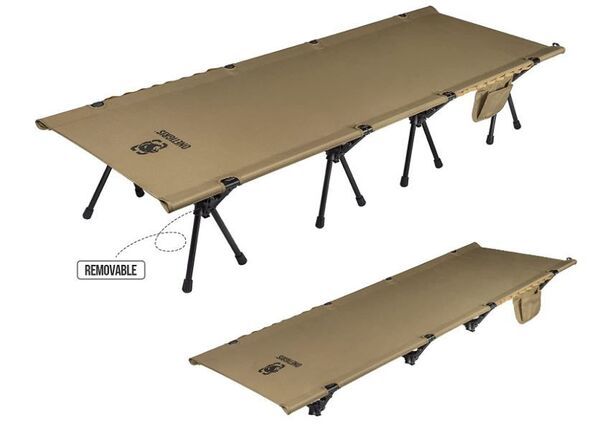 Without extensions the height is 6.7 inches (17 cm). Below you see the legs when extensions are on. Note also that this is not a unique design, something similar you can see in the Naturehike Folding Camping Cot.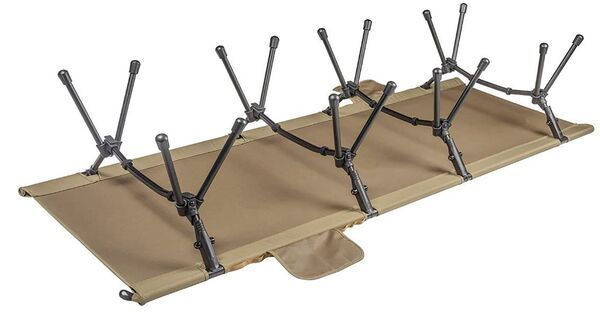 Storage & attachment features
This cot comes with a storage pouch on the side, but this is quite common to many cots of this type. However, they have added also a daisy chain on the side, see the picture below.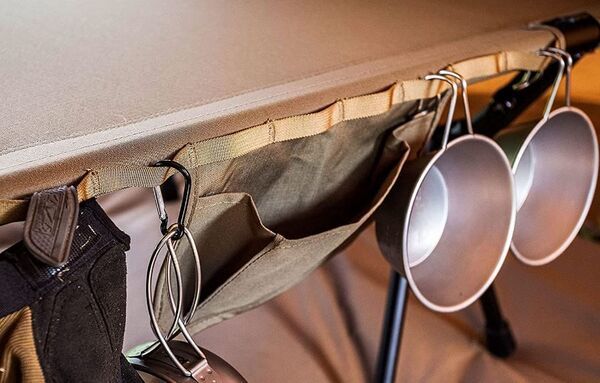 So here you can attach some stuff and keep it off the floor and close at hand. Note that the carry bag also has such a daisy chain, this is convenient if you want to attach it to a pack.
Using this cot in a tent or in a car
When the extensions are removed, the cot is very low, only 6.7 inches (17 cm) from the ground. This means it will fit in any tent, no matter how low it can be.

From the picture above you realize that when used without extensions, the cot is with wide and flat feet. This is a floor friendly design and you should be able to use it in a floored tent without issues. Because of this setup, I have added it to my list of low cots for camping.
Now, when the extensions are on, there are 16 feet with small plastic caps. The weight is distributed, but I would not use it in a floored tent without some extra protection. Below you can see how this looks in a tent.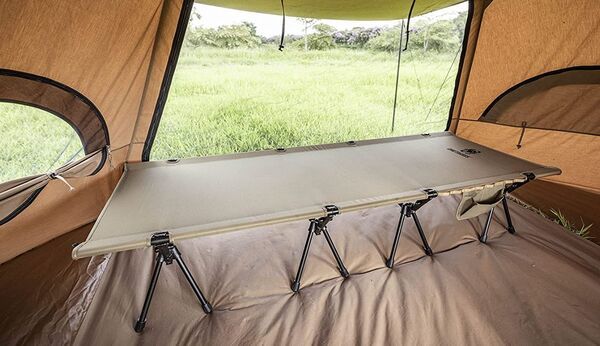 The picture below shows the view from the narrow side and with the extensions on. You realize that the cot's footprint is wider with the extensions on.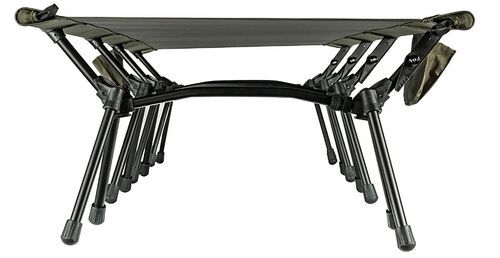 This may be useful to know if you use this cot to sleep in the car. Sometimes you do not have enough space in a car. This is the case in my car on the back, the space between the wheels is much more narrow than the rest.
Materials
All metal parts are a 7075 aluminum alloy. The two side poles are thick and shock-corded. The legs are also chock-corded so there is nothing to guess.
The fabric is a durable rip-stop and water-resistant 420D Oxford polyester. Note that they make it in two colors, both look cool.
In this video you can see how to set this cot up, please have a look:
---
Who is it for
Regarding the capacity, the cot is officially for users of up to 330 lb (150 kg) and this sounds very good and enough for most of potential users. But if you still need more, check my list of cots for heavy people.
Regarding the dimensions, the cot is quite typical for this type, you can see the numbers in the picture. Note that there are no end bars at the head and feet area. This means the length is a true useful length. But the width is a bit less impressive and there are bars on the sides that take a few centimeters.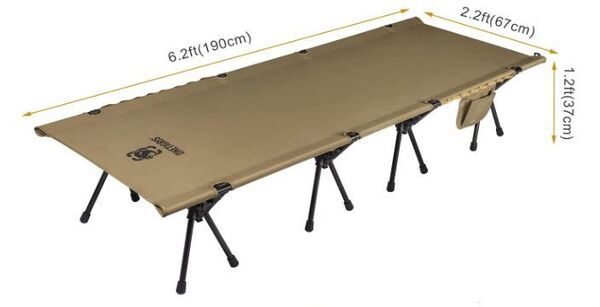 With extensions it is more suitable for elderly people as it is easier to get in and out. In this case it is also high enough to use it for sitting in the tent.
Regarding the weight, the cot can be described as lightweight, and this holds in particular if you use it without extensions when it weighs 6.6 lb (3 kg). But this is not a cot for a trail of course.
You have already seen its packed size, so it is indeed compact, and it is backpack-portable.
Regarding the price, it is a bit steep but you practically have two cots in one, a low and a high option.

---
Specifications
Weight: 8.5 lb (3.84 kg).
Weight without extensions: 6.6 lb (3 kg).
Capacity: 330 lb (150 kg).
Dimensions (L x W x H): 74.8 x 26.4 x 14.6/6.7 in (190 x 67 x 37/17 cm).
Folded dimensions (L x D): 23 x 7.5 in (59 x 19 cm).
Warranty: OneTigris offers 1 year warranty for this product. They claim you will have a reply within 8-12 hours in business days if you need to get in touch with them.
---
Rating, pros & cons
Below you can see how this cot stands against my standard rating criteria. My rating for weight is without extensions. You can rate it from your side as well, there is a rating bar for this.
Well-built and versatile outdoor sleeping bed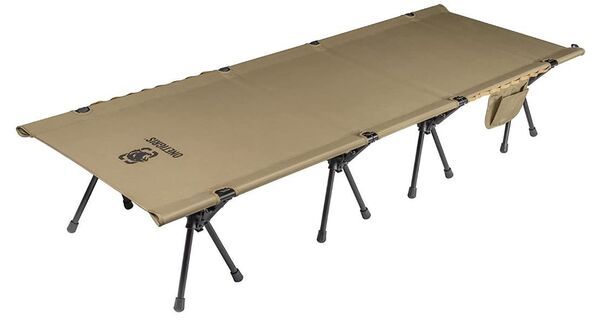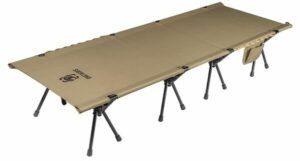 Product Name: OneTigris Lightweight Camping Cot with Leg Extenders
Product Description: The OneTigris Lightweight Camping Cot with Leg Extenders Is a Collapsible and Very Compact Outdoor Sleeping Bed with Two Different Heights.
Brand: OneTigris
SKU: B098KZKTD1
Weight -

9.2/10

Size -

8.3/10

Capacity -

8/10

Packed size -

9.2/10

Ease of use & features -

8.6/10
Summary
This cot scores high in all my rating criteria so the overall rating is Very Good.
Pros
Two heights.
Stable and sturdy.
Versatile.
---
Final thoughts
In summary, this OneTigris Lightweight Camping Cot with Leg Extenders looks cool in both colors, and it looks very different in its two setups. It can fit in any tent.
The legs are well designed with those locking handles, when you put them in place this creates tension in the fabric. If you want more comfort you can always add some sleeping pad, but for summer camping you do not need it in principle.
The cot is versatile, you can use it for camping, travelling, fishing, etc., and it is backpack portable as well.
Best places to buy:
For more options, please check under the category Collapsible Cots, you will find them many here in the site, and in all sizes and shapes.
Bookmark this site and visit it when you find time, this will keep you informed, you have new texts added here on a regular basis. Let me know if you have questions, there is a comment box below. Thank you for reading and have a nice day.