---
This DOD Sugoi Chair Review is about an incredibly versatile easy to use cotton canvas chair supported with an aluminum frame that offers no less than 10 sitting positions.
---
Key features & benefits
Unique folding & collapsible construction.
Telescopic legs.
10 Sitting positions.
Aluminum frame.
Strong cotton canvas fabric.
Cotton canvas carry case with a pleasant handle.
Lightweight.
Fair price.
All these features are described in detail below, so keep reading.
---
Overview
The DOD Sugoi Chair has only two parts, a folding frame and a piece of fabric that come in a truly nicely designed carry bag. All three elements are shown in the picture.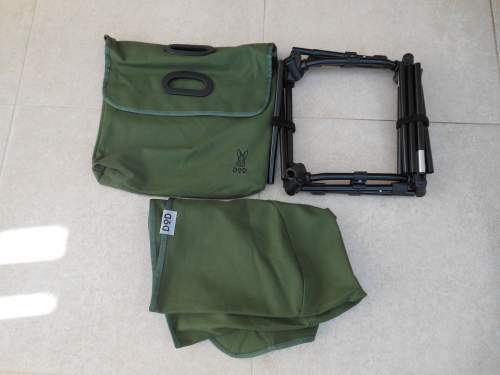 The design is unique on the market. As of the moment of writing this text, I do not remember seeing anything similar. This will become clear when you read the rest.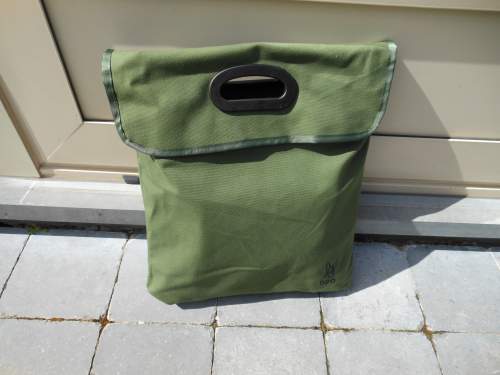 The frame details
The central part of the frame is a rectangular structure (visible in the picture below) and it determines its folded size. The upper frame tubes are shock-corded and attached to it. When the chair is packed, these tubes are folded and fixed with Velcro tabs.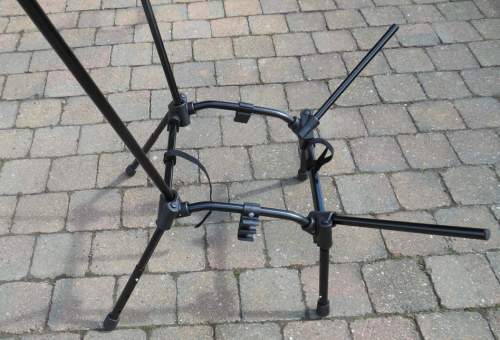 Four folding shock-corded legs are also pre-attached to the rectangular elements. When folded for transportation, they are kept in place by clips (visible above) that are permanently attached to the mentioned rectangle.
So the chair needs a simple assembly. When you undo the Velcro tabs, and unclip the legs, all the tubes click in place almost by themselves. This you can do even in a complete dark.
In other words, the frame is ready in seconds. After that you attach the sling on the four ends of the upper frame poles. There are small reinforced pockets on the underside of the fabric, one is shown in the picture: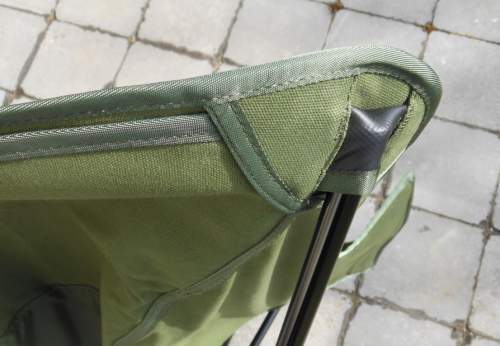 Telescopic legs
The legs are extendable and they have three different lengths. To change the legs length, all you have to do is to press a pop-out button on each of the legs, and to pull and extend the leg to a desired length.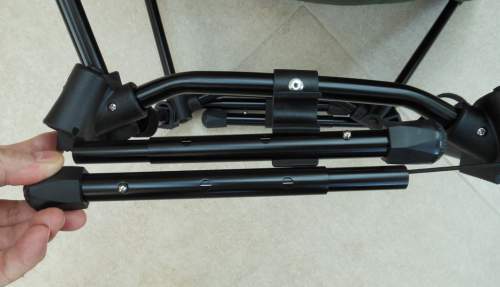 The picture above shows the clips on the frame to which the legs fold for transportation, and you can also see the elastic cord and the pop-out buttons.
You can make various combinations regarding the length, more below. Because of these features, I have included this chair in my list of best camping chairs with adjustable legs.
10 Different sitting positions
The three lengths of the legs imply three heights of the seat. But this is only if you keep the legs extended at all, and if they are the same length, so there is more to this.
Each position/length of the front legs can be combined with any of the three positions of the rear legs. This holds also for the rear legs, each of the position there can be combined with any of the three positions of the front legs. This means 9 different positions that result with different angles of the backrest.
But can they all really be used? The answer is yes. I tried all of them and the chair is indeed stable in all positions.
You can go back and have a look at the frame picture, this is the setup with the shortest front legs and the longest rear legs. The picture below shows exactly this setup but with the fabric added. So the backrest here is in its most upright position but the seat is still relatively flat: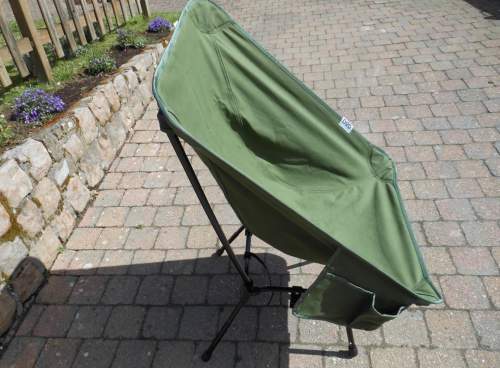 With the shortest rear legs and longer front legs, you have configurations for a relaxed body position. The picture below shows the setup when the front legs are fully extended, so this is just the opposite to the picture above.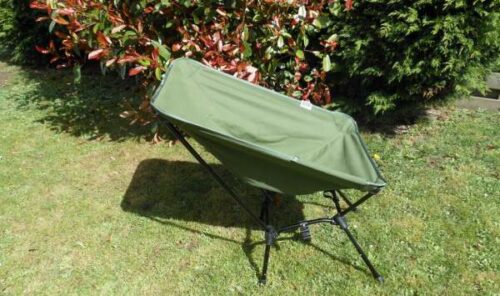 However, you can fold all legs and fix them to the clips. In this case the chair still has 4 wide feet for use as a low ground chair. This is what they call the bonfire position. The picture shows the chair's base when the legs are all folded: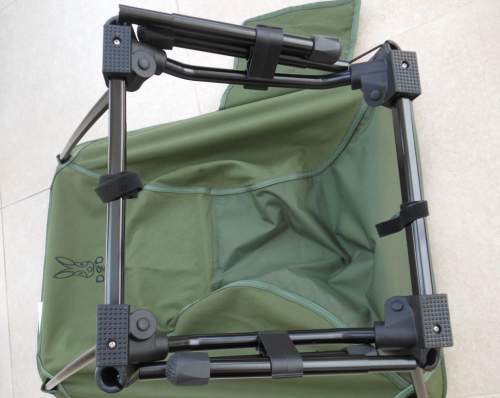 This is convenient when you are on a soft ground, like a sand or a soft grass. The feet are wide and they will not easily sink. Even if this happens, there is the frame and the folded legs that will not allow for any deep sinking.
In this position, the chair can be used even in a floored family camping tent. But, you can always put its carry bag underneath the frame, to prevent any issue with the tent's floor, or even when you use the chair on the sand.
This is the 10th position of this remarkable chair and it is shown in the picture: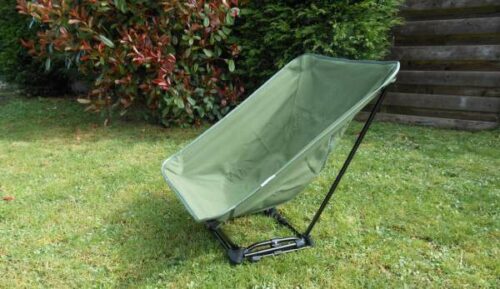 Now you know what exactly the chair offers. But it may still be interesting to see it in its 4 standard heights (with the same front/rear legs length). The pictures below are taken from nearly the same distance so you get some idea about the seat heights:

So this is the same chair, but you have them four in one. The seat height in the cases from left to right is 22, 32, 37, and 42 cm, respectively.
In view of its numerous different backrest positions, this Sugoi Chair can be described also as a sort of a camping recliner chair.
Storage elements
In the pictures above you have already seen its sewn-in pouch with two compartments on the right side. So there you can keep your smartphone or any other small item, see how it looks: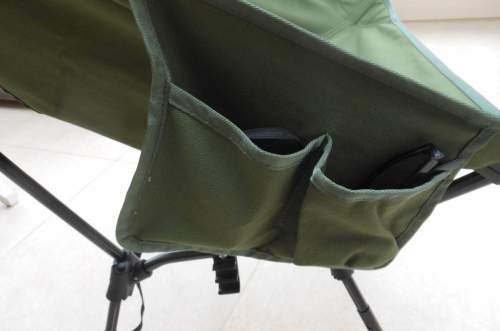 One much larger and deep storage space is integrated into the backrest, see below. Here you can keep books, newspapers, towels, a jacket, or anything similar.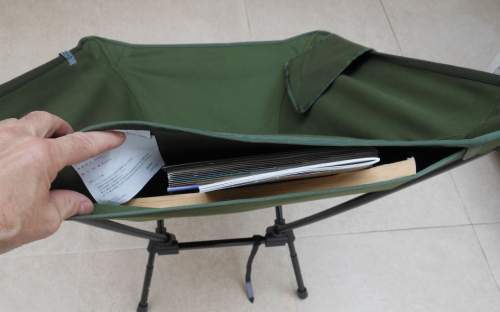 Materials
You have already seen its frame, this is an aluminum alloy, and the structure also includes four strong nylon hubs.
The fabric is a very durable and thick cotton canvas. From what I have seen, they build it in three different colors shown below. So this is a very pleasant and breathable material suitable for any environment. They write it is spark resistant but not fireproof. I have not seen any statement about using chemicals.

There are reinforcement areas in those sleeves where the frame attaches, and this is a strong 600D polyester. The feet are with caps, so this is a floor friendly design and generally suitable for any solid surface.
---
Who is it for
Regarding the capacity, the chair is officially for the weight of up to 220 lb (100 kg). This is far above my own body weight, so I am sure I shall never have issues with the capacity. But if you need more, check in my list of chairs for heavy people.
Regarding the dimensions, it measures (W x D x H) 23.6 x 26 x 37.4 inches (60 x 66 x 95 cm) so this is a typical size. You have a bucket seat, and in view of my own small body size and my comfort in the chair, I would say it is more suitable for slimmer users.
The seat height depends on the position you use. You have already seen the numbers for some positions above, but with all those other variants the seat height is slightly different of course.
So when you fully extend the legs, the chair is suitable for elderly users and also for tall people in general.
Regarding the weight, together with its carry case the chair weighs 5 lb (2.3 kg). So this is very light for a camping chair. Note that those extendable legs imply some overlapping tubes and pop-out pins that add weight, plus the extra feet on the rectangular base for the low height use.
The packed size in the carry bag is around 17.7 x 15.4 x 3.1 inches (45 x 39 x 8 cm). As you see, it is very thin when stored in its carry bag. The picture below shows how easily it can be transported even on a bicycle.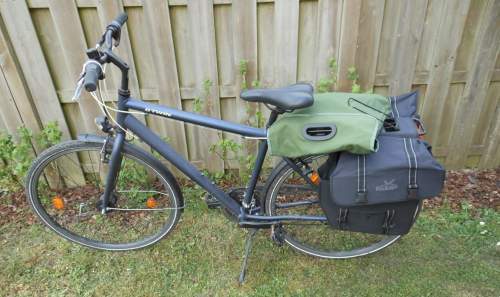 Regarding the price, I think it is fair for such a nicely designed and versatile outdoor chair, a great value for the money.

---
Specifications
Weight (with the carry case): 5 lb (2.3 kg).
Capacity: 220 lb (100 kg).
Dimensions (W x D x H): 23.6 x 26 x 37.4 in (60 x 66 x 95 cm).
Folded dimensions: 14.2 x 14.2 x 3.1 in (36 x 36 x 8 cm).
Carry case dimensions: around 17.7 x 15.4 x 3.1 in (45 x 39 x 8 cm).
Seat height: 8.7-17 in (22-42 cm).
Frame: aluminum alloy.
Fabric: cotton canvas.
---
Rating, pros & cons
Below you can see how I rate this chair against my usual set of criteria that I consistently use. With this you can compare it easily with some other chairs presented in the site and get some idea of where it stands.
Incredibly versatile & quality outdoor chair.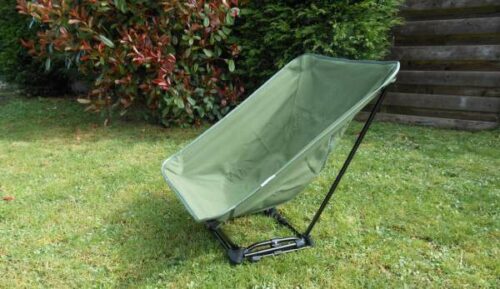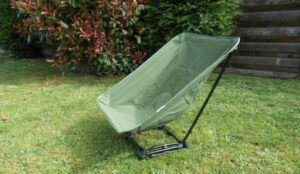 Product Name: DOD Sugoi Chair
Product Description: This DOD Sugoi Chair Review Is About an Easy to Use and Versatile Cotton Canvas Chair Supported with an Aluminum Frame that Offers 10 Sitting Positions.
Brand: DOD
SKU: B09N7TMMQB
Weight -

8.2/10

Dimensions -

8.1/10

Packed size -

7.4/10

Capacity -

6.5/10

Comfort -

9.3/10

Craftsmanship -

9.5/10
Summary
The chair stands well in almost all rating criteria so the overall rating is Very Good.
Pros
Incredibly versatile.
Very easy to use.
Storage features.
Great carry bag.
Very good price.
---
Possible improvements?
1. The first thing I noticed is the following. When you attach the fabric on the frame, it is easy to put three ends of the poles in those small sleeves mentioned above. For the fourth, you have to pull the fabric a bit, and this is where you would want to have a pull loop. Pity they did not add it here.
To see what I mean, have a look at this REI Co-op Flexlite Camp Dreamer Chair where such a loop is visible.
I tried with attaching the backrest part first, and also with the seat part first. It seems easier in the first case. Perhaps in time the fabric will extend a bit and attaching the fabric will be easier.
2. The feet are narrow but this is quite a typical design for such collapsible chairs. If manufacturers read these lines, they might want to think of adding something, a ground sheet, so that the chair does not sink in the soft ground.
One great option is what they can see in this Helinox Sunset Camping Chair. It would be easy to add such small sleeves for feet on the existing carry bag and use it also as a ground sheet when necessary.
---
What is DOD brand?
When I received the chair, I had a feeling that this was something very similar to a Snow Peak product. Their attention to details is one thing that you cannot miss noticing. Just see the carry bag with its handle, this is a nice example of what I am saying.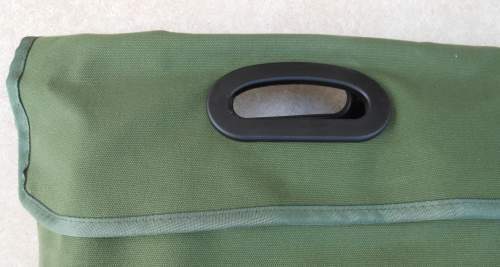 So indeed, this is a Japanese brand just like the Snow Peak. Though DOD is far less known in the west, but they have everything you need outdoors. In fact, as of the moment of writing this text, this is their only product on the Amazon-US. But I have feeling this will change very soon, they are coming on the US market, and they have great products to offer.
At their site they write "At DOD, we want more people to use our products at affordable prices, rather than spending money on advertising." The price of this chair is in line of this policy.
Their product warranty period is one year from the date of purchase or the date of arrival of the product. The initial defect response period is 30 days from the date of purchase or the date of arrival of the product.
---
Final thoughts
In summary, this DOD Sugoi Chair is incredibly versatile with its numerous heights and backrest positions. You effectively have multiple chairs in one, and switching from one sitting position to another is easy and fast.
Imagine you are at some sports event and you are too high so that people behind you complain. Or you have somebody in front of you who is too high. In such situations you can quickly change your sitting height.
The same is if you are in the camp. You can switch in seconds from a dining chair mode to a relaxing or bonfire mode.
The chair is lightweight, very easy to deploy and to store away. The included carry bag is nicely designed and large, so that the chair fits inside easily. Fully recommended. I have included it in my list of best collapsible camping chairs.
Best places to buy:
For more options, please check under the category Camping Chairs, you will find them many here in the site, and in all sizes and shapes.
Bookmark this site and visit it when you find time, this will keep you informed, you have new texts added here on a regular basis. Let me know if you have questions, there is a comment box below. Thank you for reading and have a nice day.