---
Lantusi Folding Military Camp Cot Bed is a very elegant cot which requires no assembly, and it comes with a really great price tag. A perfect spare bed at home, a tool to use when you want to take a nap in the office, or to have it in the camp.
Update – it appears that this item is no longer available on Amazon. Sorry for the inconvenience.
Key features
Great price.
Folding cot.
Nice design.
No assembly, it opens and closes like a book.
Pillow included.
What type is this
This Lantusi cot is a most typical folding cot. This means that when you take it down, it closes like a book to half its normal size, see the picture above. So it is still quite large in the packed state, 90 x 58 x 12.5 cm (35.1 x 22.6 x 4.9 in).
Such a construction also implies that you do not have any assembly with this cot. When you need it, just spread it, unfold the two end-legs, and it is ready.
Who is it for
I would start with its size; the cot is 179 x 58 cm (69.8 x 22.6 in). So clearly this is not for tall people, bear this in mind. There are alternatives, you will see some in the comparison table below.
Here is the list of possible uses of this cot:
At home, as a spare bed for sudden guests or for your kids' sleepovers.
A bed to keep in the office, to take a rest when you need it.
As an outdoor tool to be used at places with car access. So this can include a variety of activities.
The capacity of the cot is 300 lb (136 kg), so this sounds quite good, in particular bearing in mind its size; you would not expect heavier and bigger people to use it in any case.
Overview
I really love the design of this cot, and in particular the manner in which the bed deck is attached to the frame, see the picture below. The fabric is typical, 600D Oxford, and they write that it is washable and mildew resistant.
When you are on the bed, there are no bars under the deck, so you can be sure that there will be no pressure spots.
The frame is steel, so its great capacity is not a surprise. This is a design with three bars on the ground and they serve as legs, so the structure is very stable and it behaves well on any surface, no sinking even on a soft ground, including a sand.
Using the cot in a tent
The cot is 34.5 cm (13.5 in) high, so the smallest tent in which it could be used is probably a standard 2-person tent for solo use. In this case, you will have plenty of space for storage of your equipment both around the cot and equally important under the cot.
Since it does not require any setup, you can make it ready directly in the tent, no need to do this outside.
The legs (bars) are a very floor-friendly design, regardless of where you use this cot, so you will have no issues with the tent floor; see the picture below.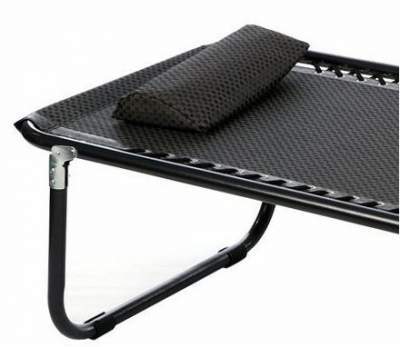 Using a sleeping pad
You do not need a pad for home/office use, or for outdoor use in warm conditions; but you can add one for extra comfort.
But if you plan to use it in a cold environment, at high elevations, on some mountain passes, you should add something for insulation. However, you do not need pads with particularly high R-values because you are off the ground, so you lose far less body warmth as compared with the case when you sleep on the ground.
In any case, if you need a pad, please have a look here, many great models are reviewed in detail.
My rating, pros & cons
This cot is really small. Note that you have a frame around, and it takes a couple of centimeters on each side. So if you are taller than 175 cm or so, I would not suggest you this cot. It is best used for kids and for women.
There is no stuff sack included, such a small detail can make a lot of difference to avoid dust on the cot when it is stored somewhere, and to make carrying and transporting it easier.
See also my list of pros, it is long and with good reasons:
My rating breakdown of the Lantusi Folding Military Camp Cot Bed
Capacity -

7.5/10

Size -

7.2/10

Packed size -

5.6/10

Ease of use & features -

9.6/10
Summary
My overall rating is Very Good:
Pros
• Very nice design.
• Great price.
• Easy setup.
• Pleasant materials.
• Versatile.
• Pillow included.
Cons
• The cot is short.
• No stuff/carry bag.
Specifications
Capacity: 300 lb (136 kg).
Size: 179 x 58 x 34.5 cm (69.8 x 22.6 x 13.5 in).
Folded size: 90 x 58 x 12.5 cm (35.1 x 22.6 x 4.9 in).
Pillow size: 35 x 15.5 x 5 cm (13.7 x 6 x 2 in).
Material: 600D Oxford cloth.
Frame: steel.
Color: black, army green.
Summary
In the conclusion of this Lantusi Folding Military Camp Cot Bed review, I wish to stress the great design of this cot. Equally impressive is its price tag. But bear in mind its dimensions if you plan to order it, this is a tool for shorter people.
Note that there are many folding cots with mattress included, so if this type is more suitable for you, check the link and you will find a long list of such beds. In any case, this site is all about cots, so please check in the Categories in the sidebar above.
Thank you for reading. In the case of questions or comments, please use the comment box below. I wish you a nice day.

---